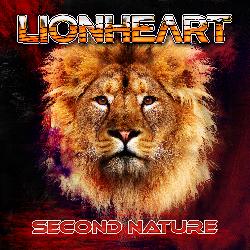 product: Lionheart - Second Nature
release date: 25.08.2017
label: AOR Heaven
territory: Europe
PR contact: Diese E-Mail-Adresse ist vor Spambots geschützt! Zur Anzeige muss JavaScript eingeschaltet sein!
LIONHEART was formed in late 1980 by Dennis Stratton (lead guitar/backing vocals, ex-Iron Maiden), Steve Mann (lead guitar/backing vocals, ex-Liar), Rocky Newton (bass guitar/backing vocals, ex-Wildfire), Jess Cox (lead vocals, ex-Tygers of Pan Tang), and Frank Noon (drums, ex-Def Leppard). The band began playing gigs including regular shows at London's infamous Marquee Club but had problems maintaining a consistent line-up. The core personnel of Dennis, Steve and Rocky remained but it proved difficult to find the right singer. They eventually settled as a 4-piece with Dennis and Rocky sharing lead vocal duties. The drummer's stool was variously occupied by Les Binks (ex-Judas Priest), Nicko McBrain (ex-Trust and subsequently Iron Maiden) and Clive Edwards (ex-Pat Travers, Uli Jon Roth & Wild Horses).
Between 1981 and 1984 LIONHEART played regular live shows including an appearance at The Reading Festival in 1981 and as support for Def Leppard, Whitesnake and Saxon. In between gigs they spent many hours writing and recording demos of new songs while searching for a record deal. It wasn't until 1984 that CBS Records in the USA offered them a contract, by which time they had recruited Chad Brown on lead vocals. They flew over to Los Angeles in March 1984 to record their debut album Hot Tonight with Kevin Beamish in the production chair and session man Bob Jenkins, who had previously worked with Leo Sayer and Kiki Dee, on drums. The album was recorded at the legendary Sound City Studios in Van Nuys and mixed at Kendun Recorders.
Upon their return to England, LIONHEART recorded a high-budget video for the single Die For Love. The late comic genius Rik Mayall played the part of the mad professor and, in later years, the video achieved cult status on YouTube due in part, to the wonderfully wooden acting of the band! Unfortunately, planned UK tours as support to Kansas and Foreigner were cancelled at the last moment. Promotion of the album suffered and LIONHEART found themselves in limbo. The line-up expanded with Phil Lanzon (Uriah Heep) on keyboards before Chad Brown left the band in 1985 to be replaced by Keith Murrell (Airrace and Mama's Boys). More demos were recorded with the new line-up but unfortunately the momentum had been lost and the band eventually broke up. Having sung backing vocals on Def Leppard's Pyromania, Rocky went on to do more of the same on Hysteria before joining the The Michael Schenker Group. Steve set up his first commercial studio before hooking up with Rocky again in the McAuley Schenker Group, while Dennis began a 15 year stint with Praying Mantis. Meanwhile Clive went on to play with Bernie Marsden and UFO.
In 2016 Dave Herron of the Rockingham Festival in Nottingham asked LIONHEART to reunite for one performance. Original members, Dennis Stratton, Steve Mann, Rocky Newton and Clive Edwards jumped at the chance and brought in ex-Shy front man Lee Small on lead vocals. The reunion created quite a stir, not least within the band itself, and it was decided to carry on with the subsequent recording of a new album followed by an acclaimed appearance at the 2017 Sweden Rock Festival. In their set LIONHEART included the song Anytime written by Steve Mann and Robin McAuley which was a number 2 hit record for the McAuley Schenker Group in 1989. Click to watch. Click here to watch the video.
The new record, SECOND NATURE, was recorded between November 2016 and May 2017 and was produced, engineered and mastered by Steve Mann in his own studio Flying Vivaldi in Hannover. LIONHEART undertook a mini co-headline tour of Japan with Praying Mantis in June/July and UK shows are booked in November/December co-headlining with Airrace.
SECOND NATURE was released on King Records Japan on 21st June 2017 and a release throughout Europe is set for 25th August on AOR Heaven.
www.facebook.com/lionheartrock / www.lionheart-music.com