NEWS
::: The return of Blues Hard Rock: MOTHER ROAD! :::
We're happy to announce the addition of German/ American Hard Blues Rock band MOTHER ROAD to our management pool. This exciting new band is currently finishing off the song-writing for their yet untitled debut album and we will start to offer their demo to the labels within the new few days.
More information about this band can be found at www.facebook.com/themotherroad and in their biography below.
Here comes a link to a stream of a demo version of their song "The Sun Will Shine Again": http://soundcloud.com/germusica/mother-road-the-sun-will-shine
MOTHER ROAD is the brainchild of Austin, TX (USA) based rock singer Keith Slack and Berlin (Germany) based guitarist Chris Lyne.
Named after "The Mother Road", another name for the US' legendary, historic Route 66 highway, this international Hard Blues Rock band is impressively transferring the vintage sounds and the trademarks of this genre into the new decade. Founded in 2011 and based on mutual musical influences, Slack & Lyne promptly felt the chemistry between them was right and the song-writing process soon accelerated. In the meantime, the line-up was completed with drummer Carsten Klick and bassist Frank Binke.
Guitarist Chris Lyne is well known for his astonishing work with his previous group Soul Doctor. His main influences include some of the greatest British guitar players such as Gary Moore, Jimmy Page, Paul Kossoff and John Sykes. American singer Keith Slack acted as frontman of the bands Steelhouse Lane and Michael Schenker Group (MSG), and also his own blues-influenced Hard Rock band Mudpie. Slack's influences include a whole variety of styles and music from bands including Paul Rodgers, Led Zeppelin, The Black Crowes, King's X and The Cult.
Trailer for HARTMANN's new album "Balance" now available online!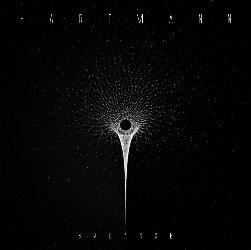 The new album by German Rock band HARTMANN entitled 'Balance' (Avenue Of Allies) is currently receiving great feedback from the press; for example:
Metal Hammer (Germany) - 5/7 points
Rock It! (Germany) – 9/10 points
Sweden Rock Magazine (Sweden) – 8/10 points
Heavy Magazine (Germany) – 10/12 points
Classic Rock (UK): 8/10 points
Rock Hard (Germany) – 7,5/10 points
AOR Heaven Magazine (Germany) – 92/100 points
+++
Now, we've got a video trailer available for this release which  can be found at this URL:
Please spread the link around!
+++
We're still taking promo requests for this release. Oliver Hartmann currently is available for telephone and e-mail interviews as well!
Neue DVDs von STONE TEMPLE PILOTS & KASABIAN bei Eagle Vision!
Liebe Presse,
bei Eagle Vision (Vertrieb: Edel) erscheinen am 22.06.2012 die neuen Blu-rays bzw. DVDs der STONE TEMPLE PILOTS und von KASABIAN. Produktinformationen zu beiden finden Sie weiter unten.
Die Bemusterung hat am Freitag begonnen; wir nehmen gerne Anfragen der Printpresse aus Deutschland entgegen.
---
STONE TEMPLE PILOTS
ALIVE IN THE WINDY CITY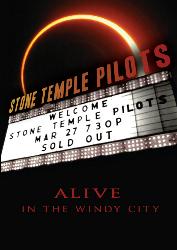 "Alive In The Windy City" wurde bei einer ausverkauften Show im "Riviera Theatre" in Chicago gefilmt und ist das erste Live-Konzert der Stone Temple Pilots, das für eine Videoveröffentlichung autorisiert wurde. Die Band ist in Topform, und die Show, die kurz vor der Veröffentlichung ihres aktuellen Albums "Stone Temple Pilots" stattfand, klingt nicht nur großartig, sondern sieht auch spektakulär aus. Zu hören ist eine Kombination aus neuen Songs und legendären Klassikern wie "Plush", "Interstate Love Song", "Vasoline", "Between The Lines", "Sour Girl", "Creep", "Sex Type Thing", "Big Empty" oder "Trippin' On A Hole In A Paper Heart". Hier sieht man das faszinierende Live-Konzert von einer der erfolgreichsten Rockgruppen der zurückliegenden 20 Jahre. Das Bonusmaterial umfasst ein Interview mit der Band. "Alive In The Windy City" wird zeitgleich auch auf DVD veröffentlicht.
BESETZUNG: Scott Weiland (Leadgesang), Robert DeLeo (Bass), Dean DeLeo (Gitarre), Eric Kretz (Schlagzeug).
TRACKS: 1) Vasoline   2) Crackerman   3) Wicked Garden   4) Hollywood Bitch   5) Between The Lines   6) Hickory Dichotomy   7) Big Empty   8) Sour Girl   9) Creep   10) Plush   11) Interstate Love Song   12) Bagman   13) Huckleberry Crumble   14) Sex Type Thing   15) Dead And Bloated   16) Lounge Fly   17) Piece Of Pie   18) Trippin' On A Hole In A Paper Heart
VÖ: 22. Juni 2012
Format: Blu-Ray-Musik / DVD-Musik
Bildformat: 16:9
Sound-Formate: DTS-HD Master Audio, LPCM Stereo
(DVD: DTS Surround Sound, Dolby Digital 5.1, Dolby Digital Stereo)
Spielzeit: ca. 92 Minuten
Untertitel (nur Interview): Englisch, Französisch, Spanisch, Deutsch
---
KASABIAN
LIVE! – LIVE AT THE O2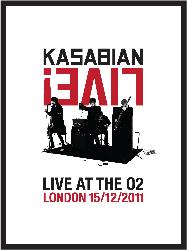 Dieses ist die erste alleinstehende Blu-Ray-Veröffentlichung von Kasabian und wurde  am 15. Dezember 2011 in Londons berühmter "O2-Arena" aufgezeichnet. Die Show fand auf Grundlage ihres Nummer 1-Albums "Velociraptor!" statt, die Setliste kombiniert Stücke dieser Scheibe mit Hits und Klassikern ihrer bisherigen Karriere, wie etwa "Fire", "Empire", "L.S.F.", "Shoot The Runner", "Days Are Forgotten", "Clubfoot" oder "Where Did All The Love Go?". Das Konzert war Teil einer komplett ausverkauften Arena-Tournee durch England und Irland im vergangenen Herbst. Kasabian haben in den zurückliegenden Jahren zahlreiche Auszeichnungen als "Beste Live-Band" und "Beste britische Band" bekommen, dieses neue Konzert mit seiner spektakulären und innovativen Bühnenshow ist Pflichtprogramm für die riesengroße treue Fangemeinde. Das Bonusmaterial umfasst mit "I Hear Voices" eine Dokumentation über die Kasabian-Tour 2011 durch England und Irland. Veröffentlicht wird "Live! – Live At The O2" in vier Formaten: als DVD, als Special Edition DVD+CD, als Blu-Ray und als Special Edition Blu-Ray+CD.
BESETZUNG: Tom Meighan (Leadgesang); Sergio Pizzorno (Gitarre, Gesang); Chris Edwards (Bass); Ian Matthews (Schlagzeug) mit Jay Mehler (Gitarre); Ben Kealey (Keyboards); Gary Alesbrook (Trompete)
TRACKS: 1) Days Are Forgotten  2) Shoot The Runner  3) Velociraptor!  4) Underdog  5) Where Did All The Love Go?*  6) I.D.*  7) I Hear Voices*  8) Thick As Thieves*   9) Take Aim  10) Clubfoot  11) Re-Wired  12) Empire*  13) La Fée Verte  14) Fast Fuse / Pulp Fiction*  15) Goodbye Kiss  16) L.S.F.  17) Switchblade Smiles  18) Vlad The Impaler  19) Fire
* = nicht auf CD
VÖ: 22. Juni 2012
Label/Vertrieb: Eagle Vision/Edel
Bildformat: 16:9
Sound-Formate: DTS-HD Master Audio, LPCM Stereo
(DVD: DTS Surround Sound, Dolby Digital 5.1, Dolby Digital Stereo)
Spielzeit: ca. 137 Minuten
Untertitel (nur Bonusmaterial): Englisch, Französisch, Deutsch, Spanisch
MANU LANVIN - "Mauvais Casting" - neue Blues Rock-VÖ über Verycords!
Liebe Presse,
das Label Verycords (Vertrieb: Soulfood) veröffentlicht am 22.06.2012 das neue Studioalbum des französischen Blues Rock-Künstlers MANU LANVIN, "Mauvais Casting".
Weitere Informationen zum Produkt und die aktuellen Livedaten des Gitarristen finden Sie weiter unten. Wir betreuen hier Print-, Online-, Club- und Radiokontakte in Deutschland und Österreich. Promo-CDs liegen bereits vor.
---
Manu Lanvin – Mauvais Casting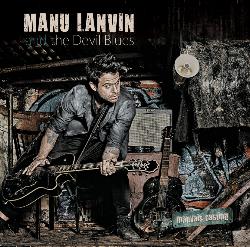 Mit bereits drei veröffentlichten Alben (Venir au Monde, Les Temps Mauvais, Faible Humain) und auch einigen kreativen Kooperationen mit Szenegrößen wie Calvin Russell und Paul Personne (Bernie Bonvoisin and others) hat Manu Lanvin sich in Frankreich bereits einen achtbaren Status als Sänger und Gitarrist erarbeitet.
Im Jahr 2009 war er der Co-Writer und Produzent für "Dawg Eat Dawg", das letzte Album von Calvin Russell, und für Teile des Soundtracks des Films Lucky Luke. Die Zusammenarbeit mit Calvin und seinen texanischen Wurzeln hatten großen Anteil an der Wiederbelebung von Manus Verlangen nach Southern Blues und American Folk Music.
Gemeinsam mit Nikko Bonnière (ex-Dolly, Eiffel) und dem britischen Produzenten Clive Martin veröffentlicht Manu Lanvin nun Mauvais Casting. Zwölf Songs mit rasanter Gitarrenarbeit und dampfenden, heißen Riffs begleiten Manus Stimme und den Hörer hier auf eine heiße Reise auf der Route 61.
Zwischen Paris und Austin, zwischen Ernüchterung und einem unersättlichem Durst nach Frieden, hat der kleine Franzose sich hiermit selbst einen Platz an der Sonne neben seinen Vätern gesichert.
Tracklist: 01 - Sur la route Sixty One, 02 - Don't Beat A Woman, 03 - Mauvais Casting, 04 - Donne-moi la fièvre, 05 - Laisse-moi respire, 06 - Tendre est la nuit, 07 - Lil white man, 08 - Not In The Mood, 09 – Tomorrow, 10 - My Good Old Friend, 11 - Sir AD and Mr A&R, 12 - Mon Amour
Tourdates: 16/06 - Les Féeries (Switzerland), 21/06 - Fête de la musique – ISTRES (France), 28/06 - Festival un été à Bourges – BOURGES (France), 29/06 - Festival de Moirans – MOIRAN, (France) 01/07 - Montreux Jazz Festival - MONTREUX (Switzerland), 05/07 - Bus Palladium – PARIS (France), 07/07 - Festival La Pamparina – THIERS (France), 18/07 - Festival Jazz et Musique - VOGUE (France), 18/07 - Sud Festival - GRAU DU RO (France)
Avenue Of Allies press release 06.06.2012
Interviews on ARfm and track by track of Frozen Rain – Ahead Of Time
This weekend Steve Price will welcome Oliver Hartmann from the band Hartmann and Kurt Vereecke from Frozen Rain on his radio show on ARfm. Both bands have recently released their very well received new albums through Avenue Of Allies.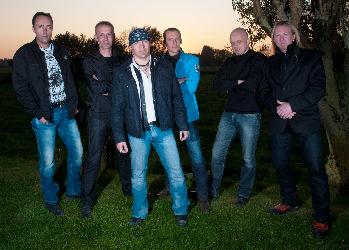 The Steve Price Show on ARfm starts at 18:00 h (GMT) / 19:00 h (CET) each Saturday and Sunday, you can listen to the station's live stream by visiting their website www.arfm.co.uk . Oliver Hartmann will be Steve's interview partner on Saturday, June 9th and Kurt Vereecke will join Steve on Sunday, June 10th.
In their home country Belgium Frozen Rain's second album "Ahead Of Time" has been picked up for airplay on the French speaking national radio station Classic 21. Their song "We're Gonna Rock" premiered on June 5th on the show "Classic 21 Rocks". Following you find Kurt Vereecke track-by-track round-up of the albums' eleven songs :
Believe It Or Not
This song is based on a guitar riff of Rik Priem, our guitar player. We had the chorus very soon and the words 'Suzannah...believe it or not' came up right away. My friend Chris Swinney wrote the lyrics for the verses. I always wanted to add a 'fretless bass solo' in a song and this song seemed to be perfect for it. It gives the tune a special atmosphere and we thought it was a nice opener for the album. 

Forever
One of my older songs dealing with human rights and slavery. With this line up I finally had the chance to record the song like I always wanted it to sound.

Breakin' Out
This is the very first song I've written with guitar player Rik Priem. I remember Rik had a nice guitar riff on which we built the verses. During the writing session I came up with the chorus and the line "Breakin' out" which also has been kept in the final lyrics. Again my friend Chris Swinney wrote the lyrics for the verses.

We're Gonna Rock
In fact this song is a combination of two ideas I had used in other songs. I liked the chorus in one song and the verse in another one I had written. I wanted to combine both ideas in a brand new and better song. It took some time to work it all out 'cause both songs were played in a different tempo and key. I also had to rework the lyrics a bit but I think it turned out really great.

Too Late
This is the only ballad on the album. "Too Late" is very precious to me 'cause that song is completely written by my youngest daughter Joke. She has written all music and lyrics for this song at the age of 15. I really liked this song so much that I have asked my daughter if we could record a Frozen Rain version of it. Jurgen Vitrier, our keyboard player has worked out the arrangement. We're starting with some "electronic" sounds and then it all goes more into an "orchestral" direction. I really love this song. Also great backing vocals from Carsten Schulz, our new lead vocalist on this one with lots of help from Steffen Seeger, who arranged the backing vocals.

Turn It On
On one of Rik his old tapes I had found a fantastic intro I liked a lot. We decided to use it for a brand new song and it is the intro you hear now on "Turn it on".  I wrote the verses for the song and then we still had to find a fitting chorus. During our writing session Rik suddenly remembered an old guitar riff which was played in another key. Still it all seemed to work very well and I very soon found the melody line for the chorus. The words "Turn it on" came up also right away and we decided to keep that for the song title. I asked my friend Darren Whitehead if he could write some lyrics for the song with keeping the line "Turn it on" in the chorus.

Ahead Of Time
Just like "Forever" an old song again. I've recorded an old demo version in the 90s (also added as a bonus track on the Japanese version of the album) but it wasn't until now that I decided to record the song properly. I also believe Rik & Carsten did a fantastic job on this one.

The Last Dance
This one is based on a song idea of Jurgen of which I thought we could improve it. So what have we done? We've kept the verses the way Jurgen had recorded them but the chorus Jurgen had in mind became our bridge. I remember we had been working on this idea a whole afternoon and didn't find a chorus we liked. Just at the moment we almost decided to stop the session I found the melody line for the chorus which you can now hear. Later on Darren Whitehead wrote the lyrics for the song.

Not At Home
A song for which I wrote all music by myself. I sent a demo version with the melody to Chris Swinney who wrote the words for it.

The Way That You
When Rik and I came together for a writing session one day I told him I wanted to make an up tempo song with a very melodic chorus. That day we tried out lots of ideas but we didn't find what we wanted. Then suddenly at the end of the day we found the verse and then all the rest like chorus, mid part and so on was written very quickly and the whole song fell into place perfectly. It was Jurgen's idea to end the song with only keys and I think that works very fine.

Voodoo Party
This is an instrumental song which is entirely written by Rik Priem several years ago. I already liked the song the first time I heard Rik's demo version. I suggested to the band members to use this song to close the album and everyone liked that. Jurgen then came up with the idea to start the song with a vocoder. For that reason we needed some spoken sentences. These were written and recorded by Chris Swinney in his home studio. We've already received lots of great reactions about the song "Voodoo Party" so people seem to love it just as much as we do.