NEWS
Neue VÖ bei Eagle Records: JUSTIN HAYWARD - Spirits Of The Western Sky
Liebe Medienpartner,
bei Eagle Records/Edel erscheint am 22.02.2013 das neue Studioalbum der MOODY BLUES-Legende JUSTIN HAYWARD. Es trägt den Namen "Spirit Of The Western Sky".
Wir sind zuständig für Print-Presse aus Deutschland und können ab sofort vorab mit Promo-CDs bemustern. Bitte kontaktieren Sie uns bei Interesse!
---
JUSTIN HAYWARD
SPIRITS OF THE WESTERN SKY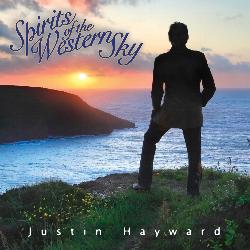 Justin Hayward ist Leadgitarrist und Sänger der legendären Moody Blues und gehört zu den begnadetsten Songschreibern der Rockgeschichte. Zu seinen berühmtesten Kompositionen zählen Stücke wie "Nights In White Satin", "Tuesday Afternoon", "Question", "The Voice", "Your Wildest Dreams" oder auch "I Know You're Out There Somewhere", um nur einige seiner Welthits anzuführen. Als treibende Kraft und Erfolgsgarant spielt und arbeitet Hayward mit den Moody Blues seit mehr als 40 Jahren, in dieser Zeit hat die Band weit über 60 Millionen Alben verkauft. "Spirits Of The Western Sky" ist sein erstes Soloalbum seit der 1996er Veröffentlichung "The View From The Hill" und unterstreicht in Stücken wie "One Day, Someday", "On The Road To Love" oder dem Album-Opener "In Your Blue Eyes" seine unvergleichlichen Qualitäten als Sänger und Gitarrist. Gleichzeitig wendet sich Hayward mit den drei Country- und Bluegrass-beeinflussten Nummern "What You Resist Persists", "Broken Dream" und "It's Cold Outside Of Your Heart" aber auch neuen Ausdrucksweisen zu. Mit dieser Veröffentlichung wird Justin Hayward die Massen seiner Fans rund um den Erdball garantiert restlos begeistern.
TRACKS: 1) In Your Blue Eyes  2) One Day, Someday  3) The Western Sky  4) The Eastern Sun  5) On The Road To Love  6) Lazy Afternoon  7) In The Beginning  8) It's Cold Outside Of Your Heart  9) What You Resist Persists  10) Broken Dream 11) Captivated By You  12) One Day, Someday (Alternative Extended Version)  13) Rising 14) Out There Somewhere 15) Out There Somewhere (Raul Rincon Remix)
VÖ: 22. Februar 2013
Künstler: Justin Hayward
Titel: Spirits Of The Western Sky
Label/ Vertrieb: Eagle Records/ Edel
Format: CD
Katalognummer: 1014972EAG
AOR Heaven News - Heartbreak Radio & Wild Rose European Press Release
Dear press,
below you find the key information about AOR Heaven's upcoming February 22nd Melodic Rock/ AOR releases from WILD ROSE and HEARTBREAK RADIO.
As usual, these titles will be promoted digitally via Haulix. Download links will be send at the end of this week.
Your PR contacts for these releases are:
UK: Mike Exley
Rest of Europe: This e-mail address is being protected from spambots. You need JavaScript enabled to view it
+++++++++++++++++++++++++++++++++++++
Band: Heartbreak Radio
Album: On Air
Label: AOR Heaven
Release: 22.02.2013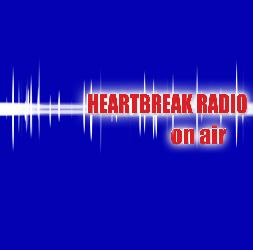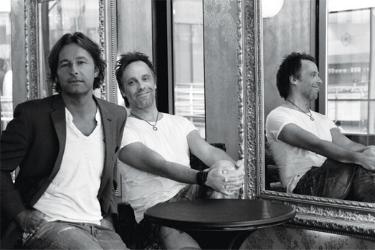 HEARTBREAK RADIO began as a spinoff project from the band Last Autumn's Dream.
The self-titled debut album was released in 2005 and received great reviews from all over the world. Musicians at the time included Mikkey Dee (Motöhead), Tommy Denander, Sayit, Magnus Rosen (Hammerfall) - just to name a few.
The project's second album "On Air" is an homage to the 70's AOR/Westcoast legends such as  Journey , Pages, Toto, Bill La Bounty, Kenny Loggins, Christopher Cross, Michael McDonald & Bill Champlin and will be released on February 22nd, 2013 on the AOR Heaven label.
Today, the line-up of HEARTBREAK RADIO consists of Mats Johannson (ASIA, guitars), Berra Holmgren (ACE OF BASE, bass), Peter Strandberg (JEFF SCOTT SOTO, drums), Johan Axelsson (keys) and Wojtek Goral (Stevie Wonder, saxophone) plus the vocalists Jim Jidhed (ALIEN), Mikael Erlandsson (LAST AUTUMN'S DREAM), Pierre Weinsberg (ELEVENER, RADIOACTIVE), Henrik Baath (DARK WATER) and Martin Gabriel (solo)
"On Air" was produced by Claes Andreasson (Last Autumn's Dream) and Johan Axelsson.
Tracklist: 1.LOVE ON FIRE, 2.ANGELINA, 3.YOU ARE LOVE, 4.TURN ON LOVE, 5.I WILL LOVE YOU, 6.LIVE OUT OF LOVE, 7.ALL OVER THE WORLD, 8.MY HEART`S JUST MISSING YOU, 9.KEEP KICKIN´IT BACK AGAIN, 10.YOU DON´T LOVE ME ANYMORE
Soundfiles in advance:
HEARTBREAK RADIO - Angelina (Edit)
HEARTBREAK RADIO - Love On Fire (Edit)
HEARTBREAK RADIO - Turn On Love (Edit)
++++++++++++++++++++++++++++++++++
Band: Wild Rose
Album: Dangerous
Label: AOR Heaven
Release: 22.02.2013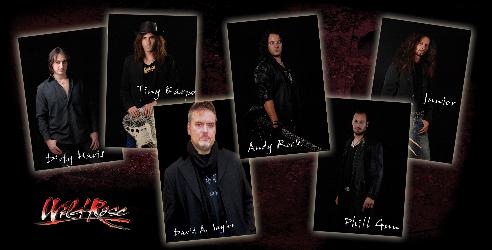 Wild Rose originally was formed in Spring 2004 by Andy Rock. Due to problems finding the right musicians which could play a proper AOR sound, the line-up wasn't stable for a long time.
After trying for two years and continuous changes in the song-writing, Wild Rose formed a basic line-up, which was introduced in 2006 to the audience with songs composed by Andreas Peyos. In 2007 Wild Rose released their first promo CD entitled "It's all about love" which contained the same title track and "Too Late", a song that was rapidly accepted and loved by the audience for AOR music. At the same period Wild Rose performed as the support act on Talisman's farewell tour in Greece.
At the beginning of 2008, two members took a break from Wild Rose to take care of their military obligations. The band was put onto hold for a while and Peyos continued to work on the song material. They returned in mid 2009 and recorded a 10 track demo CD with tracks written by Peyos and Dirty Haris. These songs matured through the rehearsal process and ended up in professionally recorded versions on the band's debut album "Half Past Midnight" which was finally released in October 2011 and received great results in the AOR specialized press.
During the year 2012, the band has worked on new songs and recorded their second album "Dangerous" which will be released on February 22nd 2013 on the AOR Heaven label. This release was produced & mixed by Andy Rock and co-produced by Wild Rose between December 2011 and September 2012 at WR Studios Thessaloniki, Greece  and is the first to feature new main vocalist David A. Saylor (PUSH).
1.Alone, 2.Hold On, 3.I Can't Stop Loving You, 4.If You Still Love Me, 5.Dream On, 6.Awake, 7.Tonight, 8.I Won't Forget You, 9.Is This Love, 10.Not A Day Goes By
Soundfiles in advance:
WILD ROSE - Can't Stop Loving You (Edit)
***
Label: www.metalheaven.net
LAST AUTUMN'S DREAM - "Ten Tangerine Tales" erscheint am 25.01.2013!
Liebe Medienpartner,
gleich im neuen Jahr erwartet uns auf dem französischen Label Bad Reputation ein Melodic Rock-Highlightt – die schwedisch-deutsche Band LAST AUTUMN'S DREAM veröffentlicht dort am 25.01.2013 ihr zehntes Album "Ten Tangerine Tales".
Wir betreuen dieses Thema für alle Promobereiche in Deutschland und Österreich und bemustern in limitierter Anzahl mit Promo-CDs. Bei Interesse meldet Euch bitte bei uns – die Anzahl der CDs reicht nicht zur automatischen Bemusterung abseits der Rock-/Metal-Printpresse und Melodic Rock-affinen Medien.
---
Band : Last Autumn's Dream
Album : Ten Tangerine Tales
Label : Bad Reputation
Vertrieb : Bertus
VÖ : 25.01.2013
PR (in D & A) : This e-mail address is being protected from spambots. You need JavaScript enabled to view it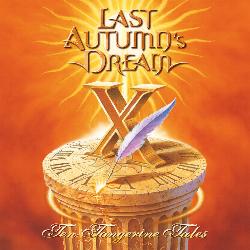 Last Autumn's Dream is a hard rock band formed in 2002 by vocalist and keyboardist Mikael Erlandsson from Sweden and guitarist Andy Malecek from the German hard rock band Fair Warning.
When searching for other band members, they asked bassist John Levén, drummer Ian Haugland and keyboardist Mic Michaeli, all from the band Europe, if they were interested to be part of this new musical project and since that moment the band began working on their self-titled debut album, which was released in 2003.
By the time they began working on their second album, II, Europe had reunited, and Last Autumn's Dream had to replace Levén, Haugland and Michaeli with Marcel Jacob (Talisman), Jamie Borger (Talisman, Treat) and Thomas Lassar (Crystal Blue), respectively. II was released in 2005.
Thomas Lassar left Last Autumn's Dream after II, paring the band down to a quartet. They then released the albums Winter in Paradise in 2006 and Saturn Skyline in 2007.
In June 2007, their first greatest hits album, Impressions: The Very Best of LAD was exclusively released for the Japanese market. The band performed at the United Forces of Rock festival in Ludwigsburg, Germany on September 30, 2007 alongside Joe Lynn Turner, Stan Bush, White Wolf, Soul Doctor, Human Zoo and Danger Danger.
The fifth studio album, Hunting Shadows, came out in Japan in early 2008 as well as the live album Live in Germany 2007 before they released Dreamcatcher in Japan on December 24, 2008 and in January 2009 in Europe.
In Summer 2009, bass player Marcel Jacob sadly committed suicide. He only was 45 years old. Nalle Påhlsson was brought in as his replacement.
The group's seventh and eighth albums, A Touch of Heaven and Yes, were both released in 2010 before Nine Lives saw the light of day in December 2011. This recording included The Last to know with Jeff Scott Soto and Angel Eyes, a duet with Jenny Redenkvist.
Now, the year 2013 sees the release of album No. 10, Ten Tangerine Tales. Just celebrate it !
Frohe Weihnachten! / Merry Christmas!
Liebe Kollegen & Freunde,
auf diesem Weg möchten wir uns für Euren bzw. Ihren Support und die gelungene Zusammenarbeit im vergangenen Jahr bedanken und freuen uns auf eine Fortsetzung in 2013!
Unser Büro bleibt von morgen Mittag bis zum 06. Januar geschlossen. In dringenden Fällen sind wir in diesem Zeitraum unregelmäßig per E-Mail an This e-mail address is being protected from spambots. You need JavaScript enabled to view it erreichbar.
Frohe Weihnachten und einen Guten Rutsch!
Birgitt
******
Dear business partners & friends,
we would like to take the occasion and thank you for your support and collaboration during the past year and are looking forward to working with you in the year 2013 again!
Our office will be closed from tomorrow noon until January 6th. In urgent cases, please contact us via This e-mail address is being protected from spambots. You need JavaScript enabled to view it until then. Incoming e-mail will be read at least once per day.
Happy Holidays!
Birgitt
LADY ANTEBELLUM "Own The Night World Tour" erscheint am 18.01.2013 bei Eagle Vision!
Liebe Medienpartner,
das zweite Januarthema bei Eagle Vision (Vertrieb: Edel) ist die neue DVD bzw. der grandiosen amerikanischen Grammy-Gewinner LADY ANTEBELLUM. Dieser Konzertfilm trägt den Namen "Own The Night World Tour" und liegt bereits für die Bemusterung bereit (Printpresse, Deutschland).
Bemusterungswünsche nehmen wir gerne entgegen!
---
LADY ANTEBELLUM
OWN THE NIGHT WORLD TOUR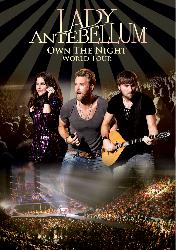 Im Jahre 2012 starteten Lady Antebellum auf ihre allererste Headliner-Welttournee. Obwohl die Band bis dato bereits Millionen an Tonträgern verkauft, mehrere Nr.1-Hits gefeiert und bei den Grammy Awards triumphiert hatte, war es das erste Mal, dass sie ihre eigene Show zu den Fans in aller Welt brachten. Mit ihrer packenden Bühnenpräsenz und den großartigen musikalischen Darbietungen avancierte die Tour zu einem atemberaubenden Erfolg. Das hier vorliegende Konzert wurde im Juni 2012 in der ´Verizon Arena` in Little Rock, Arkansas zum Ende ihres Nordamerika-Abstechers aufgezeichnet. Die komplette Show mit Hits wie "I Run To You", "We Owned The Night", "American Honey", "Just A Kiss", "Our Kind Of Love" oder auch "Need You Now", der meistverkauften Country-Single aller Zeiten, wird durch eingeschobene Dokumentationen über das Leben auf Tournee, über ihre Freundschaft und ihre musikalische Kreativität aufgelockert. Diese allererste Videoveröffentlichung von Lady Antebellum fängt perfekt die grandiose Leistung des Trios ein und wird die Heerscharen an Fans begeistern. Das Bonusmaterial umfasst unter anderem die Songs "Good Life", "Love's Lookin' Good On You", "Love This Pain", "Sweet Emotion" und "Black Water" (feat. Darius Rucker & Thompson Square). "Own The Night World Tour" wird parallel auch auf DVD (EREDV960) veröffentlicht.
TRACKS: 1) We Owned The Night   2) Stars Tonight   3) Love Don't Live Here   4) Just A Kiss   5) Dancin' Away With My Heart   6) Our Kind Of Love   7) Perfect Day   8) American Honey   9) Hello World   10) Wanted You More   11) I Run To You   12) Lookin' For A Good Time   13) Need You Now   14) We Owned The Night (Credits)
VÖ: 18. Januar 2013
Künstler: Lady Antebellum
Titel: Own The Night World Tour
Label/ Vertrieb: Eagle Vision/ Edel
Format: Blu-Ray-Musik
Katalognummer: 1051744E14 (DVD: 1099604E11)
Bildformat: 16:9
Sound-Formate: DTS-HD Master Audio, LPCM Stereo
(DVD: DTS Surround Sound, Dolby Digital 5.1, Dolby Digital Stereo)
Spielzeit: ca. 124 Minuten
Untertitel: Englisch, Französisch, Spanisch