NEWS
::: AOR Heaven Newsletter - December 2012 :::
AOR Heaven are happy to announce a couple of new signings for release during the first quarter of the year 2013.
Besides the new releases from SHYLOCK - "Walking Tall" and TASTE's self-titled debut album which are both due on January 18th, 2013 new AOR/ Melodic Rock highlights from HEARTBREAK RADIO, WILD ROSE and BAI BANG will follow in February and March.
---
HEARTBREAK RADIO will return with their sophomore release "On Air" in February 2013. This album is the follow-up record to the band's highly acclaimed self-titled debut album which was released back in 2005 on AOR Heaven and can be highly recommended to any fans of Westcoast/AOR icons from the late 70's such as Journey, Pages, Toto, Bill La Bounty, Kenny Loggins, Christopher Cross, Michael McDonald & Bill Champlin.
The vocalists on "On Air" are Jim Jidhed (Alien), Mikael Erlandsson (Last Autumn's Dream), Pierre Wensberg (Elevener, Radioactive), Henrik Baath (Dark Water) und Martin Gabriel (solo) with Mats Johansson (ASIA) on guitars, Berra Holmgren (Ace Of Base) on bass, Peter Strandberg (Jeff Scott Soto) on drums, Johan Axelsson on keyboards and Wojtek Goral (Stevie Wonder) on saxophone.
The album was produced by Claes Andreasson (Last Autumn's Dream) and Johan Axelsson.
+++
After the successful release of "Into The Night", the solo album by guitarist ANDY ROCK in Autumn 2012 on AOR Heaven, his main band WILD ROSE will return with their second studio album entitled "Dangerous" in February 2012. This is the first release feat. British vocalist David A. Saylor on the mic.
+++
Swedish Glam heroes BAI BANG have finished the recordings for the 7th yet untitled studio album which will be released in March 2013 on AOR Heaven. More new on this release will follow soon!
+++
The PR for the February releases Wild Rose and Heartbreak Radio will start in early 2013 - right after our vacations from 22.12.-07.01.2013.
AOR Heaven newsletter - introducing the January 2013 releases Taste & Shylock!
Dear press & radio,
below you find the key information about AOR Heaven's upcoming January releases from TASTE and SHYLOCK. From these releases on, AOR Heaven will fully switch to digital promotion. The promotion contacts from now for all coming new releases are:
for all European countries, except for the UK: This e-mail address is being protected from spambots. You need JavaScript enabled to view it
UK: Mike Exley
The promotion for these two releases in our territory will be started in the first week of December. To receive download invitations for these and all upcoming releases from this label, all interested contacts must be registered  for GerMusica's Haulix pool. UK contacts need to check with Mike about promo delivery.
Please contact us in case of any questions!
---
Release: Shylock – Standing Tall
Label: AOR Heaven
Release date: 18.01.2013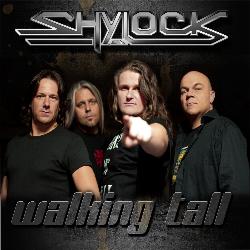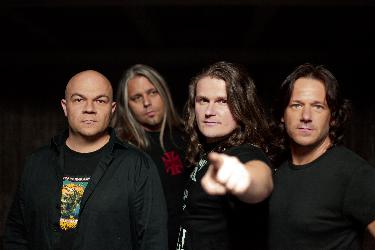 Shylock is a warrantor for catchy hard rock songs with sing along choruses and  also became a top part of the German Hard Rock league.
The two masterminds behind Shylock, Matthias Schenk (voc.) and Johannes Amrhein (git.), have been working together for more than two decades. With their band mates Achim Thiergärtner (dr.) and Bernhard Schwingenstein (b.) they continue to follow their roots and show us again their strengths on album number six which is entitled "Walking Tall". They deliver what they can do best: catchy and up-to-date Hardrock in the year 2013.
Shylock started as a highly anticipated newcomer (German Rock Hard 'Unerhört' band) and established themselves quickly as well known live rock act. In the past Shylock have toured and played numerous shows together with bands like Bonfire, Gotthard, Adler's Appetite, Roger Chapman, Shakra, Right Said Fred, U.D.O., Primal Fear and more. They went on the road in Germany, Switzerland and Spain.
Certainly, one of the biggest highlights for the band was their TV performance in advance to the farewell-game of world known soccer player Thomas Hässler the year 2005 at the RheinEnergieStadion in Cologne. Shylock performed their song "Farewell" in front of 20.000 people. This show was broadcasted in Germany on TV (DSF).
The four-piece has released five full-length albums so far: Shylock, Pyronized, Welcome To Illusion, Devotion & RockBuster. Although they did have to take a break from playing live due to the family duties – Matthias Schenk and Johannes Amrhein have been working hard on the new release "Walking Tall".
The new album starts off where "RockBuster" ended and songs like "Walking Tall", "Rock DNA", "I Can't Wait Now", "Anything" and "Away From Here" etc. show the band's strength at the best.
Tracklist: 1. Walking Tall 2. Rock DNA 3. I Can't Wait Now 4. Bridges 5. What It Takes 6. Sad To Know 7. Sliding Through Emotions 8.Taken It Too Far 9. She Came Along My Way 10. Right Now Or Never 11. Away From Here 12. Touch My Soul 13. Anything
Website: www.shylockmusic.de
Sound clips in advance:
SHYLOCK - I Can't Wait Now (Edit)
****
Release: Taste – s/t
Label: AOR Heaven
Release date: 18.01.2013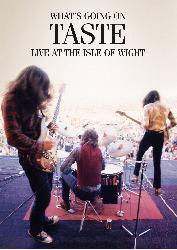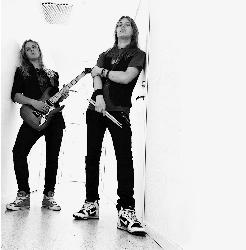 Taste was formed by the two brothers Christoffer and Felix Borg the day before new year's eve in 2009. First, Taste was only supposed to be a side-project, because both also had played in other groups. But it didn't take long before the Swedes decided to turn Taste into a full  band.
During the two following years, they wrote and recorded five songs inspired by the 80's and bands like Europe, FM, Giant, Valentine and White Lion.
Since they never met any suitable band members to complete the line-up and therefore couldn't play live, the brothers decided to record their first full-length album themselves.
Taste had a vision to blend a vintage 80's sound with a fresh modern production. The self-titled album was recorded, mixed and mastered by Christoffer Borg in his own studio and will now be released on CD by AOR Heaven on January 18th.
Tracklist: 1. Back To The Future 2. Our Dreams 3. Cry For Love 4. Don't Give Up 5. Stay 6. My Rose 7. Danger Games 8. Doesn't Feel Like Love 9. In My Arms (Tonight) 10. The One 11. Fallen Angel
Website: www.facebook.com/tastetheband
Soundclips in advance:
Avenue Of Allies release SAPPHIRE EYES' self-titled debut album on Nov. 30th, 2012!
Dear press,
below you find the key information about the third release from Avenue Of Allies due on November 30th, 2012: the amazing debut album by the Swedish AOR band SAPPHIRE EYES.
The promotion for this release already has started and we're currently taking interview requests for songwriter, keyboard player and producer Niclas Olsson (Alyson Avenue). Please contact us with your requests!
---
Release: Sapphire Eyes – s/t
Label: Avenue Of Allies
Release date: Nov 30th, 2012
Promo: This e-mail address is being protected from spambots. You need JavaScript enabled to view it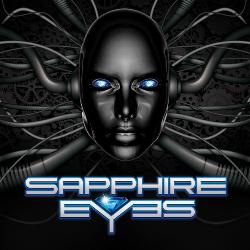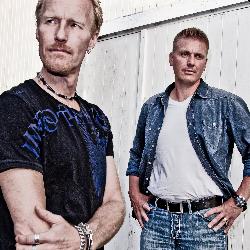 SAPPHIRE EYES is the new AOR band of songwriter and keyboard player Niclas Olsson, well known for his female fronted Melodic Rock band Alyson Avenue and lead singer Thomas Bursell. Back in 2004 the two Swedish musicians already worked together in the Melodic Hard Rock band Second Heat.
For several years already Niclas had the idea for an AOR band with a male vocalist, it originally started when Alyson Avenue parted ways with vocalist Anette Olzon in 2006. But due to other projects, including the work on Alyson Avenue's comeback album "Changes" with their new vocalist Arabella Vitanc, released in the spring of 2011 through Avenue Of Allies, the work on the male fronted AOR album was put on hold.
Over the years Niclas has written a lot of songs that didn't seem to be the right choice for Alyson Avenue, so he kept them up his sleeve until he was working on a suitable recording project.
SAPPHIRE EYES is exactly the album Niclas was waiting for to dig out 10 AOR jewels from his song vault and to record them with a line-up of musical friends.
Niclas and Thomas, who recorded the vocals for seven album tracks, are joined by two other male Swedish singers, Mikael Erlandsson (Last Autumn's Dream, Salute) took over the lead vocals on two songs and Mike Andersson (Cloudscape) handles the vocal duties on one tune. The female vocal touch is added by the two Alyson Avenue front ladies, past and present, with Anette Olzon and Arabella Vitanc recording backing vocals for two songs each.
Guitar contributions on SAPPHIRE EYES come from Sven Larsson (Street Talk, Lionville), Rik Priem (Frozen Rain), Emil Knabe and part-time Alyson Avenue musician Christopher Dahlmann. With Mikey K Nilsson (Nasty Idols) on guitars and Göran Forssén on bass, two more current Alyson Avenue members followed the call to be part of SAPPHIRE EYES.
The recording line-up is completed by bassists Thomas Löyskä, another Alyson Avenue alumni and Mats Ståhl as well as Francesco Jovino (U.D.O., Hardline) on drums.
The big sound of SAPPHIRE EYES has "Pure Classy Scandinavian AOR" written all over it. The songs are highly melodic with hooklines catchy as hell, the musicianship is of the highest order and the mix handled by Anders "Theo" Theander (Cloudscape, Urban Tale) finds the right balance between top notch vocal performances, guitar power, keyboard heaven and a solid rhythm back bone."
SAPPHIRE EYES are :
Thomas Bursell: Lead vocals, background vocals
Niclas Olsson: Keyboards, background vocals, drums on track 3
Additional musicians:
Mikael Erlandsson: Lead vocals on tracks 1 & 6
Mike Andersson: Lead vocals on track 8
Anette Olzon: Special lead vocals on track 4 & background vocals on track 10
Arabella Vitanc: Background vocals on tracks 3 & 9
Emil Knabe: Guitars on tracks 1 & 9
Sven Larsson: Guitars on tracks 3 & 5
Mikey K Nilsson: Guitars on tracks 2, 6, 7 & 10, additional guitars on track 8
Rik Priem: Guitars on track 4 & Intro solo on track 2
Christofer Dahlman: Guitars on track 8
Thomas Löyskä: Bass on tracks 1, 2, 4, 8 & 10, clean guitars on tracks 2 & 10
Göran "G" Forssén: Bass on tracks 3, 5, 7 & 9
Mats Ståhl: Bass on track 6
Fransesco Jovino: Drums on all tracks except track 3
Anders "Theo" Theander: Loops, percussion and FX
Produced by Niclas Olsson
Mixed & mastered by Anders "Theo" Theander at RoastingHouse Studios Studio 1, Malmö, Sweden
All drums recorded by Alessandro Del Vecchio at Ivorytears Music Works, Somma Lombardo, Italy
Executive producer: Gregor Klee
Web:
"The Secret Policeman's Ball 2012" erscheint am 30.11.2012 bei Eagle Vision!
Liebe Medienpartner,
weiter unten finden Sie die wichtigsten Informationen über die DVD/ Blu-ray "The Secret  Policeman's Ball 2012", welche am 30.11.2012 bei Eagle Vision/ Edel erscheint. Dieses ist die letzte Eagle-Veröffentlichung im Jahr 2012, mit der wir bemustern können, bevor es im Januar u.a. mit der Veröffentlichung einer neuen Rolling Stones-Doku und einem Konzertfilm von Lady Antebellum weitergeht.
Von "The Secret Policeman's Ball 2012" liegen DVDs und Blu-rays zur Bemusterung vor und können bei uns angefordert werden.
---
THE SECRET POLICEMAN'S BALL 2012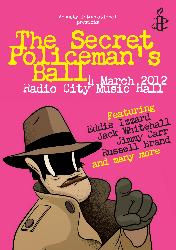 "The Secret Policeman's Ball war – und ist – ein Zusammentreffen der besten Comedy-Talente aller Generationen, die ihre Kunst feiern, um das Publikum daran zu erinnern, wie wichtig freie Meinungsäußerung ist und wie unendlich viel Amnesty International dafür tut, um diese zu schützen. Ich bitte dringend darum, dies zu unterstützen." – John Cleese
Am 4. März 2012, zur Feier des 50. Geburtstags von Amnesty International, feierten The Secret Policeman's Ball in Amerika ihre Bühnenpremiere in New Yorks berühmter ´Radio City Music Hall`. Die Geschichte der Truppe reicht bis ins Jahr 1979 zurück, Secret Policeman's Ball haben immer schon die besten Talente aus Comedy und Musik hinter sich vereint, um mit Scharfsinnigkeit und Humor sowohl Gelder zu sammeln als auch Aufmerksamkeit für die vitale Arbeit von Amnesty International zu erwecken, um bei Regierungen rund um den Globus Gehör zu finden. Nach einer eingespielten Begrüßung durch Erzbischof Desmond Tutu enterte eine grandiose Besetzung aus englischen und amerikanischen Schauspielern die Bühne, darunter  Russell Brand, Eddie Izzard, Jon Stewart, Reggie Watts, Ben Stiller, Catherine Tate, Jack Whitehall, Jimmy Carr, Beavis & Butthead, Noel Fielding, Micky Flanagan, Paul Rudd, Tim Roth, Sarah Silverman, David Walliams, Liam Neeson, Peter Serafinowicz und Seth Meyers, dazu gab es aufgezeichnete Beiträge der Monty Python-Mitglieder Eric Idle, Terry Jones und Michael Palin sowie kritische Kommentare der beiden alten Muppet Show-Grantler Statler & Waldorf. Die musikalischen Elemente wurden von  Mumford & Sons und durch ein abschließendes Set von Coldplay beigesteuert. Ganz in der Tradition ihrer Vorgänger sind die 2012er Secret Policeman's Ball ebenso relevant wie lustig, ebenso wichtig wie gewohnt ungezogen. Das Bonusmaterial umfasst Backstage-Interviews sowie eine Monty Python-Parodie mit Robert DeNiro, Whoopi Goldberg & Gästen. "The Secret Policeman's Ball 2012" wird parallel auch auf DVD veröffentlicht.
VÖ: 30. November 2012
Künstler: Various Artists
Titel: The Secret Policeman's Ball 2012
Label/Vertrieb: Eagle Vision/ Edel
Format: Blu-Ray
Katalognummer: 1051717E14 (DVD: 1099557EMV)
Bildformat: 16:9
Sound-Formate: Dolby Digital Stereo
Spielzeit: ca. 137 Minuten
Untertitel: keine
WHEELS OF FIRE return with "Up For Anything" on Nov. 30th, 2012!
Italian Melodic Rock band WHEELS OF FIRE are back with their new album "Up For Anything". The promotion already has started – please send us your requests! Davide Barbieri will be available for interviews as well!
Release: Wheels Of Fire – Up For Anything
Label: Avenue Of Allies
Release date: Nov 30th, 2012
Promo: This e-mail address is being protected from spambots. You need JavaScript enabled to view it
---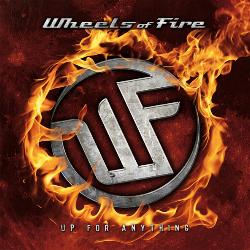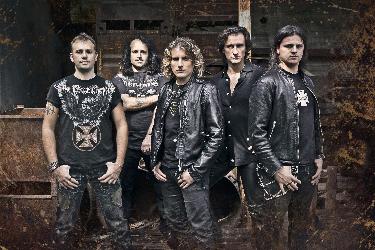 Two and a half years after their debut album "Hollywood Rocks" (Avenue 1007 0015) WHEELS OF FIRE return with their second record "Up For Anything". Following the first  release of the band, which reached the #42 position on the charts of the Japanese Burrn! magazine, WHEELS OF FIRE have established themselves in the club circuit in North Italy as an entertaining live act with a stable line-up, that also recorded the songs for their sophomore release.
Front man Davide "Dave Rox" Barbieri and guitar player Stefano Zeni were already the core of the recording line-up of "Hollywood Rocks", since then the duo was joined by Marcello Suzzani on bass, Andrea Vergori on keyboards & piano and Fabrizio Uccellini on drums.
Dave and Stefano are also the song writers for all tracks of the album, on some songs Alessandro Del Vecchio (Lionville, Edge Of Forever, Hardline) and Pierpaolo "Zorro 11" Monti (Shining Line, Charming Grace, Lionville) lend a helping hand in the writing process.
The compositions of Dave and Stefano impressively show the progression of the band into a contemporary Rock act incorporating modern elements into their sound while staying true to their musical roots of the Melodic Rock sound of the 80s. WHEELS OF FIRE stand for instantly memorable vocal lines and choruses with carefully arranged harmonies, hook laden powerful guitar riffs and solos combined with well balanced keyboards and piano entries, big sounding drums and solid bass tracks.
Dave delivers a highly professional production job on "Up For Anything" and for the album mix and the mastering Roberto Priori (Danger Zone) was behind the studio desk.
On the list of international guests are James Christian (House of Lords) who performs a vocal duet with Dave on the midtempo rocker "Don't Walk Away" and is his wife Robin Beck, joining him on backing vocals.
And Swedish guitar player Rob Marcello (Danger Danger, Marcello-Vestry) laid down the solo for "No Mercy". Contributions from local Italian musicians come from Michele Luppi (Secret Sphere, Los Angeles, ex-Vision Divine), Roberto Zari and Andrea "Mitzi" Dal Santo on backing vocals throughout the album and a full horn section on "Yesterday's Gone".
Following the release of the album the band will hit the road again in 2013 to present their new songs.
WHEELS OF FIRE are in full gear and "Up For Anything".
Produced by Davide Barbieri
Mixed and mastered by Roberto Priori
WHEELS OF FIRE are :
Davide "Dave Rox" Barbieri: Lead & backing vocals
Stefano Zeni: Lead, rhythm & acoustic guitars
Marcello Suzzani: Bass
Andrea Vergori: Keyboards & piano
Fabrizio Uccellini: Drums
Special guest musicians:
James Christian: duet and backing vocals on "Don't Walk Away"
Robin Beck: Backing vocals on "Don't Walk Away"
Rob Marcello: Guitar solo on "No Mercy"
Michele Luppi: Backing vocals on "Lay Your Body Down", "Nothing To Lose" & "No Mercy"
Roberto Zari: Backing Vocals on "Follow Your Heart", "Turning Up The Radio", "Pain", "Come Back Home"
Andrea "Mitzi" Dal Santo: Backing vocals on "Follow Your Heart", "Turning Up the Radio", "Pain", "Respect"
Claudio Allifranchini: Sax on "Yesterday's Gone"
Domenico Granieri: Trumpet on "Yesterday's Gone"
Giovanni Distefano: Trombone on "Yesterday's Gone"
Web:
www.wheels-of-fire.com
www.www.facebook.com/Wheels.of.Fire.The.Band
www.avenue-of-allies.com