NEWS
SSwedish Sleaze/Glam Rock band PRETTY WILD to release "Pretty Wild" on January 10th, 2014!
Dear press & radio,
please find below the key information about DEAD END EXIT's release from Swedish Sleaze/ Glam Rock band PRETTY WILD. Their self-titled second album is scheduled for a release on January 10th, 2014.
The PR for this release will start during this week. Here comes a trailer with snippets for all songs from this fine album in advance: http://youtu.be/thR6Z85MD24
---
Band: Pretty Wild
Release: Pretty Wild
Out: 10.01.2014
Label: Dead End Exit Records
Distributor: Sound Pollution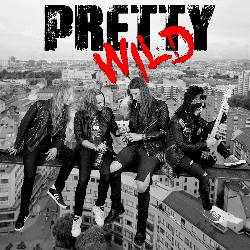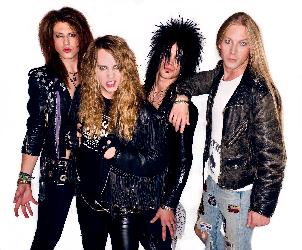 Pretty Wild was founded in 2006 in Malmoe, the line-up at that time was Krizzy Fields, Kim Chevelle, Johnny Benson and Tim Pretty. The guys wanted to play 80′s metal and recorded a three song demo. Tim Petty later left the band and new frontman Ivan Höglund joined the band.
The guys did a lot of shows in both Europe and USA and shortly after released their first EP "All the way" on an American label. That didn't work out very well and they even renamed Johnny Benson in the booklet to Jimmy.
Now, the Swedes are releasing their second full-lenght album. Their debut album "All The Way" in 2008 went straight away up on the Swedish billboard list as no#1, sold out all copies and made a long tour with approximately 100 live shows worldwide. After a year in the studio and cooperation with the elite of the rock music industry, Pretty Wild are now offering the new album "Pretty Wild" with 14 new Hard Rock hits, a music video in the making and a brand new record label in their back: Dead End Exit Records.
The band continued touring and started to work on new material for a second album. In 2010 Krizzy Fields parted with the band and Axl Ludwig joined. Pretty Wild did another tour with Axl and then began the long road towards the next album.
Some setbacks along the way delayed the process but now the new album is ready and the guys are back stronger than ever with a 14 song album with big choruses and that arena rock feel we all love!
What defines Pretty Wild is their heavy melodic sound and well crafted songs. All with a great vibe that just makes you feel good. And combined with their energy and "IN YOUR FACE" attitude makes them undefeatable!
https://www.facebook.com/pages/Pretty-Wild/167197552707?fref=ts
PAVIC - "Is War The Answer?" will be released on January 24th, 2014 via Anteo Records!
Dear press & radio,
please find below the key information about the upcoming January 24th, 2014 Anteo/ New Venture Music release: PAVIC – "Is War The Answer?".
Here you find a trailer with some excerpts from the album at Youtube: https://www.youtube.com/watch?v=itpapt4gSrI
Additionally to this, the band also has in advance released a video clip for the song "Song For The Rain" at this link: https://www.youtube.com/watch?v=wsUdibJYCM0
Please watch and share these links! The PR for this release will be handled by us world-wide and start mid of next week. Advance requests are welcome!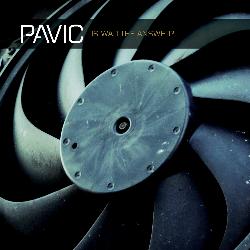 Album: Pavic – Is War The Answer?
Release date: January 24th, 2014
Label: Anteo Records
PR: This e-mail address is being protected from spambots. You need JavaScript enabled to view it
Founded by guitarist Marko Pavic, together with Aleks Ferrara on bass and Lorenzo Antonelli on keyboards, PAVIC released their debut record "Taste Some Liberty" in late 2005. The album, was distributed throughout Europe and achieved critical acclaim in their home country Italy as well as in Germany and various other European countries. The reviewers spoke in high terms of the artist's songwriting and Marko's skills to play the guitar in an exciting way awaking the listeners interest in the band's songs, while staying away from boring technical gimmickry.
The debut was enriched by the guest appearances of outstanding musicians such as Kee Marcello (Europe, guitar), Tony Franklin (Blue Murder, Whitesnake, bass), Vitalij Kuprij (Ring Of Fire, keyboards) and Daniel Flores (Mind's Eye, drums).
In 2008, PAVIC returned with "Unconditioned", the band's second release. The record was mixed by producer Tobias Lindell at Bohus Sound Studio, Sweden (Abba, Status Quo, Europe) and mastered by Dragan Tanaskovic (Evergrey, Meshuggah, In Flames, Göran Edman). Guitarist Kee Marcello was invited once again to play on the track "Just Go On". PAVIC explored new musical directions with this album as it offered a mix between Classic and Modern Rock and Metal.
When the band parted ways with vocalist Chris Catena in 2010, the search for a new singer led to a temporary break during which the band members got involved in different studio and live projects. Still the band continued to develop their sound further, moving into a more contemporary direction.
In late 2012 the line-up of PAVIC was eventually revived by the arrival of new lead singer Joe Calabro, the perfect fit for the songs the band was recently working on and Antonio Aronne on drums.
The fresh and modern sound of the brand new album "Is War The Answer?" required a different sonic approach, so the renowned American producer Rick Beato (Shinedown, Fozzy, Ingram Hill) was brought in to mix the songs. Rick's work on the ten tracks, which include a cover version of the Duran Duran hit single "Notorious", lived up to his reputation as a whiz behind the mixing desk. By bringing in writer and comic book author Roberto Recchioni (Dylan Dog) to write the story for the video of the song "In Your Eyes", the bands is underlining its professional way of working. The video is one of three professionally shot clips, that will be presented to the public in the coming months.
Meanwhile PAVIC, who have opened for acts such as Reb Beach (Whitesnake, Winger, Dokken) and John Corabi (Mötley Crüe) during the last year, are preparing a series of concerts for 2014 to introduce their latest effort "Is War The Answer?" to the audience.
www.pavictheband.com
www.facebook.com/pavictheband
THE DEEP END - "Cop This" erscheint am 13.12.2013 in Europa über BAD REPUTATION!
Liebe Rocker!
Hard Rock aus Australien? Da werden immer gleich Assoziationen wach; und bei THE DEEP END liegen wir auch gleich richtig. Die großen AC/DC standen mal wieder Pate für eine jüngere Band des gleichen Genres. Ihr Debütalbum "Cop This" erschien Anfang dieses Jahres nur in ihrer australischen Heimat und gelangt über das französische Label Bad Reputation nun ab 13.12.2013 auch nach Europa.
Wir betreuen für diese CD die Presse & Radio (alle Bereiche) in Deutschland und Österreich, haben aber nur eine limitierte Anzahl an Promos zur Verfügung. Bei Interesse dieses Thema bitte anfragen!
---
Band: The Deep End
Release: Cop This
VÖ: 13.12.2013
Label: Bad Reputation
Vertrieb: Cargo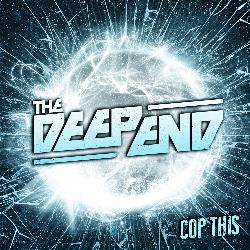 "The Deep End kick off with a sound that smells of spilled beer and feels like sticky pub carpets. Think Rose Tattoo, early AC/DC and early Angels. Sonically Cop This is definitely an album that invites being played loud, preferably in a car, preferably at the start of a bloody Friday night.
Well renowned for delivering a blistering live show, The Deep End is a five-speed powerhouse Australian pub rock n' roll band.
The Deep End begun as an idea over beers in a suburban Melbourne garage and quickly developed from after school jams engaging locals with AC/DC covers to writing and performing formidable rock songs of their own, "delivering boisterous anthems and fistfuls of riffs" (Heavy Mag).
Since their inception, The Deep End have continued to build their loyal fan base thanks to their 'play every show like it's your last' attitude, solidified by headlining festivals, sold out shows headlining shows and sharing the stage with rock giants such as Airbourne, The Angels/Angel City, Rose Tattoo, Screaming Jets, Hoodoo Gurus, The Datsuns, Bam Margera's F**kface Unstoppable and more.
The Deep End gained commercial radio exposure in Australia in a bid to support Bon Jovi, amounting to further interest from local rock fans that thickened their ranks. Their growing profile has allowed them to self release and sell out 3 independent EP's since forming in 2007, a feat hard to match by many other independent Aussie acts.
After selling out their first 3 EP's, The Deep End released their long awaited debut full length album 'Cop This' on 22nd February 2013, which captured the bands raw energy and passion for keeping rock n' roll alive. With album pre-orders hitting almost 300 units worldwide, the band followed up on the launch with a 23 show 'no holds barred' tour of Australia and New Zealand. As such an achievement for an independent band, both punters and media took notice, proven by more sell out shows and rotation on Australian, New Zealand, North American and European rock stations.
Recently eclipsing 1000 self released, independent album sales worldwide and with their sights set firmly on taking their high octane show abroad, never has there been a better time to get behind the most exciting, hard working young rock n' roll band from Australia.
StoneLake to release single "Deliverance" via iTunes on December 13th, 2013!
Swedish Prog and Power Metal band StoneLake have a new single and a new line-up, they love you and want you to hold on. You are not alone!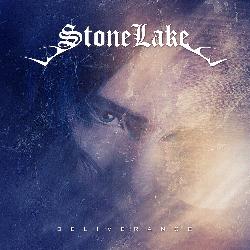 But first, listen to Deliverance by StoneLake! Available for high quality digital download December 13 2013 through CD Baby, iTunes, Amazon, Metal fan-sites worldwide and Facebook, the soaring power-ballad Deliverance is the band's first release following this year's critically acclaimed 6th studio album Monolith and introduces a change to the StoneLake line-up, welcoming back drummer Jens Westberg to re-join founder members Peter Grundström (vocals) and Jan Åkesson (guitars and keyboards), and long time member Lasse Johansson (bass).
Deliverance was recorded at UMP Unlimited Music Production studios in Furulund, Sweden, produced, mixed and mastered by Jan Åkesson, providing StoneLake's trademark hard hitting sound and rock solid production values, and as with Monolith, StoneLake once again brought in British writer Adam Bard to pen the lyric.
StoneLake are: Peter Grundström – Lead Vocals; Jan Åkesson – Guitars, Keyboards; Lasse Johansson – Bass; Jens Westberg – Drums
Deliverance written by: J. Åkesson & A. Bard
Featuring: Mike Andersson – Backing Vocals
Produced by: Jan Åkesson for UMP Unlimited Music Production
Cover artwork: Carl André Beckston
+++ STONES IN DEN CHARTS !!! +++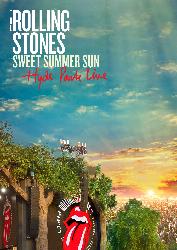 THE ROLLING STONES yesterday charted with the live DVD release "Sweet Summer Sun - Hyde Park Live" (Eagle Vision/Edel) at #2 at the official German Media Control top 100 album (!) chart and additionally today at #1 of the German DVD chart as well.

The #2 entry at the German top 100 albums chart marks GerMusica PR's highest and most important chart success in the company's history so far.

We would like to thank all of our business partners, friends and especially the press in Germany & Austria for the tremendous support on the PR campaign for this release (and for everything else) - You Rock!
+++++
Wir freuen uns diese Woche über eine ganz besondere Chart-Platzierung: die ROLLING STONES sind bereits gestern mit ihrer Live-DVD (!) "Sweet Summer Sun – Hyde Park Live" auf Platz #2 in die deutschen Media Control Top 100 Album-Charts eingestiegen und konnten somit die neuen Studiowerke von Künstlern wie Lady Gaga, Helene Fischer, Fettes Brot und Adel Tawil gleich in der ersten Woche nach VÖ auf die hinteren Plätze verweisen! Zusätzlich erreichte das Produkt heute Platz #1 der Media Control DVD-Charts.

Für GerMusica PR bedeutet Platz #2 in den Top 100 Longplay-Charts den größten Charterfolg seit Bestehen der Agentur überhaupt, und wir möchten uns ganz herzlich, auch im Namen des Labels Eagle Vision, bei allen Medienpartnern & Geschäftspartnern in Deutschland und Österreich bedanken, die uns insbesondere bei der PR für dieses Produkt (und auch sonst überhaupt) so grandios supportet haben!
Dankeschön!