CANNON - Burning Love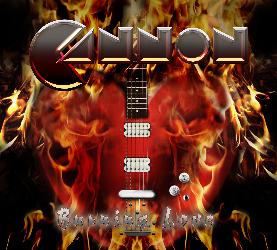 release date: 07.09.2012
product: Cannon - Burning Love

label: meantime music

format: CD
PR territory: world

Pictures, bios, logos: link
CANNON from Hanover, Germany were founded in 1986 consisting of Mat Rein Jaehnke (vocals), Walter Mueller (guitars), Steve Carrington (bass), Oliver Krueger (lead guitars) and Mats Toralf (drums).
The band's debut album "Thunder And Lightning" was released in April 1988. A great deal for the 2nd album with a major label was unfortunately cancelled close before the signing in 1989. CANNON nevertheless started the production of this record on a self-financed basis in 1991. Unfortunately the tapes with the still unfinished record were stolen. In 1994, the band recorded a 7 track demo tape and re-issued the sought after "Thunder And Lightning" album on tape. These tapes massively sold at the band's live shows. The beginning of the end for the band though was the departure of drummer Mats Toralf in 1994. After a long, unsuccessful search for a proper replacement, singer Mat Rein Jaehnke also decided to quit the band in October 1996. Soon afterwards, CANNON split off completely.
The band reunited in September 2003 with four members of the original line-up. Drums though now were handled by original guitarist Walter Mueller (besides the guitar work) who originally had started to perform as a drummer. In November 2003, the band began to write and record new songs at Steve Carrington's home studio. A double CD called "The History" containing the original "Thunder And Lightning" album and the unreleased "Timeriders" demo material was issued in late March 2004.
The new recordings were released under the name "Back In Business" in June 2005 in Europe and May 2006 in the US.
Twenty years after the original release the remastered "Thunder And Lightning" CD was released in the US. Shortly after this in September 2008, CANNON's next new album "Metal Style" got its worldwide release.
In early 2012 CANNON was signed by the German record label meantime music, a subdivision of Yesterrock for their new record "Burning Love". The release date was set for 07.09.2012.