PROMOTION
JESSE DAMON - Temptation In The Garden Of Eve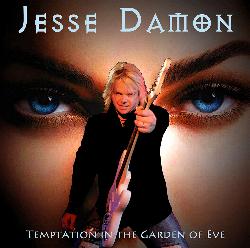 release date: 27.09.2013
product: Jesse Damon - Temptation In The Garden Of Eve

label: AOR Heaven

format: CD

PR: Europe (without UK)

PR link (bio, cover, pics): www.metalheaven.net/press
Southern California based rock musician Jesse Damon is rocking fans around the globe! The world renowned artist is a singer, songwriter, guitarist and is the front man for the popular melodic hard rock band Silent Rage. Silent Rage has released four critically acclaimed albums including the Simmons Records / RCA Records release "Don't Touch Me There."
Jesse Damon's story starts back in the glory days of the eighties. With his band Silent Rage, he's best known for his extraordinary lead vocals and stellar guitar work on the MTV hit video "Rebel with a Cause." During this time in his career, he formed a lifelong friendship with Gene Simmons of Kiss, even co-writing the song "Thou Shalt Not" from the Kiss album "Revenge" for which Jesse was presented a gold album award. The strength of the album and video led to the band opening for Black Sabbath on their North American tour.

Vocals and songwriting are his main strengths, along with his hard rocking guitar performances. Jesse's first three solo albums are a mix of well crafted melodic rock songs and intense ballads.The musical pathway of Jesse Damon's life has been influenced by some of the biggest artists in rock music including Led Zeppelin, The Beatles, Foreigner, Y&T and Whitesnake, just to name a few.
Jesse returns in 2013 to deliver a brand new album called "Temptation in the Garden of Eve."  The CD will feature 11 brand new tracks laden with huge hooks and unforgettable choruses, all co-written by Jesse and acclaimed AOR melodic rocker Paul Sabu who also produced the album. The studio band features backing vocals by Paul Sabu, who also doubles as bass player on the release, along with musicians Eric Ragno on keyboards, and Pete Newdeck of Eden's Curse on drums and backing vocals. Jesse has once again delivered big on all the new songs, adding to the legacy of his works.
To this day, Jesse is still on fire for his music and has a large and ever growing  fan base,  making "Temptation in The Garden of Eve" a highly anticipated release all around the world…
HARTMANN - The Best Is Yet To Come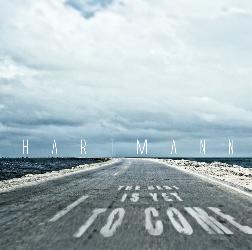 release date: 20.09.2013
product: Hartmann - The Best Is Yet To Come

label: Sonic11/Avenue Of Allies

format: CD

PR: world

PR link (bio, cover, pics): link
The history of HARTMANN began in summer 2004 when Oliver Hartmann recorded his first solo album. During this time he was already known as a highly respected singer on the international music scene since the late 90's due to four successful records with the power metal band At Vance, his participation in top sellers as Tobias Sammet's Avantasia and many other well known productions in the hard rock and metal scene. Co-produced and mixed by top producer Sascha Paeth at Gate Studios/Germany the debut album 'Out in the cold' was released in spring 2005 and reviewed as 'Album of the month' in a wide range of well known rock magazines all over the world. It was also elected by melodicrock.com as 'Song of the year' and 'Ballad of the year' with the songs 'What if I' and 'Into the light'. During the following months the band played their first single shows and festivals in Germany and luckily got the chance in summer 2006 to be touring over Europe for the first time as support for rock legend Toto. At the end of 2006 the four-piece went back to the studio to record the second album 'Home' with a slightly rougher and modernized band sound. Released in spring 2007 the album again received great feedback from the press.
This release was followed by two support tours for House Of Lords in early spring 2007 and for The Hooters in summer 2007. In autumn of the same year the band played two exclusive shows in the intimate atmosphere of the old German varieté theater 'Pegasus' in Bensheim/ Germany. Supported by the three amazing background singers Ina Morgan, Kolinda Brozovic and Tiffany Kirkland as special guests both shows were filmed and recorded for the live DVD & CD 'Handmade' which were released in spring 2008. It is outstanding material like real 'handmade' versions of the studio albums and previously unreleased tracks and a cover version of John Miles' 'Music'.
After Oliver's world-wide tour in summer 2008 as guitarist and singer for Tobias Sammet's Avantasia and several European shows with HARTMANN as special guest for Edguy in spring 2009, the third album '3' was released in late 2009 on the new founded and artist owned record label SONIC 11.
During the following two years the band played numerous shows and festivals and was asked to be special guest on tours of bands such as Mother's Finest, Uriah Heep and Y&T.
In mid of 2011 Oliver and the band started again to write songs for a new studio album of HARTMANN and a year later, right after Oliver had been touring with the successful live project 'Rock Meets Classic' (feat. Ian Gillan, Jimi Jamison, Steve Lukather, Chris Thompson and Robin Beck), the recordings for 'Balance' were completed. This fourth album, released by Avenue of Allies label in June 2012, was once again mixed by Sascha Paeth at Gate Studio and offered high-class melodic Rock music with a modern approach and international class.
In summer 2012 HARTMANN was again special guest on Toto's tour in Germany - the last concerts with the band for drummer and former member Dario Ciccioni who got married and decided to move to New York. After a few auditions Markus Kullmann (Voodoo Circle, Desperadoz, Glenn Hughes) joined the band as the new drummer in autumn to play his first gigs with HARTMANN on a double headliner tour in November and December 2012 with German hard rock act Jaded Heart. After Oliver's second tour with 'Rock meets Classic' in early spring 2013 featuring legends as Paul Rodgers, Bonnie Tyler and Hooters' vocalist Eric Bazilian plus his world tour with Avantasia during summer 2013 the band is already working on new songs for the next studio album of HARTMANN.
After seven years of HARTMANN and five albums the compilation 'The Best Is Yet To Come' is putting together the best and most popular tracks of the band's career. Other remarkable songs are the bonus tracks 'Brothers' (live – feat. Tobias Sammet) and the stunning cover of Tears for Fears' hit 'Shout' which now has been remixed again as a digital bonus track for this compilation. And of course it's just an intermediate result …because we're sure THE BEST IS YET TO COME…