PROMOTION
WILD ROSE - Dangerous
release date: 22.02.2013
product: Wild Rose - Dangerous

label: AOR Heaven

format: CD

PR: Europe, without UK

PR link (cover, bio, pictures): link
Wild Rose originally was formed in Spring 2004 by Andy Rock. Due to problems finding the right musicians which could play a proper AOR sound, the line-up wasn't stable for a long time.
After trying for two years and continuous changes in the song-writing, Wild Rose formed a basic line-up, which was introduced in 2006 to the audience with songs composed by Andreas Peyos. In 2007 Wild Rose released their first promo CD entitled "It's all about love" which contained the same title track and "Too Late", a song that was rapidly accepted and loved by the audience for AOR music. At the same period Wild Rose performed as the support act on Talisman's farewell tour in Greece.
At the beginning of 2008, two members took a break from Wild Rose to take care of their military obligations. The band was put onto hold for a while and Peyos continued to work on the song material. They returned in mid 2009 and recorded a 10 track demo CD with tracks written by Peyos and Dirty Haris. These songs matured through the rehearsal process and ended up in professionally recorded versions on the band's debut album "Half Past Midnight" which was finally released in October 2011 and received great results in the AOR specialized press.
During the year 2012, the band has worked on new songs and recorded their second album "Dangerous" which will be released on February 22nd 2013 on the AOR Heaven label. This release was produced & mixed by Andy Rock and co-produced by Wild Rose between December 2011 and September 2012 at WR Studios Thessaloniki, Greece  and is the first to feature new main vocalist David A. Saylor (PUSH).
LAST AUTUMN'S DREAM - Ten Tangerine Tales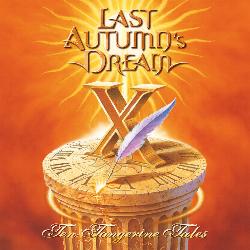 release date: 25.01.2013
product: Last Autumn's Dream - Ten Tangerine Tales

label: Bad Reputation

format: CD

PR: Germany & Austria

PR link (cover, bio): link
Last Autumn's Dream is a hard rock band formed in 2002 by vocalist and keyboardist Mikael Erlandsson from Sweden and guitarist Andy Malecek from the German hard rock band Fair Warning.
When searching for other band members, they asked bassist John Levén, drummer Ian Haugland and keyboardist Mic Michaeli, all from the band Europe, if they were interested to be part of this new musical project and since that moment the band began working on their self-titled debut album, which was released in 2003.
By the time they began working on their second album, II, Europe had reunited, and Last Autumn's Dream had to replace Levén, Haugland and Michaeli with Marcel Jacob (Talisman), Jamie Borger (Talisman, Treat) and Thomas Lassar (Crystal Blue), respectively. II was released in 2005.
Thomas Lassar left Last Autumn's Dream after II, paring the band down to a quartet. They then released the albums Winter in Paradise in 2006 and Saturn Skyline in 2007.
In June 2007, their first greatest hits album, Impressions: The Very Best of LAD was exclusively released for the Japanese market. The band performed at the United Forces of Rock festival in Ludwigsburg, Germany on September 30, 2007 alongside Joe Lynn Turner, Stan Bush, White Wolf, Soul Doctor, Human Zoo and Danger Danger.
The fifth studio album, Hunting Shadows, came out in Japan in early 2008 as well as the live album Live in Germany 2007 before they released Dreamcatcher in Japan on December 24, 2008 and in January 2009 in Europe.
In Summer 2009, bass player Marcel Jacob sadly committed suicide. He only was 45 years old. Nalle Påhlsson was brought in as his replacement.
The group's seventh and eighth albums, A Touch of Heaven and Yes, were both released in 2010 before Nine Lives saw the light of day in December 2011. This recording included The Last to know with Jeff Scott Soto and Angel Eyes, a duet with Jenny Redenkvist.
Now, the year 2013 sees the release of album No. 10, Ten Tangerine Tales. Just celebrate it !