This month with news from Jesse Damon & Shaft Of Steel
*****
::: Former SILENT RAGE singer Jesse Damon returns with "Damon's Rage" on February 28th, 2020!:::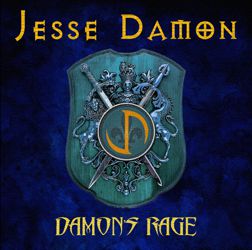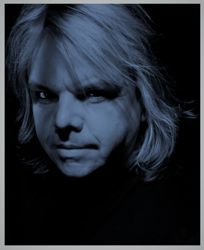 The musical pathway of Jesse Damon's life has been inspired by some of the biggest artists in rock music. Jesse's story starts back in the glory days of the eighties as the lead singer and guitarist for the band Silent Rage that rose to fame in 1989 when signed by Gene Simmons to Simmons/RCA Records for their second release entitled "Don't Touch Me There" which brought critical acclaim and rave reviews. It was deemed # 1 album on the European Charts. "Rebel With A Cause" was the single featured on MTV and the video placed into heavy rotation on MTV's Head Bangers Ball. The strength of the album and video led to the band opening for Black Sabbath on their North American tour. During this time in Jesse's career he formed a friendship with Gene Simmons of Kiss, co-writing songs together and eventually co-writing the song "Thou Shalt Not" from the Kiss album "Revenge" for which Jesse was presented a gold album award.
In 2002, he went on to record another co-written song with Simmons entitled "Everybody Needs Somebody" from his own debut album "The Hand That Rocks." Jesse launched into a solo career and has recorded six of his own releases. The first five solo albums are a mix of well crafted melodic rock songs and intense ballads.
Jesse Damon's new album "Damon's Rage" delivers a killer dose of powerful songs, rock 'n' roll anthems and unforgettable choruses! He's known for his distinct vocals, songwriting and his rocking guitar style by blending melodic rock with metal to create his own sound, but his songwriting is his main maestro that is prevalent throughout his performances on this new album. Acclaimed AOR artist Paul Sabu is at the helm once again producing this album and also co-writing two songs with Jesse titled "Love Gone Wild" and "Wildest Dreams."
This time around all tracks were recorded by Jesse Damon and Paul Sabu and everything was on they're shoulders. From the beginning of recording this album Jesse felt he had a collection of great songs and they both decided to conquer this task and tackle it on their own.
Audio video: https://youtu.be/hO-GwD5c3Xk
Release date: February 28th, 2020
Web: https://www.facebook.com/jesse.damon.7
PR world-wide: Diese E-Mail-Adresse ist vor Spambots geschützt! Zur Anzeige muss JavaScript eingeschaltet sein!
*****
::: SHAFT OF STEEL debut with "Steel Heartbeat" on February 28th, 2020!:::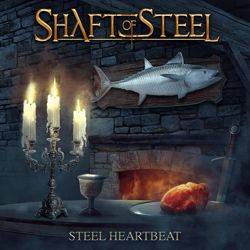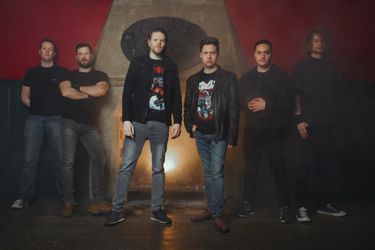 SHAFT OF STEEL are a melodic hard rock band based in London, UK and centered around the songwriting partnership of Alex Markham (guitar) and Robert Fenning (vocals). The group's line-up is completed by Adam Carruthers (guitar), Dominic Swords (bass), Chris Smurthwaite (keyboards) and Michael Levy (drums).
Formed in 2004 at Hull University, SHAFT OF STEEL began life as a power metal band influenced by acts such as Iron Maiden, Dream Theater and Blind Guardian. Guitarist Alex Markham and vocalist Robert Fenning soon discovered that they had a shared love of 80s rock and pop music, in particular Peter Gabriel, Phil Collins and Journey, and quickly sought to combine these sounds with their metal influences. After three years as a popular and much-loved local act on the Scarborough music scene, the band went their separate ways after graduating.
In 2011, after establishing themselves in other careers, the band felt it was finally right to regroup and record an EP. Bassist Andy Cooper and drummer Garth Vickers from the earlier incarnation of SHAFT OF STEEL re-joined, along with Markham's school friends, guitarist Adam Carruthers and keyboard player Chris Smurthwaite.
During their hiatus, the members of SHAFT OF STEEL learned of the thriving AOR scene in mainland Europe and were determined to introduce more melodic influences into their music upon reforming. The band's self-titled debut EP was released independently in 2014 and picked up plaudits in the music press all around the globe, appearing in Classic Rock AOR, Powerplay and Fireworks magazines and a host of online publications.
SHAFT OF STEEL subsequently made their first live appearance with their new line-up, supporting UK melodic rock heavyweights VEGA at The Garage in London in 2014. Since then, they've appeared at the prestigious HRH AOR Festival in North Wales and The Underworld, Camden, where they delivered a storming hour-long set, filled with new material.
Bassist Andy Cooper and drummer Garth Vickers departed the line-up in 2017 and were replaced respectively by Dominic Swords and Michael Levy, both of whom had already played in earlier incarnations of the band. A full-length album remained an ongoing project in the years following the EP release and it was finally completed in late 2019.
SHAFT OF STEEL have signed to AOR Heaven for the release of the new album, entitled 'Steel Heartbeat'. They have made major stylistic leaps on this record, taking influence from a range of melodic hard rock and AOR acts, including Work of Art, FM, Harem Scarem, Strangeways and Shy, while being careful not to abandon their metal roots.
'Steel Heartbeat' features backing vocals on all tracks from respected American producer and musician Dennis Ward. Famous for being the bass player in legendary German hard rockers Pink Cream 69 (and, more recently, the vocalist for Firewind main man Gus G's solo material), Ward appeared on the band's debut EP and has also mastered the record. The album was produced and mixed by guitarist Alex Markham, who took up the same roles on the debut EP.
Release date: February 28th, 2020
Audio video: https://youtu.be/u3P_q34NyUk
Web: www.facebook.com/shaftofsteel
PR world-wide: Diese E-Mail-Adresse ist vor Spambots geschützt! Zur Anzeige muss JavaScript eingeschaltet sein!