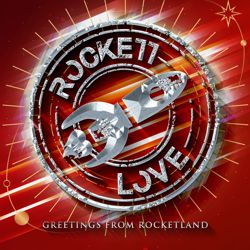 product: Rockett Love - Greetings From Rocketland
release date: 30.08.2019
label: AOR Heaven
territory: world
contact: Diese E-Mail-Adresse ist vor Spambots geschützt! Zur Anzeige muss JavaScript eingeschaltet sein!
A year of writing and recording went by and in 2017 ROCKETT LOVE finally released the full-length debut "Grab the Rocket" on AOR Heaven.
In the following time, they set up their own studio and named it Meganoise, and the recordings began in early 2018. The duo needed to cut down the material from twenty something to 11 songs. When the recordings were finished, the Swedes sent the material to Erik Mårtensson (ECLIPSE, WET) to mix it.
ROCKETT LOVE now returns with "Greetings from Rocketland" on August 30th, 2019. The band's second album contains 11 new tracks including the highlights "King for one day", "Back on my feet" and the power ballad "Take me home".
Stefan Westerlund comments: "This time the songs are for real, no compromises. Erik has done a fantastic job and we feel strongly about the album and what he did to the material. Now it's up to the listeners to take it to their hearts. "Greetings From Rocketland" is a classic record full of great and melodic rock songs."