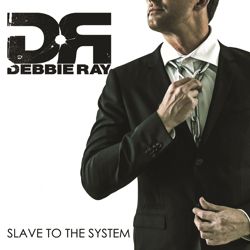 product: Debbie Ray - Slave To The System
release date: September 29th, 2017
label: Metalapolis Records
PR territory: world
contact: Diese E-Mail-Adresse ist vor Spambots geschützt! Zur Anzeige muss JavaScript eingeschaltet sein!
SWEDISH HARD ROCK WITH STYLE!!!
In 2005, Reine, Andreas and Manx decided to start a band that would pick up where their previous band had stopped. H-Can was contacted to keep pace behind the drums. Everything felt right from the beginning and Debbie Ray was a fact.
For several years, the band recorded a variety of songs and played extensively around the country. But it took until 2009 before the first album "Artificial Misery" was released on the American company "Demon Doll Records". As it was released in physical form only in the United States and was hard to get hands on for the rest of the world, it was re-released worldwide the next year both digital and physical. This time on the Swedish company "Core Shot Production".
Around the same time in 2010 bass player Manx decided to leave the band and Martin Söderquist took over the job. The gigging continued around the country and in 2012 Debbie Ray released a three track EP called "Rock n Roll Widow". And at the end of the same year different wills and current family situations made the band to take the decision to take a "break" for an indefinite period. And it was long unclear whether there would be any more of the band ...
But in early 2014 the appetite for rock n roll came back. The band rapidly wrote many new songs. In 2016 the deal with METALAPOLIS RECORDS was signed and now "Slave To The System" will see the light of day!!! Inspired by classic bands like Mötley Crüe, Skid Row, Guns n Roses, Backyard Babies and Pantera, it was more than clear in which direction to take their sound, but with a modern touch.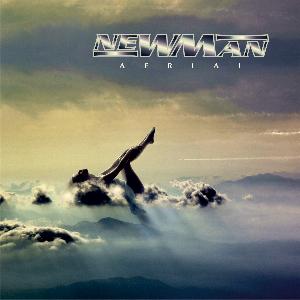 product: Newman - Aerial
release date: 22.09.2017
label: AOR Heaven
PR territory: world
PR contact: Diese E-Mail-Adresse ist vor Spambots geschützt! Zur Anzeige muss JavaScript eingeschaltet sein!
In 1997 Singer, songwriter Steve Newman formed the band Newman and since 1998 has been producing consistently high quality albums filled with hook laden songs and thought provoking lyrics and released 10 studio albums and one best of compilation up to today. The previous release, "The Elegance Machine", was released in 2015 and the band returned to the road with shows in Europe and their first UK headline tour.
Steve Newman continued to write throughout 2016, songs, of which some have featured on various artists releases, and some which are still to come. It was within this writing process that Newman started to piece together the ideas which would become his latest release, and 11th studio album.
"Aerial" now features 12 tracks that return to the huge chorus's, maintaining the high quality production values that have been prevalent over the last albums. But this record, above all, is all about the songs, you could say it's an unashamed AOR/Melodic Rock record and follows that rule across all 12 songs to give the listener a very consistent album. Once again Steve Newman has teamed up with Rob McEwen (drummer for the last nine Newman albums), the album also features long time friend Mark Thompson-Smith lending his vocals to "Fear Of Flying" and " Two Sides". Finally the mastering was taken care of by none other than Harry Hess (Harem Scarem) at H Bomb Mastering.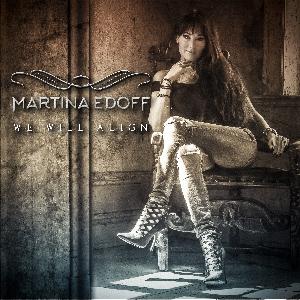 product: Martina Edoff - We Will Align
release date: 22.09.2017
label: AOR Heaven
PR territory: wold
PR contact: Diese E-Mail-Adresse ist vor Spambots geschützt! Zur Anzeige muss JavaScript eingeschaltet sein!
The self-titled MARTINA EDOFF album was released in 2014, and nearly a year later, the second record called "Unity" took her and her band on a successful North American tour in September 2015.
She soon went to Argentina and performed for 6000 new fans as an opening act for Tarja Turunen. The tour went on to share the stage with The Winery Dogs on their European tour in early 2016. The UK audience welcomed her the same year for a mini tour and she later returned to the Rockingham Festival to perform.
Now she's back with the third record "We Will Align" which will be released on AOR Heaven on September 22nd, 2017.
Amongst the already acquired fans is the respected English rock journalist Dave Ling, who discovered MARTINA EDOFF's eponymous titled solo debut, celebrated her with a full page article in Classic Rock AOR Magazine and put her album on his playlist, describing it as "Stirring, confident melodies from an unashamed Swedish rock chick!" The great reviews kept on coming in from all over the world.
Together with her former co-producer and co-writer Jona Tee (H.E.A.T), Martina decided to work with him on the third album. In late 2016 the artist started to write on some new songs and found more co-writers who completed the music in the way she was looking for, such as Jonas Törnqvist (Deathriders, Bleed The Hunger, TreasureLland), Erik Mårtensson (Eclipse, Nordic Union, W.E.T), Benny Jansson (Ride The Sky), Billy Sheehan (Mr Big, The Winery Dogs), Jona Tee (H.E.A.T).
"We Will Align" is a melodic hard rock album with a bluesy note along with powerful pieces and it goes back to the roots where EDOFF has got her influences. The strong melodies are always there such as her powerful voice. The musicians are the best to find and they are by her side in the studio as well on stage, i.e. Björn Höglund (drums), Nalle Påhlsson (bass), Stefan Bergström (guitar) and Jona Tee (keyboard/ hammond and production). The mixing went through the hands of the legendary Tobias Lindell.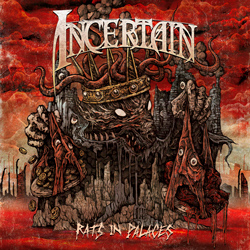 product: Incertain - Rats In Palaces
release date: 22.09.2017
label: Pride & Joy Music
PR: world-wide
contact: Diese E-Mail-Adresse ist vor Spambots geschützt! Zur Anzeige muss JavaScript eingeschaltet sein!
INCERTAIN was founded in October 2012 in Andernach, Rhineland-Palatinate, Germany. Being a very young band back then, they tried first on stage within their local scene. Only Luis Strietholt (drums) had went through several live experiences with his former Indie Rock project Celebrate Simon before. The five-headed Germans are musically influenced by Speed and Thrash metal legends like Overkill, Exodus or Testament, but also found inspiration in songs of the essential Death Metal representatives Vader, furthermore in modern acts like Lamb of God. These influences find evidence not only in INCERTAIN´s instrumental songwriting, but especially in singer Liane Walter's growling in traditional Death Metal manner. Being well related to one of the best known local live locations, Juz Live Club in Andernach, many chances to play at established festivals such as "A Chance for Metal Festival" & "Loud!Fest" occurred. In May 2016, INCERTAIN performed as co-headliner in front of a fulliflatched festival tent, comprising 1000 people at the "A Chance for Metal Festival". Furthermore they supported the German Thrash Metal heroes Tankard from Frankfurt at one show of their "Rest in Beer"- tour at Juz Live Club. The response on their live shows was constantly positive from crowds of all ages, and INCERTAIN soon went on stages in Cologne, Frankfurt, or also as part of the warm-up show of MISE Open Air and Taunus Metal Festival in Hessia.
The first INCERTAIN album "Rats In Palaces" was recorded by Michael "Freio" Haas (Sober Truth, The Gate, Sic Zobe, Erzfeind) at Big Easy Studio near Hennef, Germany from August 2016 to July 2017. Subsequently, the record was mastered by Aljoscha Sieg at Pitchback Studios (Eskimo Callboy, August Burns Red, Vitja, We Butter The Bread With Butter). Costin Chioreanu (Twilight Media), who designed artworks of Arch Enemy, Grave, Vader and Entombed, made the cover and booklet for "Rats in Palaces". For the upcoming music video and single release of the song "Amok", INCERTAIN worked with Pete Kunz, singer of the band Bloodspot from Limburg.
product: Voodoma - Gotland
release date: 22.09.2017
label: Pride & Joy Music
PR: world-wide
contact: Diese E-Mail-Adresse ist vor Spambots geschützt! Zur Anzeige muss JavaScript eingeschaltet sein!
VOODOMA are a Dark Rock band with Gothic and Metal influences from Düsseldorf, Germany. To date, the band has released two regular albums and some self-produced records. In addition, the group also has played numerous gigs, including major festivals such as "Wacken Open Air", "Ragnaröck Festival" and "Castle Rock".
Three years after the release of the "Secret Circle" CD, the new album "Gotland" will now hit the stores on September 22nd, 2017 via Pride & Joy Music. The band's sound still can be described as melodic, catchy Dark Rock which offers a wide range of elements and songs which will appeal to Gothic and Metal fans alike.
Once again, VOODOMA have invited a couple of guest musicians including Maike Flüshöh (Mayze), Ollie Bölke (Seelensturm), and Bernemann from the German Thrash Metal legend Sodom. The release stands up with a powerful sound – also due the amazing mastering by multi-platinum award-winning mastering studio Monoposto.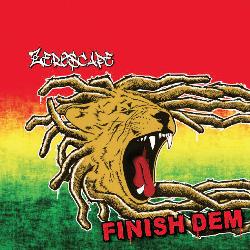 product: Zeroscape
album: Finish Dem
label: Bad Reputation
PR: Germany, Austria, Switzerland
Contact: Diese E-Mail-Adresse ist vor Spambots geschützt! Zur Anzeige muss JavaScript eingeschaltet sein!
Zeroscape is a Canadian four piece Reggae/Metal band based in Toronto that formed in 2001 on the principle that any and all music genres could "Melt" together. The three genres that are most prominent in Zeroscape's songs are metal, reggae and rap but are not limited to those three. From 2001 until 2003 Zeroscape played in local spots in and around Toronto. In 2004 Zeroscape started their "Braille" Eastern Canada Tour in support of their first studio album Braille with over thirty shows in the year. In 2005 the members of Zeroscape sold all their belongings, and hit the road on a six-month 98 shows Braille European tour that led them through nine countries followed by the 2006-2007 Till Death Do Us tour, and their 2008 Against All Odds tour. In their upcoming third studio album, Friday Night E.P, there is a ska influence in the album as demonstrated during their 2009 UK Tour. Zeroscape's line up has changed slightly over the past sixteen years. Shortly after recording their second studio album ...And if this is the end I will, Canadian "ragga-metal" group ZEROSCAPE has parted ways with bassist McNizzow. "Together we have accomplished plenty — three EPs, two full-lengths and hundreds of shows leading us across the Eastern part of Canada as well as U.K., Germany, France, Belgium, Luxumburg, Austria," the group writes on its web site. "Together we shared music and moments that will live with us forever and wish we McNizzow the best as his musical journey continues. ZEROSCAPE's latest album, "...And If This is the End I Will", was produced by Tom Treumuth (VOIVOD, HONEYMOON SUITE) and was released throughout Europe by French record label Bad Reputation Records.
Zeroscape have played over 400 dates in over 17 countries and shared stages with bands like The Killers, The Hives, Sick Of It All, Five Finger Death Punch, In This Moment, Walls of Jericho and played on the Ernie Ball stage during the Warped Tour 2009.
Now it's time for ZEROSCAPE to get some new blood in the band. They live and breathe their music. Everything they have accomplished was done completely on their own through hard work and they will continue pushing until they get to the top. Binski (Vocals), JJ Tartaglia (Drums), Speshalizt (Guitars) and Matt Hudson (Bass) are ready to follow the steps of the mighty Bad Brains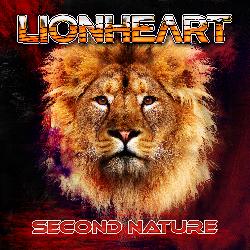 product: Lionheart - Second Nature
release date: 25.08.2017
label: AOR Heaven
territory: Europe
PR contact: Diese E-Mail-Adresse ist vor Spambots geschützt! Zur Anzeige muss JavaScript eingeschaltet sein!
LIONHEART was formed in late 1980 by Dennis Stratton (lead guitar/backing vocals, ex-Iron Maiden), Steve Mann (lead guitar/backing vocals, ex-Liar), Rocky Newton (bass guitar/backing vocals, ex-Wildfire), Jess Cox (lead vocals, ex-Tygers of Pan Tang), and Frank Noon (drums, ex-Def Leppard). The band began playing gigs including regular shows at London's infamous Marquee Club but had problems maintaining a consistent line-up. The core personnel of Dennis, Steve and Rocky remained but it proved difficult to find the right singer. They eventually settled as a 4-piece with Dennis and Rocky sharing lead vocal duties. The drummer's stool was variously occupied by Les Binks (ex-Judas Priest), Nicko McBrain (ex-Trust and subsequently Iron Maiden) and Clive Edwards (ex-Pat Travers, Uli Jon Roth & Wild Horses).
Between 1981 and 1984 LIONHEART played regular live shows including an appearance at The Reading Festival in 1981 and as support for Def Leppard, Whitesnake and Saxon. In between gigs they spent many hours writing and recording demos of new songs while searching for a record deal. It wasn't until 1984 that CBS Records in the USA offered them a contract, by which time they had recruited Chad Brown on lead vocals. They flew over to Los Angeles in March 1984 to record their debut album Hot Tonight with Kevin Beamish in the production chair and session man Bob Jenkins, who had previously worked with Leo Sayer and Kiki Dee, on drums. The album was recorded at the legendary Sound City Studios in Van Nuys and mixed at Kendun Recorders.
Upon their return to England, LIONHEART recorded a high-budget video for the single Die For Love. The late comic genius Rik Mayall played the part of the mad professor and, in later years, the video achieved cult status on YouTube due in part, to the wonderfully wooden acting of the band! Unfortunately, planned UK tours as support to Kansas and Foreigner were cancelled at the last moment. Promotion of the album suffered and LIONHEART found themselves in limbo. The line-up expanded with Phil Lanzon (Uriah Heep) on keyboards before Chad Brown left the band in 1985 to be replaced by Keith Murrell (Airrace and Mama's Boys). More demos were recorded with the new line-up but unfortunately the momentum had been lost and the band eventually broke up. Having sung backing vocals on Def Leppard's Pyromania, Rocky went on to do more of the same on Hysteria before joining the The Michael Schenker Group. Steve set up his first commercial studio before hooking up with Rocky again in the McAuley Schenker Group, while Dennis began a 15 year stint with Praying Mantis. Meanwhile Clive went on to play with Bernie Marsden and UFO.
In 2016 Dave Herron of the Rockingham Festival in Nottingham asked LIONHEART to reunite for one performance. Original members, Dennis Stratton, Steve Mann, Rocky Newton and Clive Edwards jumped at the chance and brought in ex-Shy front man Lee Small on lead vocals. The reunion created quite a stir, not least within the band itself, and it was decided to carry on with the subsequent recording of a new album followed by an acclaimed appearance at the 2017 Sweden Rock Festival. In their set LIONHEART included the song Anytime written by Steve Mann and Robin McAuley which was a number 2 hit record for the McAuley Schenker Group in 1989. Click to watch. Click here to watch the video.
The new record, SECOND NATURE, was recorded between November 2016 and May 2017 and was produced, engineered and mastered by Steve Mann in his own studio Flying Vivaldi in Hannover. LIONHEART undertook a mini co-headline tour of Japan with Praying Mantis in June/July and UK shows are booked in November/December co-headlining with Airrace.
SECOND NATURE was released on King Records Japan on 21st June 2017 and a release throughout Europe is set for 25th August on AOR Heaven.
www.facebook.com/lionheartrock / www.lionheart-music.com