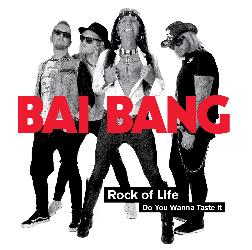 product: Bai Bang - Rock Of Life
release date: 28.04.2017
label: AOR Heaven
PR in: Europe
contact: Diese E-Mail-Adresse ist vor Spambots geschützt! Zur Anzeige muss JavaScript eingeschaltet sein!
Bai Bang is a powerful Hard Rock act from Sweden featuring Diddi Kastenholt on lead vocals, Oskar Wennberg on drums, Filip Wilhelmsson on guitar and Christoffer Svensson on bass. Being a touring band, the Swedes have played many tours in Europe, Canada, Japan and the USA and big festivals including Wacken Open Air in Germany, Sweden Rock festival & Rocklahoma in the USA. Bai Bang appeared as special guest to Alice Cooper, DIO, Ratt, Bai Bang and shared stages with bands like Saxon, Axel Rudi Pell, Pretty Maids, LA Guns, Pretty Maids and many more.
Due to a lot of shows and tours during the last years it took some time to finish the new album. In 2015, Bai Bang played shows in nine countries and in 2016 in eight countries to promote the 2013 release "All Around The World".
The brand new album and 8th studio release in total, "Rock Of Life", will be out on AOR Heaven in April 2017. "Rock Of Life" was produced by Diddi Kastenholt and Pontus Assarsson and recorded at Sunshine Explosion Studios except for the drums which were recorded at Sound Center Studios in Helsingborg, Sweden and engineered by Lala Larsson and Micke Larsson. Martin Kronlund at JM Studios was again in charge of the mastering.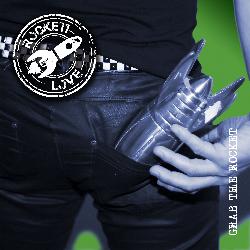 product: Rockett Love - Grab The Rocket
release date: 28.04.2017
label: AOR Heaven
PR: in Europe
contact: Diese E-Mail-Adresse ist vor Spambots geschützt! Zur Anzeige muss JavaScript eingeschaltet sein!
After only one song on iTunes and Spotify and without any commercial backup, Swedish Melodic Rock band ROCKETT LOVE received a great deal of radio time and a fully seated venue playing their debut gig. The song "Rocket Love" had a big viral spin when Beau Hill took the song to his studio and produced it.
The band started in early 2015 when singer/songwriter Daniel Samuelsson met guitarist Stefan Westerlund at a local reunion concert. Fueled by mutual interest in 80's rock, the two began recording original material in Daniel's studio. 'It became clear right away that we had something worthwhile after the first couple of songs' says Daniel, 'Stefan and me just clicked, and we knew the time was right to bring back this classic sound with a touch of modern production. The two began working on the EP "The best is yet to come" and contacted lead guitarist Gustav Eklund. He gave ROCKETT LOVE the tone and energy with his magic fingers that you only here in the great masters such as Michael Schenker and Gary Moore. Four songs were recorded, and the project emerged into a band. Bass player Dennis Vestman (Grand Design, Steel Attack) and drummer Fredrik Ahlin completed the group's line-up. Fredrik and Daniel had a history as musical friends in both Sour System and Slip Into Silk.
With the band being complete and some new songs recorded ROCKETT LOVE entered the stage at Rockland, Sweden. Together with Grand Design they sold out the venue and the viral spin began. They had a really great song and sound in form of the track 'Rocket Love'. The song traveled to the USA and was mixed there by Beau Hill. ROCKETT LOVE released 'Rocket Love' on various digital platforms in June 2016. With several gigs and a fast-growing audience the Swedes hit the studio to record their full debut album "Grab The Rockett" in Autumn/ Winter 2016. Halfway through the studio session ROCKETT LOVE contacted Studio Haga and met up with the young producer Christian Svedin. He had the ears, the courage and the stamina to lift the band even more. The process in the studio shaped the tone of the band to what and where ROCKETT LOVE is today, and after almost a year of writing, recording and producing the album "Grab The Rocket" now is ready to show the world what good Hard Rock music is all about.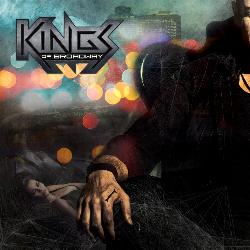 product: Kings Of Broadway - s/t
release date: 28.04.2017
label: Pride & Joy Music
territory: world
PR: Diese E-Mail-Adresse ist vor Spambots geschützt! Zur Anzeige muss JavaScript eingeschaltet sein!
KINGS OF BROADWAY were originally formed in 2011 when guitarist Aldo Lonobile (one of the most recognized guitar players/composers from the Italian metal scene, founder member of bands like Secret Sphere, Civilization One and Shadowspell) started gathering musicians and friends to fulfill his desire to create a Hard Rock band.
After a year of writing songs, making demos with his longtime friends Luca Cartasegna (ex-Secret Sphere) on drums, Ricky Messeri on guitar and JJ Andreone (Odd Dimension, A Perfect Day) on bass, the showed the ability to create amazing rock songs for the masses, once sung by the right singer!
After trying out some different options, JJ suggested his long time friend Tiziano Spigno (that later became the singer of Lucky Bastardz); Tiziano has a unique vocal tone and an amazing ability in writing rock melodies that give its best melted with KINGS OF BROADWAY!


This was 2012 - and the band then really started! From 2012 to 2015 they worked in the shadows, composing the whole debut album and recording it in the best way possible, with the aim to deliver an outstanding sound able to play the game with the rock giants out in the market!
Among the great words received by the representatives of the musical industry, the band signed a record deal with German label Pride & Joy Music in early 2017. The group's self-titled debut album "Kings Of Broadway" is set for a release on April 28th, 2017!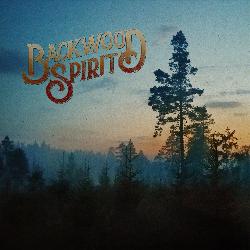 product: Backwood Spirit - s/t
release date: 28.04.2017
label: Pride & Joy Music
territory: world
PR: Diese E-Mail-Adresse ist vor Spambots geschützt! Zur Anzeige muss JavaScript eingeschaltet sein!
Backwood Spirit was founded in Örebro, Sweden, in 2014 by guitarist and song-writer Kent Engström. After writing and doing pre-recordings of songs with different musicians, Engström teamed up with long time music companion and drummer Joje Lindskoog (Crossroad Jam, Waving Corn) to put a band together.
In late 2015 the two joined forces with vocalist Göran Edman (Yngwie Malmsteen, John Norum) to start the recording of an album.
Tobias Åslund was brought in for the organ and keyboard work in the studio, along with Niclas Boson for the bass. Later on Boson became a regular member of the band. The line-up was completed with Peter Emilson, also with a past in Crossroad Jam, on keyboard.
In the style of classic rock and bluesy hard rock, the music of Backwood Spirit is reflecting the musical roots of the members.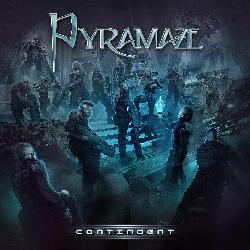 product: Pyramaze - Contingent
release date: 28.04.2017
label: Inner Wound Recordings
PR in: D, CH & AT
PR contact: Diese E-Mail-Adresse ist vor Spambots geschützt! Zur Anzeige muss JavaScript eingeschaltet sein!
Ursprünglich von Gitarrist Michael Kammeyer im Jahr 2002 gegründet, debütierten Pyramaze mit den frühen, klassischen von Lance King eingesungenen Alben "Melancholy Beast" (2004) und "Legend of the Bone Carver" (2006). Die Band trennte sich 2006 von Lance, und Matt Barlow (Iced Earth, Ashes of Ares) stieß 2007 als neuer Frontmann zur PYRAMAZE hinzu, allerdings nur um die Veröffentlichung von "Immortal" (2008) einzusingen. Matt ging zurück zu Iced Earth und Kammeyer entschied sich, sich die Gruppe ebenfalls zu verlassen. Die restlichen Mitglieder erreichten ihren Scheideweg und auch Bassist Niels Kvist entschloss sich letztendlich, auszusteigen.
Die Originalmitglieder Jonah, Toke und Morten entschieden, dass sie das Vermächtnis von Pyramaze weiterführen wollten und verpflichteten den langjährigen Produzenten und guten Freund der Band, Jacob Hansen, als neuen Gitarristen zu treten. Ein geeigneter Sänger wurde mit Terje Harøy im Jahr 2013 gefunden.
Diese neue Inkarnation von PYRAMAZE veröffentlichte 2015 das Werk "Disciples Of The New Sun", welches von den Kritikern mit großem Lob bedacht wurde und die Band wiederbelebte. Terje, Jacob, Jonah, Morten und Toke begannen Ende 2015 an der Arbeit an einem weiteren Album, das den Titel "Contingent" tragen sollte. Ein episches, postapokalyptisches Konzeptwerk, beeinflusst von den aktuellen Ereignissen, dem menschlichen Geist, um Vielfalt und Kampf zu überstehen und die Brüderlichkeit zu erkennen, die darin liegt. "Contingent" erscheint im Frühjahr 2017, im Jahr 2016 konnt die Band schon beim Prog Power USA begeistern.
"Contingent" ist das Manifest von Pyramaze, das in allen Belangen überzeugt, die besten Elemente ihrer musikalischen Einflüsse versammelt, um der Welt zu zeigen, dass Pyramaze tatsächlich wieder zurück ist!
Mit starken und satten Gitarrenriffs, ergänzt durch die epischen und filmischen Keyboard-Arrangements von Jonah W, zusammen mit der Power von Schlagzeuger Morten Gade Sørensen, treffen Pyramaze genau ins Schwarze. Sänger Terje Harøy vereint kraftvolle und eingängige Melodien mit modernem Flair, ohne dabei die dunkle und progressive Seite zu vernachlässigen, für die Pyramaze bekannt ist. Die wütenden, progressiven und präzisen Thrash-infundierten Riffs des Gitarristen Jacob Hansen bilden das harte Fundament, auf dem die Gesangs- und Gitarrenmelodien thronen. Leadgitarrist Toke Skjønnemand besticht durch pfeilschnelle Gitarrensoli mit einem modernem, klassischem Einfluss.
Pyramaze steht für die Musik, die ihre Seelen widerspiegelt, alle ihre Einflüsse kombiniert und stimuliert den Geist ihrer Zuhörer ..."Geteilt durch Ozeane, die durch Brüderschaft miteinander verbunden sind, müssen wir das werden, was uns teilt ... wir sind PYRAMAZE, und wir sind der Ozean!"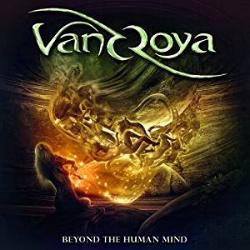 product: Vandroya - Beyond The Human Mind
release date: 28.04.2017
label: Inner Wound Recordings
PR territory: D, CH & AT
PR contact: Diese E-Mail-Adresse ist vor Spambots geschützt! Zur Anzeige muss JavaScript eingeschaltet sein!
2001 gegründet, begannen Vandroya als eine Gruppe von jungen Musikern, die alle sehr leidenschaftlich auf Heavy Metal standen. Anfänglich konzentrierten sie sich auf das Spielen von Coverversionen der Bands, die sie inspiriert hatten. Dadurch erlangten sie eine zunehmende Bedeutung in der Metal-Szene in Brasilien und führte zu ihrem ersten Demo. Die EP "Within Shadows" wurde 2005 veröffentlicht und steigerte den Bekanntheitsgrad von Vandroya in ihrem Heimatland immens.
Beim schwedischen Label Inner Wound Recordings unterschrieb die Band einen Plattenvertrag für Europa und Nordamerika und bei Spiritual Beast für Japan. Das Debütalbum "One" wurde Anfang 2013 veröffentlicht. Es erhielt in Brasilien und weltweit hervorragendes Feedback und wurde oft als eine perfekte Mischung von Bands wie Angra, Kamelot und Symphony X tituliert. Vandroya spielten einige Shows in Brasilien und veröffentlichten ihr erstes Video "Why Should We Say Goodbye".
Im Jahr 2015 steuerte die Gruppe zum brasilianischen Helloween Tribute Album "30 Years of Happiness" den Song "March of Time" bei. Mitglieder von Vandroya traten auch mit anderen Projekten wie Soulspell Metal Opera [feat. Tim "Ripper" Owens, Blaze Bailey, Arjen Lucassen und andere] und Project Aegis [feat. Rob Rock, Matt Smith und andere] in Erscheinung.
Anfang 2016 veröffentlichten Vandroya eine digitale EP mit dem Bryan Adams-Cover "Heaven" und eine akustische Version des Songs "No Oblivion For Eternity" aus dem Debütalbum.
Das langersehnte neue Werk, "Beyond The Human Mind", soll am 28. April erscheinen. Mit einem klareren progressiven Einfluss, aber ohne das Gewicht und die Virtuosität des Power Metal aufzugeben, zeigt die CD eine ausgereiftere Band, bietet einen ausgewogeneren Sound und spiegelt die technische und künstlerische Weiterentwicklung der Musiker seit "One" wider.
Das Albumkonzept thematisiert die Reise, die wir alle auf der Suche nach Fülle, innerem Frieden und uns selbst durchmachen. Das Album-Artwork wurde wieder von Felipe Machado Franco [Blind Guardian, Rhapsody Of Fire, Iced Earth] erstellt.
Daísa Munhoz und Vandroya sind bereit, den nächsten Schritt zu machen und in der Metal-Szene mit "Beyond The Human Mind" ein Zeichen zu setzen!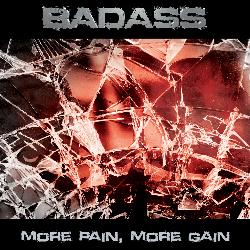 product: Badass - More Pain, More Gain
release date: 15.04.2017
label: Lion Music (digital), Cargo (physical)
PR in Europe: Diese E-Mail-Adresse ist vor Spambots geschützt! Zur Anzeige muss JavaScript eingeschaltet sein!
Well-known rock vocalist Titta Tani (Takayoshi Ohmura, ex DGM, CS's Goblin), metal bassist Alberto Rigoni (solo artist, Vivaldi Metal Project, TwinSpirits), guitarist Alessio "Lex" Tricarico (HorsePowerOverload, Four Roxx Down) and amazingly talented drummer Denis "Denzy" Novello teamed up to create the outstanding new metal band BADASS!
"More Pain, More Gain" is the name of their debut album which offers powerful vocals, killer heavy bass, massive rhythm guitar riffs, drums from hell... isn't that perfect to kick your butt??
Titta Tani is an Italian singer and drummer, worldwide known also for his collaborations with Takayoshi Ohmura (Baby Metal, Marty Friedman), DGM, Emir Hot, Roger Staffelbach (Artension), Arthur Falcone, Ashent, Phoenix Rising and many others. As drummer he is currently playing for Claudio Simonetti's Globin and has collaborated with bands such as Necrophagia, Edu Falaschi (Almah & Angra), Mark Boals (Y.J.Malmsteen, Ring of Fire), Mistheria (Vivaldi Metal Project). In October 2016 joined BADASS as official singer.
Alberto Rigoni is an Italian bass player and composer, internationally known for his career as a solo artist and as a member of the progressive rock band TwinSpirits, Lady & THE BASS and co-producer of the Vivaldi Metal Project. His five solo albums "Something Different", "Rebirth", "Three Wise Monkeys", "Overloaded" and "Bassorama" were released world-wide between 2008-2016 are located between progressive rock metal and fusion, also featured legendary musicians such as Kevin Moore (ex Dream Theater), Gavin Harrison (Porcupine Tree, King Crimson), Göran Edman (ex Yngwie Malmsteen), Michael Manring and many others.
Alberto was featured on the cover of magazines such as Bass Magazine (Japan), Bass Musician Magazine (USA), Bajos Y Bajistas (Spain), Basistas (Poland), TOP BASS (Poland). Moreover, in March 2015 the prestigious Bass Guitar Magazine (UK) released Alberto's CD anthology called "Into THE BASS".
Alessio "Lex" Tricarico is an Italian metal rock and acoustic guitarist, composer and guitar teacher; ex member of the progressive metal band Synapsis. Currently, he's playing with the hard rock band HorsePowerOverload. As a founding member of FourRoxxDown Acoustic Party Quartet, Lex has a remarkable live activity.
Denis "Denzy" Novello is an Italian natural born rock metal drummer, graduated at AMM (Milan) in 2015. Denis has been playing for several Italian bands such as NeverNight and Rockdogs, and currently is working with Kim Bingham (ex Nelly Furtado). In 2014, he played drums on Alberto Rigoni's Overloaded album. Denis is also a live and studio session player.
"More Pain, More Gain" is BADASS' first album and will be released on April 15th, 2017 by Cargo (physically) and Lion Music (digitally). The record was mixed & mastered by Federico Solazzo at Pannekoek Rehab Studio (NL), artwork by Laslzo "absurdcus" Demeter.