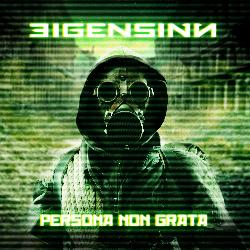 product: Eigensinn - Persona Non Grata
release date: 01.12.2017
label: Pride & Joy Music
territory: world
PR: Diese E-Mail-Adresse ist vor Spambots geschützt! Zur Anzeige muss JavaScript eingeschaltet sein!
About zombies, monsters and evil fairies - Persona non Grata will rise!
"Persona Non Grata" is the name of the third full-length release from the dark rockers EIGENSINN from Southern Germany. More than two years of hard work has left its mark on an album that will stand out from the crowd! During the cold and snowy January 2017 the band retired on a lonely farm house in Saxony. The magical and dark atmosphere of the abandoned landscape deeply engraved itself into the new songs. The outcome is a complex and brute Industrial Rock album, on which you can sense the sinister emotions living within each song as they touch upon subjects taboo to many. The bands lead singer Nemesis takes the listener on a journey from a morbid story teller rising up to a strong willed freedom fighter
The eleven ostentatious hard hitting tracks all stay true to EIGENSINN's trademark sound. Mastermind Kai Stahlenberg's production at the renowned Kohlekeller studio has produced an album that is both raw and punchy staying true to the bands hard hitting roots.
The album will be released on Pride & Joy Music on December 1st, 2017. EIGENSINN will tour all over Germany this November to support the US NDH legend HANZEL+GRETYL together with Reptil, to promote their new album.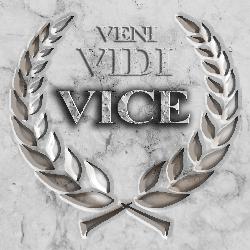 product: Vice - Veni, Vidi, Vice
release date: 17.11.2017
label: Pride & Joy Music
territory: world
PR contact: Diese E-Mail-Adresse ist vor Spambots geschützt! Zur Anzeige muss JavaScript eingeschaltet sein!
VICE was founded in Munich Germany in the late 80's and signed by major label BMG Ariola back in 1988. The former line-up consisted of Jörg Hargesheimer (guit), Peter Juhre (bass), Roland Schmidt (drums), Chris Limburg (guit), Jan Ghiantinie (vocals 1st album), Alan Keen (vocals 2nd album). These two records brought the band charts positions and several tours all over Europe. With more than 100.000 sold copies, VICE had a huge presence on TV and radio. They became quite famous and attracted their fans with their rather simple & rocking songs and positive attitude on stage.
Now after almost 30 years, VICE is back for more…The new album "Veni Vidi Vice" was produced, recorded and mixed by Chris Limburg at lictoc studios in Munich, will be released on November, 17th and continues the old style of VICE in a modern way. The first single & video for the song "Where do I belong" was released in advance in Summer 2017.
Further singles will be available soon, as well as an "hot summer night" release party on October 21st in a Caribbean atmosphere, near Munich at "Roberto Beach" (www.robertobeach.de)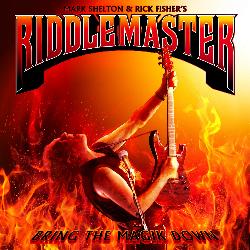 product: Riddlemaster - Bring The Magik Down
release date: 01.12.2017
label: Metalapolis
territory: world-wide
PR contact: Diese E-Mail-Adresse ist vor Spambots geschützt! Zur Anzeige muss JavaScript eingeschaltet sein!
RIDDLEMASTER is the brainchild of Mark "The Shark" Shelton and Rick Fisher. Rick Fisher was the drummer on the first MANILLA ROAD records from 1979 to 1984 including the signature song "Flaming Metal Systems" and the iconic release "Crystal Logic". Mark Shelton is founder, guitarist, vocalist and primary composer for MANILLA ROAD since its beginning in 1977 and is still going strong with the band.
Both are from Wichita Kansas in the USA. The RIDDLEMASTER project idea came up when Rick and Shark were discussing what MANILLA ROAD might sound like if Rick had never stopped performing with the band. The result is "Bring The Magik Down". Accompanied by E.C. Hellwell on bass guitar this is an experiment in what might have been. The music within this album is full of classic rock and metal styles that are indeed reminiscent of the roots of their original band. Within this collection of tunes, you will find many styles woven together with a foundation in traditional rock n roll music. If you are a fan of early Manilla Road or a fan of classic Rock and Metal music this album by RIDDLEMASTER is a must have!!!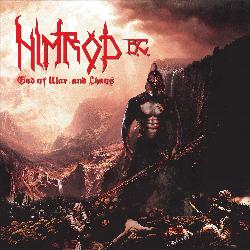 product: Nimrod B.C. - Gods Of war And Chaos
release date: 04.10.2017
label: Metalapolis
territory: world
PR: Diese E-Mail-Adresse ist vor Spambots geschützt! Zur Anzeige muss JavaScript eingeschaltet sein!
NIMROD B.C. is a Thrash Metal Band which is around since 1985, founded by guitarist Chris Ira. In 1988 their first Demo-Tape "Time of Changes" was released. It was a great success in the back then tape trader scene and got good reactions in magazines all over the world. For example it was chosen #1 demo of the year by FETU Magazine in Japan. In 1990 they got their first record deal, but the album was never released due different reasons in and outside the band. Chris was frustrated about the whole situation and left the band for some years.
In 2004 the band decided to release the old demo remastered with some unreleased studio tracks and live recordings, before another break was done. 5 years later Chris decided that it is time to reform the beast and started a new chapter under the NIMROD B.C. banner, together with Fernando Gonzales (bass), Cesar Anazco (guitar, ex Necrosis), Rodrigo Cerda (Drums) and singer Leonardo Caballero. After their comeback, they played major festivals in Chile, Argentina and big festivals in South America with bands like TWISTED SISTER, VOIVOD, MORBID ANGEL among others. In 2009 their album "Return To Babylon" saw the light of day and also received many great reviews such as "best Chile's metal band ever" from Germany.
Their new album "God Of War And Chaos" was produced by Chris himself at the Noctambulus Studios in Chile, before it was mixed in London by Darren Carikas. The mastering was done by one of the metal gurus, Bill Metoyer, who is well known for his work with SLAYER, DARK ANGEL, WASP, SACRED REICH and many more. The album features the new vocalist Gary Wayne, which was recruited to bring that one special tone to the NIMROD B.C. music.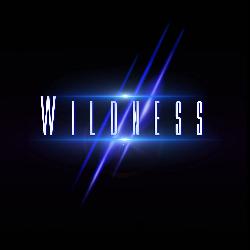 product: Wildness - Wildness
release date: 24.11.2017
label: AOR Heaven
territory: world
PR: Diese E-Mail-Adresse ist vor Spambots geschützt! Zur Anzeige muss JavaScript eingeschaltet sein!
The idea behind WILDNESS began to grow in the summer of 2013 when the first songs were written. With main focus on heavy guitars, wide keyboards, big drums, melodies and hooks the shape of something new and exciting began to emerge. At this point, Wildness was more of a studio project and originally founded by drummer and songwriter Erik Modin while the guitar players Pontus Sköld and Adam Holmström were in to share the lead guitar parts early on. The search for the right lead singer wasn't easy as pie, but after a few months their destiny crossed with the unbelivable vocal talent Gabriel Lindmark in early 2014. More songwritings and demos recording came along, and it didn't take long until it was clear that WILDNESS deserved to be a real band. On September 1st 2015, WILDNESS independently released their self-produced debut single "Collide" which immediately gained a lot of spins at various digital platforms such as a number of online radio stations focused on AOR and Melodic Rock. Live performances that followed showed that the band was capable to deliver on stage as well.
The second single "Turning The Pages" was released on January 14th 2016, and shortly after that WILDNESS was approached by Georg Siegl by German record label AOR Heaven. The contact resulted in a record deal which allowed the band to finally begin the launch of their first full-length album. The choice for the producer fell on the creative and productive mastermind Erik Wigelius (Wigelius, Care Of Night) and the pre-production and recordings took place between during 2016 and 2017. The main part of the record was recorded at Erik Wigelius' studio, besides additional parts recorded by drummer and co-producer Erik Modin. The two previous singles "Collide" and "Turning The Pages" were re-recorded for the album. The mixing and mastering was handled by Erik Wigelius, who really knows how to take the 80's-influenced sounds at put them in the 21th century! Despite their short career, WILDNESS have already shared stages with well established acts in the scene like WHITE WIDDOW and DYNAZTY.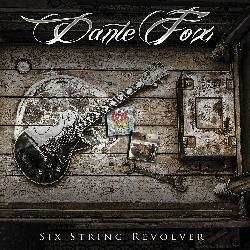 product: Dante Fox - Six String Revolver
release date: 24.11.2017
label: AOR Heaven
territory: world
PR: Diese E-Mail-Adresse ist vor Spambots geschützt! Zur Anzeige muss JavaScript eingeschaltet sein!

Dante Fox were formed in September 1989 by lead Vocalist Sue Willetts She was quickly joined by guitarist Tim Manford and this created a golden partnership. On the strength of their songs Dante Fox caught the interest of Linda Bruce from Rich Bitch Studio's and a debut album was now a reality. Following this an appearance on ITV television show 'Hit The Town' hosted by Rory McGrath launched the sounds of Lost And Lonely Heart through televisions all around the UK. Dante Fox signed to Now and Then Records in March 1996, and in May they appeared on the Gods line up next to Hugo and Jamie Kyle.
In October 1996 the debut Under Suspicion was released. Many shows followed including a support tour with ELO, Enuff Z Nuff and European festivals such as Mindview and Ardshock. Capitalising on this European interest the band returned to Holland for more headline shows. In April 1997 Under Suspicion was released in Japan and received an 87/100 review in BURRN magazine.The second album The Fire Within was released on Frontiers Records in March 1999. The album included more live favourites and in Japan Firing My Heart and Over You were added to the playlist of Masa Itoh's Heavy Metal syndicate radio show. The band closed the year with an appearance at the Gods and also appeared as the backing band for Stan Bush.
The band took a break and returned in 2005, with a slot at Firefest and a UK tour support to Vixen. The third album 'Under The Seven Skies' was released worldwide on Frontiers Records in March 2007 featuring the Nine minute epic title track. The album was voted best album of 2007 by the listeners of ARFM Radio and the band continued to support the album by playing shows with Danny Vaughn and Wigwam.
The fourth album Lost Man's Ground released in October 2012 at the bands appearance at Firefest. This featured a new rhythm section Andy Perfect (Drums) and Alan Mills (Bass), and also Alessandro DelVecchio on backing vocals and Eric Ragno on keyboards.
In June 2012 a magical night was experienced opening for US band Night Ranger in London. This year ended with a much anticipated performance at Firefest and a great slot at Hard Rock Hell. Sue Willetts was voted 20 in the top 50 Female vocalists of all time in Classic Rock Magazine alongside Ann Wilson and Cher and the band performed at HRH AOR (Tesla,FM ) Hard Rock Hell Ibiza and a very successful tour with Romeo's Daughter.
In September 2016 the album ' Breathless ' was released through AOR Heaven and received excellent critical acclaim featuring in many journalist's Top 10 albums of 2016 and propelling Dante Fox as One of the leaders in Modern Melodic Rock for 2017.
The new album 'Six String Revolver' sees the band pay homage to their most popular songs from the first two albums from the 90's. These songs have enabled Dante fox to evolve over time they have been re-recorded from the ground up with love, respect, precision and an excellent state of the art modern production from Sheena Sear at M2 Studio's . The band are looking forward to playing in Germany for the first time at the HEAT Festival in December which will make a very exciting album launch. Dante Fox will also be performing at HRH AOR (Joe Lynn Turner, Eclipse). Joining the band on drums for these shows and more will be the 'Thunder God' Scott Higham (Pendragon)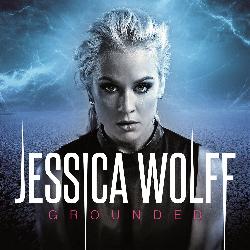 product: Jessica Wolff - Grounded
release date: 17.11.2017
label: Metalapolis
PR: world, except Finland
PR contact: Diese E-Mail-Adresse ist vor Spambots geschützt! Zur Anzeige muss JavaScript eingeschaltet sein!
Jessica Wolff is a young Finnish artist, ready to hit the radio waves and bring her voice to the stage. But there's much more. When Jessica is off stage, she is writing lyrics, practicing Kung-Fu, doing stunt work, acting, motorbiking and other extreme sports to let the inner child out. Not to mention, behind the actions of this adrenaline junkie, you'll find a warmhearted girl with striking personality. You can hear all these abilities in her music and are also evident in her powerful music videos. Her high energy, guitar-driven pop music is spiced with everything from catchy melodies to thought-provoking lyrics.
Jessica started singing classical music when she was 12 years old, but found her way to Pop/Rock a few years later. At the age of 21, Jessica left her studies behind to focus full-time on her musical career. With big steps she climbed up the latter until the album "Renegade" was born to see the daylight in Japan and Finland in April 2013, as well as in India, where she also did a six city, Hard Rock Café tour in December 2013. After that she played some shows in Finnish prisons.
With her new album "Grounded" she takes the next step in her career. For the first time her music will be available world-wide and Jessica is ready to hit every stage, pub, club, big venue, to perform and promote her music wherever people want to hear it!
There will be videos for the songs "War", "Love Me Like you Never Did
Before", "Magic Castle" and "Saving Someone Else"!