Pride & Joy Music is proud to announce the signing of female fronted Symphonic Metal band ALCYONA from Minsk, Belarus!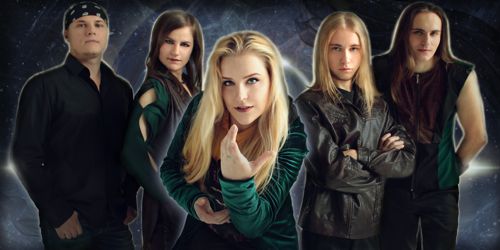 The band around keyboard player and song-writer Natalia Malei was founded in 2012 and now is ready to release their debut album "Trailblazer" on February 23rd, 2018!
ALCYONA today consists of Olga Terentyeva (vocals), Natalia Malei (keyboards), Evgenyi Malei (guitar, vocals), Anatoly Afanasenok (drums) and Nikolai Sidorevich (guitars).
"Trailblazer" was produced by Evgeniy & Natalia Malei and recorded at ALCYONA Records, Minsk (Belarus) between April 2016 – February 2017, and mixed & mastered in Georgia by Max Forneus in May 2017. Artwork and layout were designed by Artem Artyakov & Anna Avaeva. The music video & single for the track "Еnchantment" which was directed by Vlad Skripchenko & Anton Baidyonok will be released in advance in December 1st, 2017.
Some videos already are found in the band's Youtube channel at the link below:
https://www.youtube.com/channel/UCdI8Wmd5PtDyZFqFPgzaUbQ
Live dates:
02.12.17 Brest region, Belarus. Mirsky сulture house
08.12.17 Minsk, Belarus. Сlub "ИЛИ"
06.01.18 Minsk, Belarus. Сlub "БРЮГГЕ"
04.02.18 Minsk, Belarus. Сlub "Doodah King"
More information about the band:
Label: www.prideandjoy.de
The PR for ALCYONA will start on Decmber 10th, 2017.