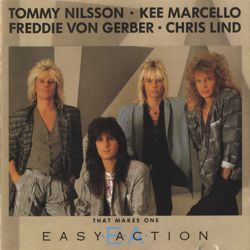 product: Easy Action - That Makes One
release date: 31.01.2020
label: AOR Heaven
territory: world
PR: Diese E-Mail-Adresse ist vor Spambots geschützt! Zur Anzeige muss JavaScript eingeschaltet sein!
Rarely has there been such a drastic change of musical style than that made by the Swedish hard rock band Easy Action when it came to the recording of their second album 'That Makes One' in 1985. While the band's debut LP (1983) was an ahead of its time glam classic, Easy Action had morphed into a slickly melodic AOR group on the follow up record.
Kee Marcello, who later on joined Europe, was approached by Peo Thyrén (b) from the pop punk band Noice which were considerably successful at the time to sing but eventually ended up as their producer. Not willing to live the destructive lifestyle of the band, Kee and Peo founded their own band: Easy Action. The name refers to Marc Bolan who is considered the biggest rock star by Marcello. The band recorded a mini-album and got themselves a multi-million dollar deal with Sire Records. "I went from practically being homeless to being a young, stupid guy with loads of money", Marcello recalls. Joining Peo and Kee in this early version of Easy Action were Zinny J. Zan (v), Fredrik Von Gerber (d, ex Noice) and Danny Wilde (g).
The band sounded like a blueprint for Mötley Crüe, Poison and the like and consequently wanted to go in a different direction with the follow-up. Several line-up changes came, most notably Peo eventually making way for Björn 'Nalle' Påhlsson and Tommy Nilsson being recruited to fill the vacant lead singer role after Zinny left. The journey together ended when Marcello was offered to join Europe - an offer to good to turn down.
Upon release in 1986 'That Makes One' certainly gained its many admirers, but any success was short-lived due to Kee taking up that aforementioned offer from Europe to replace John Norum in November the same year to go on to record the 'Out Of This World' and 'Prisoners In Paradise' albums with the group. When that version of Europe went their separate ways, Marcello began a solo career in 1993 that continues to this day, alongside a lot of production for other artists.
The "glam rock variant" of Easy Action reunited. Kee and Zinny J. Zan having recruited a first class team of players that included Simon Roxx (g), Micael Grimm (b) and 'Grizzly' Höglund (d) and played Sweden Rock in 2006. But the passing of Grimm in 2011 who was the driving force at the time ended the band activities, although some songs were written.
Yet in 2019 the "melodic rock version" of the band got back together! Kee and Tommy, alongside Chris Lind (g), Björn 'Nalle' Påhlsson, Björn 'Grizzly' Höglund and the band's long-time live keyboard player Jörgen Ingeström reformed again earlier this year when Kee received another offer to play Sweden Rock. The band recorded a live DVD and presented themselves in excellent shape, for instance using no backing tapes and stuff.
This re-release is remastered by Chris Lyne and limited to 1000 copies. As a bonus there are rare b-sides "Eye For An Eye" from the "In The Middle Of Nowhere" single and "There Is A River" from the "Talk Of The Town" single.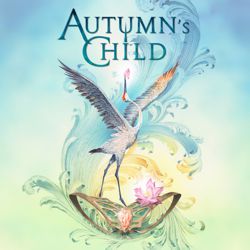 product: Autumn's Child - s/t
release date: 31.01.2020
label: AOR Heaven
territory: Europe
PR: Diese E-Mail-Adresse ist vor Spambots geschützt! Zur Anzeige muss JavaScript eingeschaltet sein!
Mikael Erlandsson from Gothenburg is one of the best singers/songwriters in Sweden today. Between 2006-2018 he was the frontman in the Swedish super group Secret Service on live tours all over the world.
He has recorded five successful solo albums and together with the fantastic guitar player Andy Malecek from the successful German hard rock band Fair Warning he thought of putting a band together. Ian Haugland (d), Mic Michaeli (keys) and John Leven (b) of Europe-fame were asked if they were interested to join - which they did, and the band LAST AUTUMN'S DREAM was born in 2003. The self-titled debut album was produced by Claes Andreasson and was a great success.
Then the band went on releasing another 14 albums with different line-ups with great musicians like Jamie Borger (d, Treat), Marcel Jacob (b, Talisman) and they all had an impact of the band's development.
They toured Japan, England and Germany but decided to take a break in 2018. Then Mikael formed this new group: AUTUMN´S CHILD.
The line-up apart from Mikael Erlandsson: Jona Tee on Keyboard from Swedish melodic sensation H.E.A.T., Robban Bäck, former drummer of Eclipse and currently with Swedish rock band Mustasch, Claes Andreasson from Swedish Westcoast/AOR band Heartbreak Radio. He also produced the first LAD album and "Winter in Paradise" and "Saturn Skyline" for LAD as well and finally on guitar: the amazing Pontus Åkesson from the prog rock band Moon Safari.
The album is like a walk through rock history with influences from such different bands like Queen, The Cars, Gary Moore, Journey and of course, LAD.
"Autumn's Child" is produced by Claes Andreasson and Mikael Erlandsson
Mixed and mastered by Mikael Andersson at Soundport Studio.
product: The Ragged Saints - Sonic Playground Revisited
release date: 31.01.2020
label: AOR Heaven
territory: world
PR: Diese E-Mail-Adresse ist vor Spambots geschützt! Zur Anzeige muss JavaScript eingeschaltet sein!
After few years hiatus Finnish hard rockers The Ragged Saints are coming back with an old school 80's hard rock influenced record. The album titled "Sonic Playground Revisited" contains 10 new songs, and will delight not only The Ragged Saints fans, but also fans of bands like Whitesnake, Def Leppard and Ratt to mention a few.
Stylewise, the band continues its path without compromises. They didn't feel the need to change too much. There's a bit more keyboards and orchestration on some of the songs and little synth bass here and there, but it's the same songwriting team so the style and sound are pretty much the same as before. Once again the studio was their sandpit, their own sonic playground. "You can hear the same influences we had when we wrote songs for our first album" says guitarist Toni Bite.
Band has been working on the album on and off for number of years. It has been a working process since 2013 when the first demos came into being. But the start of recordings took another year due to personal issues and other projects, giving the band opportunity to distance themselves a bit and resume another perspective on the song material. "Now we're really happy with how every song turned out. We're looking forward to hearing what other people think, because we love the record. It's the kind of music we listen to at home" continues guitarist Tomi Julkunen.
The Ragged Saints was formed in 2011 by guitarists Tomi Julkunen and Toni Bite. After writing bunch of songs they recruited like-minded singer Markku Kuikka, bassist Jukka Hoffrén and drummer Miikki Kunttu "not to reinvent the wheel but to play melodic hard rock music we all have loved since the day one". Shortly after forming they began working on their first record. Band's well received and critically acclaimed debut album "The Sound Of Breaking Free" was released in 2013.
New album "Sonic Playground Revisited" will be released world-wide on January 31st, 2020 on AOR Heaven.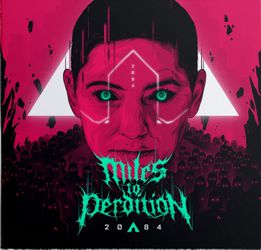 product: Miles To Perdition - 2084
release date: 31.01.2020
label: self
territory: Europe
PR: Diese E-Mail-Adresse ist vor Spambots geschützt! Zur Anzeige muss JavaScript eingeschaltet sein!
BIOGRAPHY
Aggressive Melodic Death Metal played at breakneck speed is the most suiting description for Miles to Perdition's signature sound. Yet, does technicality never impede musicality, nor are the high-speed songs lacking groove, as blast beat passages can be followed by mid-tempo riffing or heavily headbanging breakdowns.
10 YEARS OF METAL MADE IN LUXEMBOURG
Since 2008, the band has been very productive since their first released EP called VENGEANCE in 2010 by performing a remarkable amount of shows in and out of Luxembourg. After the release of their debut album BLASPHEMOUS RHAPSODY in 2014 the band gradually became a leading element of the local scene and gained reputation in the Greater Region and the Benelux countries.
HEAVY LIVE EXPERIENCES
Their aggressive,heavy music did not prevent them though from playing big stages and as support act for bands like : Avenged Sevenfold (US), Arch Enemy (SWE), At the Gates (SWE), Sepultura (BRZ), The Dillinger Escape Plan (US), Between the Buried And Me (US), The Black Dahlia Murder(US), Darkest Hour(US), Hatesphere (DK), Oathbreaker (BE) or War From a Harlots Mouth(GER).
W:O:A METAL BATTLE
In 2016 rewarded with the METAL BATTLE LUXEMBOURG Winner Title, which enabled them to play at Wacken Open Air Festival, alongside illustrious bands like Iron Maiden, Testament and Blind Guardian.
HIGHLY ENERGETIC LIVE PERFORMANCES
Their live performances are never lacking the energy one would experience at Old School Hardcore shows.
The band always delivers 100% commitment and energy into their live performance.
Unregardless if there are 5 or 5000 attendees. MILES TO PERDITION is recognised as a high-quality live band.
The concept of "2084" reflects on the dichotomy of "utopia" and "dystopia". Whilst referring to current events, the band is also considering masterpieces of dystopian literature such as 1984 or Brave New World, and their science-fiction approach by projecting humanity into the year 2084. The binary opposition of hope and despair is omnipresent in the lyrics, the visuals and, most of all, the music: the latter is contrasting between sombre, oppressive atmospheres and shimmering, beautiful melodies, all set in the framework of solid Death Metal.
"2084" will be released as CD (red cover), LP (beige cover) and digital on January 31st, 2020 via MILES TO PERDITION's own label.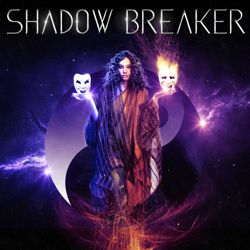 product: Shadow Breaker - s/t
release date: 24.01.2020
label: Pride & Joy
territory: world
PR: Diese E-Mail-Adresse ist vor Spambots geschützt! Zur Anzeige muss JavaScript eingeschaltet sein!
Out of the shadows, SHADOW BREAKER is the new French sensation emerging from the European Hard Rock scene! French known musicians Chris Savourey (BORN AGAIN) on guitars and Franck Moondog (THE BYMZ) on vocals, who previously collaborated on two albums, are the front men of this new group and back with a straight Rock 'N Roll attitude!
SHADOW BREAKER is a Heavy Rock band, mostly influenced by 70's and 80's giants of the Hard Rock/Heavy Metal such as AC/DC, WHITESNAKE, THIN LIZZY, UFO, SCORPIONS, VAN HALEN, OZZY OSBOURNE, KISS, MOTLEY CRUE, LED ZEPPELIN, DEF LEPPARD, MSG, DOKKEN, RATT...Their first self-titled album is the result of the revamped appetite of the two old friends.
Chris and Franck began their first collaboration in the 90's with the album "Dreamland" back in 1998 under the SAVOUREY moniker. The French group opened for the Brazilian band ANGRA in Paris in 1997.
In 2001, the two musicians founded a new band named NORTHWIND. The album "Seasons" hit the streets in 2002. NORTHWIND shared stages with bands like VANDEN PLAS, WITHIN TEMPTATION, BONFIRE, SHY and BRIGHTON ROCK just to name a few...
Then, life separated the duet, but in 2019, Chris and Franck realized that time flies and that it felt right to re-ignite the machine... The SHADOW BREAKER train was on his way!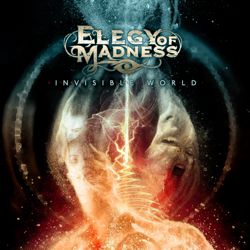 product: Elegy Of Madness - Invisible World
release date: 24.01.2020
label: Pride & Joy
territory: world
PR contact: Diese E-Mail-Adresse ist vor Spambots geschützt! Zur Anzeige muss JavaScript eingeschaltet sein!
Elegy Of Madness is an Italian Symphonic Metal band founded in 2006 by Tony Tomasicchio. In the same year the first promo "Another Path" was released. In 2009 they published the first album "The Bridge Of Sighs" and in 2013 "Brave Dreams" followed, promoted all over the world through festivals (Exit - Novi Sad) and opening shows for great bands (Arkona, Skrillex, Sabaton).
In 2017 they released the third album called 'New Era' distributed all over the world and obtained a special limited Japanese edition.
In May they started promoting 'New Era' with many Italian and European live shows but mainly taking part in festivals like "Balkan Metal Meeting" (Pula - Croatia) and "Zobens um Lemess open air Festival" (Lone - Latvia) opening for great bands such as Amorphis, Batushka and Heidevolk.
They also played at "Dream Rock Event" (San Pancrazio-Italy) with DGM, at "South's Cheyenne Metal Fest" supporting Lacuna Coil and at "Taranto Rock Festival" as special guests.
In April 2018 a Ukrainian tour took place with four gigs (Zaporizha, Krivoj, Rog and Kiev) and they opened Therion's live concert in Kiev. On October 7 they performed at Quinphonic festival in Birmingham and played in London and Tipton. Elegy Of Madness also performed as headliner with Lacuna Coil and Tower of Babel at M.i.c. Rock Festival in Villapiana, Italy.
On May 2019 the band supported Mark Boals (Yngwie Malmsteen) in Italy (Florence, Milan and Rome), in June they recorded their fourth full-length album at Domination Studio (Rhapsody, Michael Romeo, Twilight Force). Currently, the band keeps on playing around Italy and will finish the New Era Tour on February 2020 with a great show at Fusco Theater with a young local Orchestra.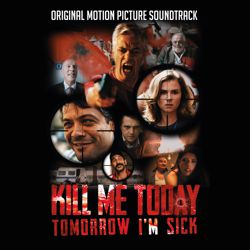 product: Original Motion Picture Soundtrack - Kill Me Today, Tomorrow I'm Sick
release date: 24.01.2020
label: Pride & Joy
territory: world
PR contact: Diese E-Mail-Adresse ist vor Spambots geschützt! Zur Anzeige muss JavaScript eingeschaltet sein!
Songs
What if these guys would be one band? Matt Beck (Matchbox 20, Rob Thomas). Nick Buda (Taylor Swift, Jewel). John Rhino Edwards (Status Quo). Guthrie Trapp (Phish, Ashley Monroe). To make this sound real, only once in a lifetime, producer Robert Papst assembled the big names. And they all did their part of work with verve. Recorded in New York, Nashville, Munich, London.
In addition, the lead-vocals of: Janina Dietz, who reached position #32 in German radio charts with her band JATD and the song By Your Side. Gracia Satler. Christian Bina Birawsky. Hardy Hartmeier and Jörg Sieber, who captured position #4 with Dominoe and their hit-single Here I Am.
A real all-star-combo gives the vocals to "Special Friend" (originally performed by The Lurkers in 1995). Alongside to the above-mentioned, actor Carlo Ljubek and Arturo Bassic (original voice of The Lurkers) appear as singers.
Title-Track | KILL ME TODAY…
Plain. Straight. Highspeed. Words burst like gunfire. Touching the sore point. A story of love and pain. Far from healing. Sung with a trenchant voice. Fortified by a stiff dose of acid humor, the guitar-riffs roll through life's strange ways. Pointblank.
Score
Unusual and unexpected. Ambivalent and oscillating. Shimmering between Good and Bad. Density and fragmentation. An overtone of impending doom. With a sound, reaching from classical to ambient to rock. The complete range. Music and life on the edge. An existential trial. Connoisseurs of US-American movie-scene honor this score, done by Hugo Siegmeth and Robert Papst.
Movie | KILL ME TODAY, TOMORROW I'M SICK!
Kosovo 1999. Ceasefire. The conflict is still smouldering. Anna from Germany is full of idealism. She wants to help. Surrounded by murders, venturers, ingenuous benefactors and cynics from all over the international world, she tries to prevail. Dirty tricks become routine. While the subversive station Radio One Kosovo is broadcasting to all the countries underdogs. Breaking taboos with a cool sound and a grim sense of humor. Giving hell to the strongmen.
Karin Hanczewski (Tatort – the most popular German crime series), Carlo Ljubek (Tatort), Sigi Zimmerschied (cabaret artist), Henryk M. Broder (author) a.o.