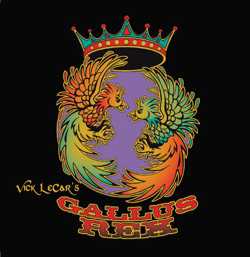 product: Vick LeCar's Gallux Rex - s/t
release date: 17.02.2023
label: Righteous Path Records
PR territory: Europe
PR contact: Diese E-Mail-Adresse ist vor Spambots geschützt! Zur Anzeige muss JavaScript eingeschaltet sein!
Vick LeCar's GALLUS REX is a Blues Rock explosion with a heavy influence of Deep Purple and Black Sabbath. LeCar's guitar and songwriting shines aggressively through the powerful rhythm section while Williams's vocals reminisce the rock n roll singers of the 70s. Righteous Path Records has started releasing singles from the band's self-titled CD Vick LeCar's Gallus Rex. The first single and video If Heaven Takes You First will be released on September 4th and the full EP will be released on February 17th,2023 on Righteous Path Records in Europe.

Gallus Rex, Vick LeCar's Gallus Rex is from New Orleans, Louisiana with a sound rooted in the hard rock music from the 70's. Deep Purple, Rainbow, and Bad Company are obvious influences because - there is a backstory. Vick LeCar was bornand raised in Santiago, Chile. Vick and his family escaped dictatorship and ended up in North Bergen, New Jersey. A city close enough to New York City where Vick immersed himself in the East Coast Rock scene. Vick quickly began to carve out his place and soon after his name became synonymous with the best guitarist in the area. In 1998 Vick LeCar caught the attention of platinum selling singer Joe Lynn Turner (Rainbow / Deep Purple / Yngwie Malmsteen). Turner was just coming off of 5 successful years as the singer for Richie Blackmore's Rainbow when he locked in on Vick LeCar's guitar skills and offered Vick the lead guitar position / songwriter in his new solo band. Vick immediately began to add Turner's Rainbow hits to his repertoire. He was now going to be playing the guitar parts of one of his guitar idols Ritchie Blackmore to audiences from around the world.
In 2016 Vick moved to New Orleans where he continued to write and perform his own material. This is where he met bassist Cujo and the two began to play venues around the city with local drummers.
In 2019 vocalist Williams, joined forces with Vick LeCar to write a hooray of melodic guitar driven songs, to soon form Vick LeCar'S Gallus Rex, recruiting Jonathan Limjuco
/ Cujo on bass and drummer Eric Bolivar to record the self-titled five song EP Gallus Rex.
Gallus Rex
Vick LeCar - electric and acoustic guitar / backing vocals Ru Williams / Rooster-vocals / harmonica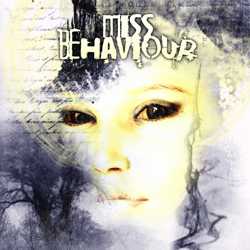 product: Miss Behaviour - Heart Of Midwinter
label: Pride & Joy Music
release date: 17.02.2023
PR territory: world
PR contact: Diese E-Mail-Adresse ist vor Spambots geschützt! Zur Anzeige muss JavaScript eingeschaltet sein!
Emerging from a Swedish town by the name of Norrköping, some young musicians who enjoyed hardrock, heavy metal, AOR and melodic rock eventually founded a band in 2003. Miss Behaviour was born and this debut was able to leave its mark on the scene already in 2006.
Erik Heikne (g), Henrik Sproge (keys), Mattias Wetterhall (v), Sebastian Gustavsson (b) and Hampus Landin (d) were the line-up. "Henrik and me had known each other since we were like seven years old. We discovered bands like Helloween at a very young age and had a very supporting teacher later on, who was probably a musician himself. He recognized that we were very focused on the bands we liked and encouraged us to start a band ourselves. We had a first gig soon after. And to cut a long story short, Henrik and I started to study in Kalmar. We studied music management but soon found out that what we were taught about the music industry was more or less out-dated already with Napster and the like going stronger and stronger and a radical change in promoting and releasing music coming up." Not having much to do apart from writing music, Heike and Sproge, sharing an apartment at the time and having played in various power metal outfits before discovering bands like Magnum or classic Yngwie Malmsteen, eventually started a band. Miss Behaviour was born. "We didn't have the money and the knowledge back then but we wanted to create something in the vein of what Nestor is doing today", Heike explains. More or less, nobody was doing it at the time.
"Hampus, our drummer was not really into that kind of music but rather into Slayer and Pantera but he was the drummer around and recorded the songs and that's it. But he is still one of my best friends and he and I still playing in different bands. The bass player was a kind of one-off-performance. He still plays but far away from what we did back in the day. I think he works in a library today. And the singer Mattias, how he was called back then, changed his name", Heikne recalls. "I still talk to him from time to time. Still to this day, I'm pretty sad that he didn't do much with his talent. The whole album has a great feel to it although the whole performance is far from what we did on our later albums but Mattias had that powerful voice which he wasn't fully aware of", states Heikne. Unfortunately, "Heart Of Midwinter" is one of the very few releases Wetterhall sang on so far. Sebastian Roos, the current singer in Miss Behaviour, actually sang backing vocals on the debut, so coming full circle with the band.
The debut came out in 2006 on a small label called Sunset Fox Records. "We were so happy to be able to spread our music", Heikne remembers. Early Crashdïet might have been an influence on the band, too. Also the name of the band has to do with the love of sleaze rock back then because sleaze bands and musicians are often a bit out of line and live every cliche of rock to the fullest, probably misbehaving sometimes. "The music on our debut was also not pure AOR", Heike admits. The guys did not know yet what exactly AOR - Adult Oriented Rock - really was.
The opening track "The Shine", being some kind of signature song for the album, certainly sticks out. "This track is a great example of the fine sense of melody in Henriks songwriting", the guitarist recalls. The artwork reflects the search for their very own sound as the songs are a mixture of metal, AOR and melodic rock. Therefore, the artwork, too, is not typical AOR style.
With three albums ("Last Woman Standing" in 2011, "Double Agent" in 2014 and "Ghost Play" in 2016) following and e.g. a big UK tour and several festival appearances in Sweden or Germany, Miss Behaviour left a mark on the scene, having their hey days around 2011 and 2012. So, obviously, with prices on eBay and the like going up for the very few remaining copies of "Heart Of Midwinter", it is about time to give this album a proper rerelease with a new booklet. "I think it would be unfair towards fans, who have been asking continuously for it as it wasn't even available on streaming platforms, not to rerelease it. And Birgitt Schwanke and Pride & Joy Music are reliable partners."
With Erik Heikne and Henrik Sproge writing songs currently, there might be some new music in the pipeline soon. Miss Behaviour is still alive and kickin'…
Liner notes by Martin Stark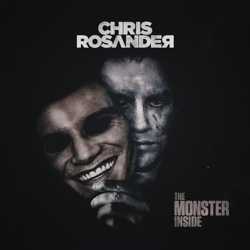 product: Chris Rosander - The Monster Inside
label: Pride & Joy Music
release date: 17.02.2023
PR territory: world
PR contact: Diese E-Mail-Adresse ist vor Spambots geschützt! Zur Anzeige muss JavaScript eingeschaltet sein!
Chris Rosander is a 25 year old musician and songwriter from Örnsköldsvik, Sweden who has been writing songs in the AOR/Melodic and West Coast genre since he was 14 years old. Christian's musical work includes artists and bands such as Michael Ruff, Paulo Mendonca, Frank Ådahl and X-Romance.
In Mars 2020 Rosander signed with the record label AOR Heaven and debuted with his first full-length album "King Of Hearts" that same year. Since it wasn't possible to get out to play live shows at that time due to the pandemic, he started the writing process for a new album which now will be released on February 17th, 2023 via Pride & Joy Music. The album also was written & produced by Chris Rosander.
In 2022 Chris got invited to guest on a charity project for the Ukraine called Save The Noise. He recorded vocals and guitar tracks on the song "Can't Take Freedom From Me", written by Filippa Nässil from Thundermother together with musicians and artists such as Filippa Nässil and Emlee Johansson from Thundermother, Liv Sin (Ex Sister Sin), Martin Motnik (Accept), Snowy Shaw (Ex King Diamond), Chaq Mol (Dark Funeral), Pontus Snibb (Bonafide), Linnea Wikström (At The Movies, Fd Therion, Ronnie Atkins Band), Ross "The Boss" Freidman (MANOWAR, The Dictators), Søren Andersen (Chad Smith, Glenn Hughes, Marco Mendoza, Neil Murray, Ida Nielsen, Marcus Linnet, Simona Abdallah, Michael Gersdorff, Morten Hellborn) and Ida S (VA Rocks).
Chris Rosander says about the new album: "The Monster Inside - Don't we all have one of those? I know I do, and I believe that the most of us have, metaphorically speaking a monster inside and that's what this work is all about.
I started working on this record in August back in 2020 straight after the release of my debut "King Of Hearts". All songs were ready to be recorded in December that same year but due to the pandemic we couldn't start until late august 2021. I didn't know when I started the writing process that it was going to be a concept album but when I wrote the song Turn Your Heart To Stone the idea of having all the songs following the same theme felt rather intriguing.
It's not that kind of album where you get to follow the same storyline throughout the track list. On this record you get to hear 11 stories/songs about different people, each got a more twisted/darker side of them self than the other. Basically this album is about different and absurd behaviours and the fact that all of us got a side of our self that we rather not let anybody else see. The Monster Inside."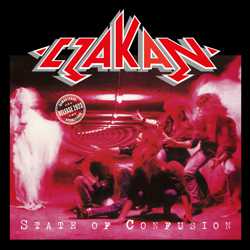 product: Czakan - State Of Confusion (re-release)
label: Pride & Joy Music
release date: 17.02.2023
territory: world
PR contact: Diese E-Mail-Adresse ist vor Spambots geschützt! Zur Anzeige muss JavaScript eingeschaltet sein!
The time has come: the re-release of the much acclaimed Czakan debut album 'State of Confusion', which was awarded 'record of the month' in 'Metal Star' when it was released in 1989 and sold around 25,000 copies in Germany, is imminent! The outstanding re-mastering by Robin Schmidt at 24-96 Mastering Karlsruhe brings the `89 production far more than just to today's level in addition to having a new label behind it – a storm is brewing!
Back home after this release, none other than Reinhold Mack (Queen, Rolling Stones, ELO and many more) contacted the boys and invited them to a weekend at the Musicland Studios in Munich. He put Czakan to the next step of their career. 'Free Line' and 'She is a Woman' were recorded. Two incredible titles that opened the next doors for the band.
Frank Bornemann, owner of Horus Sound Studio Hanover and mastermind of German based band Eloy, knocked. In April 1988 he signed Czakan to Edition Metromania - a cooperation with Warner Chappell publishing. The musical fine-tuning of the rough diamond Czakan began. The band reaped the first benefits of this cooperation with the silver medal at the young talent festival, which the Rockfabrik Ludwigsburg organized in cooperation with the magazine 'Metal Hammer' on Boxing Day 1988. In the audience, executives of former German record company Intercord. After many lucrative offers, the band finally decided to sign a record deal with the guys from Stuttgart.
In June1989 Czakan boarded the Horus Sound Studios. During that summer they created their first record. 'State of Confusion' was born. Already, after the first feedbacks it became clear that this band easily could measure up with any international competition. A tour across Germany followed as the opening act for Uriah Heep's 20th Anniversary tour. After that, the trail of this brilliant band unfortunately got lost in the sands of time...
...until today ...because Czakan is back! With a grandiose remaster of `State of Confusion` and lots of news for spring 2023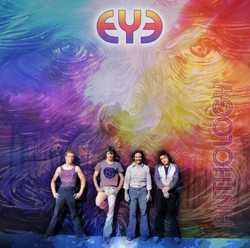 product: Eye - Anthology (3 CD Box)
label: Pride & Joy Music
release date: 20.01.2023
territory: world
PR contact: Diese E-Mail-Adresse ist vor Spambots geschützt! Zur Anzeige muss JavaScript eingeschaltet sein!
Remarks: includes 50 tracks from the band's archives, rare picture material, a 24 pages booklet incl. liner notes written by Mike Varney, ltd. on 500 copies only
----------------------------------------------------------------------------------------------------------
Timmy (EYE)
a histography

It all started in 8th grade, 1967, the summer of love, in Buckhead, Georgia.
Keyboardist John "Langford" Harrison met guitarist Donny Macleod, and the rest was history.
For nearly five decades, they still practiced every night.
Why? Because they loved it.

From the beginning, they had to have that "Brown" soun'.
(Translated into laymens terms, that basically means a Marshall on ten).
Thus the name 'Timmy'.
A contradiction in terms, dialectic, or a sucker punch.
I am reminded of when Elvis Presley came on the Ed Sullivan show, and said,
"Okay, we're gonna slow it down a little...You ain't nothin' but a houndog!!!
That knocked me back on my heels as a three-year-old.

So Timmy comes out with a friendly little name,
and then proceeds to knock you back on your heels!

Heralded as the unsung progressive band of the seventies, that no one''s ever heard of,
Timmy boasts an impressive history of associates that includes:
Andy West of the Dixie Dregs, Mark O'Conner, world renowned fiddle champ,Vince Welnick, of the Tubes and Grateful Dead,
Eddy Offord, produce of Yes and ELP, and engineer on John Lennon's Imagine, and infamous rock manager Tony Secunda, who managed such acts as Procol Harem, Moody Blues, T Rex, Motorhead, Denny Laine, Chrissie Hinde, and Steel-Eye Span.
1975
Marin County California
Timmy joins forces with Cream of Chicken,
replacing guitarist Angie Makurak with Peter Penhallow, (aka Mr. Cheez),
and drummer Dave Obiedo with Paul Southard, (aka Paul Zahl...his girlfriends tall!).

Peter eventually moves to mini moog, (the 'saxophone', as John would affectionately refer to it), Donny moves, from bass to guitar, and John takes over the bass with his killer left hand.

One of their songs at that time was called "Big Long One", which says it all.
Most of their tunes, mostly written by John, and collaborated with by Donny and Peter, were anywhere from ten minutes to a half hour long, and were these fantastic and beautiful epics with time changes every measure.

From 1975 to 1988, various drummers came in and out,
while John, Donny and Peter remained as the core of the group.

Zahl stayed maybe a year, and maybe came back once or twice,
but was eventually replaced with Mitch Hinard, (aka Panda McCaan).
The music was a stretch for Panda, but he rose to the occasion and then some and hit excellent and hard.

After Panda came Bob, (Uncle Woofy), easily among the best progressive drummers on the planet.
The Uncle Woofy period was a height.
The tunes were longer, crazier, more beautiful than ever, and played with precision.
The band opened for many progressive bands of that era to standing ovations.
(Bill Bruford, Dixie Dregs, Captain Beefheart, Allan Holdsworth, Brian Auger, etc.)

Next up was Charlie Tapp on drums.
Charlie also brought in a few nice tunes.
The band was also recruited by famed rock manager Tony Secunda.
A shift in the music occurs: shorter tunes, straighter beats.
This was a typical shift for progressive bands at this time, e.g. Asia,
the early eighties rhing,
and Timmy handled the shift with grace.

1983
Andy West, bass player for the Dixie Dregs, joined the band.

1984
The band made a demo, (The Atlanta Project), produced by Eddy Offord.
All the King's men loved it, just the King's A and R guys went, ehh!

Hello Brain! Paul Chatterton III on the drums.

Vince Welnick came in to co-write and produced a few tunes for the "Eye" CD.

1988
"Has anyone seen Peter?"
"Hey Peter, when ya comin' to rehearsal?"
"Guys, I ran away from home to play piano for babies".

Brain left the band soon after Mr. Cheez,
and eventually flew into the arms of God
from the seat of his Harley.
God bless ya, brother.

1990
Andy Bishop joins the band on drums, they were a bad ass rockin' trio.

The Timmy line up at that time was: John (Langford) Harrison, Donny (Jock McNutt) MacLeod, Andy Bishop

30 years of Rock and Roll!

So I seriously doubt that this is...

The End
Bio, originally published in Strtterzine magazine, was written by Peter Mr. Cheez Penhallow, 2005.
R.I.P
John Gimma Langford Harrison – Jan. 3, 1953 – June 25, 2012
Donny McLeod – Sept. 27, 1952 – Jan. 10, 2010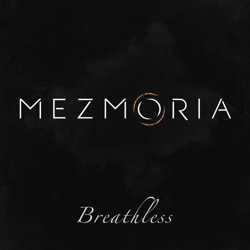 product: Mezmoria - Breathless (digital single)
label: self-released
release date: 16.12.2022
territory: world
PR contact: Diese E-Mail-Adresse ist vor Spambots geschützt! Zur Anzeige muss JavaScript eingeschaltet sein!
This is the third track from Swedish metal project MEZMORIA.
MEZMORIA was first founded in 2006 by Robin Jidhed (ex-Creye) together with Eric Wikström (Hagwater) and Martin Floberg (ex-Enbound). But after years of writing, recording and live performances, life intervened and the band was put on hold. Until now.

After Robin's departure from Creye he went on and felt it was time for another chapter of MEZMORIA. The circle was then completed when Eric and Martin said yes to participate, Eric as a lyricist and Martin on solo guitar. He then recruited the very talented Eric Skjuttorp (Chugger) on drums and David Åkesson (ex-Cantice) on backing vocals.

MEZMORIA will release their third single «BREATHLESS» on Friday DECEMBER 16th on Spotify, Youtube, Itunes and other download/streaming services.

«BREATHLESS» is written by Robin Jidhed and Eric Wikström.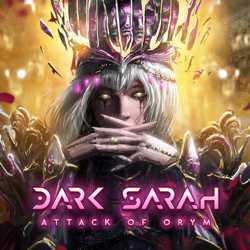 product: Dark Sarah - Attack Of Orym
label: Riena Productions/ Blood Blast Distribution
release date: 27.01.2023
territory: Europe (outside of Germany, Austria & Switzerland)
PR contact: Diese E-Mail-Adresse ist vor Spambots geschützt! Zur Anzeige muss JavaScript eingeschaltet sein!
Cinematic metal icons DARK SARAH are about to release their astonishing fifth studio album, Attack Of Orym. The attacking new dimension, coalescing between crystal-clear vocals and propulsive hardness with EBM and dark electronic pop elements, draws you into the tempestuous maelstrom of their retro horror fantasy theme. Introducing the new villain Orym, the band begins their epic battle against the dark forces. Mark Jansen of EPICA will sing the title role of "Orym", the king of the forest folk. We´ll also hear a long time Dark Sarah guest JP Leppäluoto returning in the role of Dragon. Kasperi Heikkinen of BEAST IN BLACK will also contribute his talent on the album in a brilliant guitar solo. Attack Of Orym flourishes with its full magnitude, unfolding its potential with every second.
The highly anticipated 5th album from Dark Sarah, Finnish cinematic metal band of Heidi Parviainen ( ex Amberian Dawn)

The album feat. guest appearances by Mark Jansen (EPICA), JP Leppäluoto (ex Charon) and Kasperi Heikkinen ( Beast in Black)

Album artwork by Warm Tail

Production, mixing and orchestrations by Mikko P.Mustonen at Pathos Music (Delain, Sonata Arctica, Ensiferum)

Mastering by Svante Forsbäck at Chartmakers (Volbeat, Sonata Arctica, Korpiklaani)