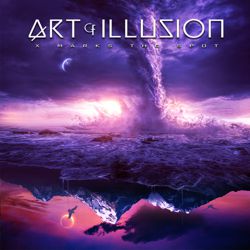 product: Art Of Illusion - X Marks The Spot
release date: 29.01.2021
label: AOR Heaven
PR territory: Europe
PR contact: Diese E-Mail-Adresse ist vor Spambots geschützt! Zur Anzeige muss JavaScript eingeschaltet sein!
Art Of Illusion is a fusion of songwriter/producer Anders Rydholm, from the band Grand Illusion, and singer extraordinaire Lars Säfsund, from the band Work Of Art. "X Marks the Spot" is the first album from these Swedish musicians.
Melody is the key in their music and there is a homage to melodic rock and bands like Queen, Giant and Big Money. Catchy melodies, great hooks and tons of glorious vocals are the formula for success. Anders plays keyboards, bass and rhythm guitars, while Lars sings lead and background vocals and also contributes some keyboards. The album is produced by Anders and Lars.
Guests on the album are guitarists Jay Graydon, Muris Varajic, Kristian Larsen, Pelle Holmberg and Daniel Rydholm. Drummer Frank "Frallan" Nilsson, background vocalist Per Svensson and steel guitar player Tony Paoletta also appear. Music is written by Anders Rydholm. Lyrics by Anders Rydholm, Arlene Matza-Jackson and Patrik Ahlm.
Lars Säfsund broke with his band Work Of Art and the album "Artwork" in 2008. He has since then been an appreciated voice within the melodic rock genre. He's also the voice for the bands Lionville and Enbound and one of the most hired background vocal singers in Sweden. Four appearances singing background vocals, for several countries, in the Eurovision Song Contest so far. Voice acting for Disney and other production companies, is another of Lars many skills.
Anders Rydholm has beside his own bands Grand Illusion and Code, worked with Overland, Seikima II and the legendary Japanese artist Demon Kakka. In combination with his songwriting and producing, Anders holds a position as senior lecturer in Music Production at the Linnaeus University, Vaxjo, Sweden.
The new album "X Marks The Spot" from Art Of Illusion will be released through AOR Heaven in Europe in January.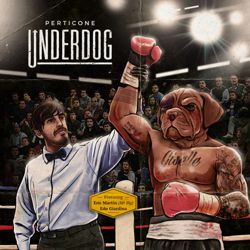 product: Perticone - Underdog
release date: 29.01.2021
label: AOR Heaven
PR territory: Europe
PR contact: Diese E-Mail-Adresse ist vor Spambots geschützt! Zur Anzeige muss JavaScript eingeschaltet sein!
Martin Perticone AKA "Underdog" is an artist from Buenos Aires, Argentina who's been in the music industry since the age of 13, when he joined the band Fondo Blues as a lead singer and guitar player. Martin played in the Argentinean under circuits for more than 25 years but during the way also got to know many important people in the music industry that led him to become tour manager for artists like Eric Martin from Mr Big in 2007 or even being invited as a guest for Richie Kotzen's Latin American Tour in 2008.
Martin has also toured around Latin America, USA, Europe and Hong Kong as a hired gun for many different artists until he finally decided to put more efforts on his solo career. That's how his long-time friend Edu Giardina, a well-known artist in Latin America, would become his producer and mentor for his debut album "Underdog". The mixture of AOR, Southern Rock and Country makes this album unique and different with amazing and powerful melodies all over the place. The album features guests such as Eric Martin (Mr Big) on both versions of "All You Can Trust" and Edu Giardina on "Man On The Moon", and brings reminiscences from the late 80's and 90's but offers the best of current sounds and trends, too. Steve Overland (FM) can be heard on lead vocals of the track "No One Else (But You)".
"Underdog" was recorded from March to December 2019 at RED Studios in Buenos Aires, Argentina and mixed and mastered by Guillermo Porro except for the drums which we recorded at Abismo Studios by Gonzalo Iglesias. The artwork was designed by Lucas Puch.
Perticone's solo career has just begun and in only 2 months from his launch he's got many followers and listeners from countries like Japan, Sweden, Brazil, USA to name some.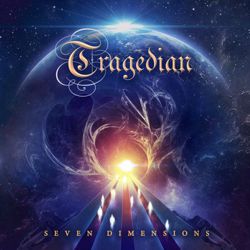 product: Tragedian - Seven Dimensions
release date: 29.01.2021
label: Pride & Joy Music
PR territory: world
PR contact: Diese E-Mail-Adresse ist vor Spambots geschützt! Zur Anzeige muss JavaScript eingeschaltet sein!
Tragedian is a multicultural Metal band from Hamburg with a range of influences from Heavy Metal to Speed and Melodic Power Metal, taking their favorite elements from each genre and making their own interpretation.

Formed in 2002 by guitarist, songwriter and producer Gabriele Palermo, they have shared the stage with bands such as Mob Rules, Paragon, Pagan's Mind, Dark Sky, The Unity, Burning Point and Cryonic Temple, including a support tour with the latter bands through Sweden and Finland in 2009.Tragedian also played at the 2019 edition of the Hamburg Metal Dayz.

The five-piece has released three albums with several collaborations from artists such as Kai Hansen (Helloween, Gamma Ray, Unisonic) and Bob Katsionis (Firewind, Serious Black, Outloud), and their fourth album "Seven Dimensions" with a new line-up which takes them to a different direction of Melodic Metal. It features 9 new heavy power speed anthems 3 previously released tracks newly reworked. "Para Siempre" is a reworked Spanish version or "Forever" originally released in 2013 on the second release 'Decimation'.
"Seven Dimensions" was produced by Palermo and post-produced & mixed by Eike Freese (DEEP PURPLE, GAMMA RAY) at Chameleon Studios, Hamburg, This release showcases some guests performances including Wade Black (ex Crimson Glory & Leatherwolf) on "Bringer Of Dreams", Zak Stevens (ex Savatage & Circle II Circle) on "Forces Of The Light" and Dan Palmer (Zebra Head, Death By Stereo) on "Out Of The Dark". The front cover was designed by Cover artwork by Piotr Szafraniec. The CD version includes the two bonus tracks "Crying In The Rain" (duet version) and "Forces Of The Light" (Radio Edit).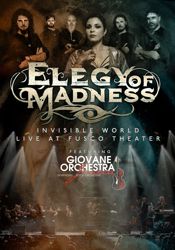 product: Elegy Of Madness - Live At Fusco Theater (DVD)
release date: 29.01.2021
label: Pride & Joy Music
PR territory: world
contact: Diese E-Mail-Adresse ist vor Spambots geschützt! Zur Anzeige muss JavaScript eingeschaltet sein!
ELEGY OF MADNESS is an Italian Symphonic Metal band founded in 2006 by Tony Tomasicchio which has released four albums in total - including "Invisible World" on Pride & Joy Music on January 24th, 2020.
The six-piece group was amongst the winning projects of the department of culture in their hometown of Taranto, Italy. This resulted in the realization and filming of a special show with the talented locally based GOJ Symphony Orchestra directed by Fabio Orlando and filmed at Fusco Theater on February 7th, 2020. This concert will now be released on DVD and as audio download & audio stream in co-operation with Pride & Joy Music on January 29th, 2021.

A very warm audience literally filled up the theater, witnessing the premiere live show for the new album "Invisible World". For this event, ELEGY OF MADNESS was supported by a group of local talents and experts: Peppe De Lorenzo (photos and video), Marco Principato, a really young and talented fashion designer who designed Anja's dresses, Natalia Testa, a great artisan and inventor of the beautiful jewelry which the band wore during the show; Associazione Studio Gaudio who handled the audio engineering, the charming voice of Angelo Bommino, director of the first diction school in Taranto, Daniele Chiloiro and Gianmarco Costella (extras) and the precious Joe Black Production for their help in organizing the event.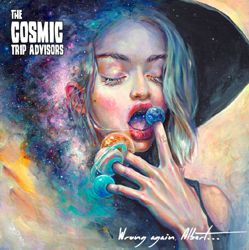 product: The Cosmic Trip Advisors - Wrong Again Albert + Same, same...but different
release date: 01.12.2020
label: Bad Reputation
PR territory: GAS
PR contact: Diese E-Mail-Adresse ist vor Spambots geschützt! Zur Anzeige muss JavaScript eingeschaltet sein!
'Wrong Again, Albert…' is the quirkily titled debut record from West Lothian 6-piece Cosmic Trip Advisors. The Cosmic Trip Advisors are a rock 'n' roll band with a heart of soul. Rock 'n' Soul, if you will. In their world, Iggy can rub shoulders with Keef, Dolly can pinch Jimi on the arse & Macca can launch a goober at Rotten while Gram hums his approval from underneath a dusty old cactus...it's all good in the gumbo soup. The basic tracks were recorded live over a two day period at Spinroad Studios in Sweden. Overdubs were added at Bad Cat Studios in Scotland. It was produced by Brit Award winner, Pedro Ferreira (The Darkness) and mastered by Ade Emsley at Table Of Tone Mastering ;The band all have similarly off-beat names: Lesbomb (vocals), El Cap (guitars), Tattie (guitars), The P-Man (keys), Mr Herringbone (bass), Pete The Beat (drums). Their true identities are since known : Lesley McGonnal, Mark Thornburn, Ian Tait, Peter Hampton, Herringbone & Peter Forrest.
The opening track, Oh My My My! batters in with some bonesaw-guitar riffage and thumping bass & drums. The sound is fleshed out by smooth organ sounds and the scene is set nicely for vocalist Lesbomb's entrance – and what a voice she has! Reminiscent of New York Queen Of Rock & Roll Sari Schorr in her grit and range – with a touch of Joanne Shaw Taylor's smoky tones in there as well – she owns the track and the whole album with a forceful performance. With the lead vocals continuing to astonish, the band's secret weapon is quickly revealed as the keyboard work of The P-Man. While both guitarists and the rhythm section all deliver great work throughout, The P-Man is the wild card and he brings something to the band's sound that few groups have these days.
This digipack edition has a cd bonus with no 2nd takes, no overdubs or sneaky cheats. This is what Wrong Again, Albert… would have sounded like if it was recorded in one hour with six months more rehearsal, a new bass player (Chris Fulton) and a spring in our step. The icing on the cake is Lesley's incediary vocal performance throughout. If you loved her singing on "Wrong again, Albert…", just wait until you hear what she's pulled out the bag this time.

This is our debut album's unintentionally saucy little sister. you know, the dirty one you wish you'd met first. In short…it's same, same, but oh, so very different.
To recap! Unusual band name, unusual bandmember names, strong album artworks, full booklet with pictures and lyrics, eleven catchy tracks brewed from a slick mix of blues, rock and psychedelia with some standout instrumental performances and a real star turn from the lead vocalist. And a second twin CD, but not so twin…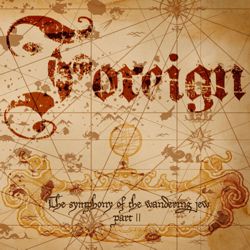 product: Foreign - The Symphony Of The Wandering Jew II
release date: 04.12.2020
label: Pride & Joy Music
territory: world
PR: Diese E-Mail-Adresse ist vor Spambots geschützt! Zur Anzeige muss JavaScript eingeschaltet sein!
Foreign is a metal/rock opera from another time, like a real journey inside time and space, more gazed on melodies which can provoke dreams on you, as if you were deep inside the millennial quest of Ahasverus, the poor Jewish man cursed by Jesus Christ, condemned to immortality to have refused him a glass of water, when he was climbing the mount for the crucifixion…
Still under control of author/composer/ singer/keyboardist Ivan Jacquin (Psychanoïa, Amonya, Magnesis...), the wandering jew is following his own quest, after the time when we left him at the end of the first album.
Now's the time of Holy Crusades back in Jerusalem and Ahasverus, alias Omar Kyan for a little while, he will meet terrible Salah ad-Dîn, for a strange and short alliance…
The story of this second album will bring us until the dawn of industrial revolution, passing by Vikings lands, Cristoforo Colombo and his historical mistake, Francois the 1st and his dream of alchemy, Nostradamus' prophecies, the Shakespeare enigma, Mozart and his genius art, and it will end with several revolutions, in 1789 in France and in the beginning of the 19th century for rising industry and mechanical inventions.
When seeing the success and interest about Part I in 2014, some guests, singers and musicians from the whole world and well-known in rock, progressive and metal universe have accepted to be part of the second record of this amazing trilogy. This includes the massive talents of Leo Margarit (Pain of Salvation, Epysode) on drums, Mike Lepond (Symphony X, Silent Assassins) on bass, the vocalists Zak Stevens (Circle II Circle, Savatage, TSO), Andy Kuntz (Vanden Plas) and Tom S. Englund (Evergrey), as well as Amanda Lehmann (Steve Hackett Band) on vocals and lead guitars.
Most of the musicians playing in part I will be back in this adventure and some characters will remain in their being to perpetuate the quest…
Foreign II welcomes lots of characters, female and male singers, the mixed choir named « The sirens of time » and about twenty metal and rock musicians and other instrumentalists more « exotic » and rare (hammered dulcimer, oboe, cello, duduk, harp, hurdy-gurdy...); forty artists in total.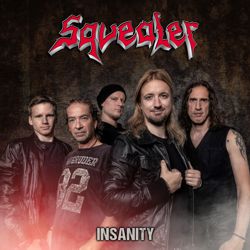 product: Squealer - Insanity
release date: 04.12.2020
label: Pride & Joy Music
territory: world
PR contact: Diese E-Mail-Adresse ist vor Spambots geschützt! Zur Anzeige muss JavaScript eingeschaltet sein!
SQUEALER, one of Germany's very own Power & Thrash Metal pioneers, are now back with a vengeance! "Insanity" is the name of their 10th studio release since their foundation in the 1980's – and the new opus impressively starts where the successful predecessor "Behind Closed Doors" has stopped!
As usual, the quintet shows its versatility and intricacy: "Insanity" once again delivers everything a Metal fan may be looking for. Power ballads like "Black Rain" go hand in hand with Thrash metal hymns such as the opener "Into Flames", "Hunter Of Myself" or "My Journey" and powerful Metal tracks like "Bad tasting Sin" or "Insanity". Through the years, SQUEALER undoubtfully have managed to follow their roots but nevertheless also to create their very own, up-to-date sound that also includes huge polyphonic choirs from time to time.
SQUEALER today consists of Lars Döring (guitars), Michael Schiel (guitars), Sebastian Werner (vocals), Manuel Roth (bass) and new member Peter Schäfer on drums. Ito Grabosch took once again are of the recordings while Roland Grapow (Helloween/ Masterplan) handled the mixing and the mastering. This time, some guests have joined the band from North Hessia in the studio; i.e. on the track "Black Rain" Bernhard Weiss (AXXIS) and Zak Stevens (CIRCLE II CIRCLE, SAVATAGE, TSO) guest on vocals and Roland Grapow (Masterplan, ex Helloween) on lead guitar with one solo whilst Ingmar Klippert can be heard on piano on the song "Low-flying Brains".
"Insanity" is the second release from SQUEALER on Germany based label Pride & Joy Music and will be unleashed on December 4th, 2020. The tracks "Black Rain" and "Bad Tasting Sin" will be released as singles and audio videos in advance.