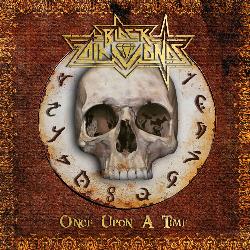 product: Black Diamonds - Once Upon A Time
release date: 24.03.2017
label: AOR Heaven
format: CD
PR in: world
PR contact: Diese E-Mail-Adresse ist vor Spambots geschützt! Zur Anzeige muss JavaScript eingeschaltet sein!
Black Diamonds, formed in 2004, are a hard rock band based in the Rhine Valley in eastern Switzerland. Musically and stylistically orientates on 80s rock music, which they pack into an energetic stage performance.
In 2008 the group released their first, self-produced album «First Strike». It contained ten original songs plus a cover version of Chuck Berry's classic «Rock n' Roll Music». "First Strike" today is out of print. A couple of songs however were completely repolished and re-recorded and found their way to the latest album «Once Upon A Time».
Black Diamonds were asked to compose a club anthem for the local Black Thunder MC in 2011. This song is available as digital single.

2013 saw the recording and release of the second long player «Perfect Sin». It was followed up by the extended «Perfect Swiss» tour, which brought the band through their home country and the adjacent countries. The two videos for «We Want To Party» and «I'll Be OK» were shot and released during the tour. In addition another digital single, a cover version of the Rolling Stones' classic «Jumpin' Jack Flash», was released.
The quartet took part in the official TV spot for the Swiss railway company (SBB) in 2013. On the set they made acquaintance with the producer of the Swiss TV serial «Pimp it or kick it», who offered them to appear in a complete episode. The show was broadcasted in the same year.
The new album «Once Upon A Time» was recorded in the band-owned studio and mixed by Tobias Lindell. Dragan Tanaskovic from the Bohus Sound Studios in Gothenburg Sweden (ABBA, Europe, In Flames, H.E.A.T., and many more) took care of the mastering.
The only exception is an additional piano version of «Vampires Of The Night», which was completely produced by Andreas Frei (Fäaschtbänkler)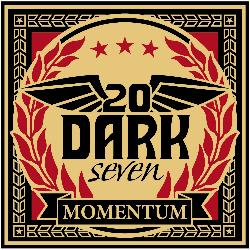 product: TwentyDarkSeven - Momentum
release date: 10.03.2017
label: Metalapolis
format: CD
PR: in Europe
PR contact: Diese E-Mail-Adresse ist vor Spambots geschützt! Zur Anzeige muss JavaScript eingeschaltet sein!
THE BRAND NEW BREED OF HEAVY ROCK - Pure & simple...straight from the guts...
TWENTYDARKSEVEN is a brand-new band founded by former PUMP singer and founder Marcus Jürgens (also ex-Brainstorm) and guitar wizard Peter Wagner (ex-Wicked Temptation, Piledriver) in January 2013. They are completed with guitar monster Marcel "Selly" Berhardt (ex-PUMP), bassist Christoph Renner and drummer Markus Herzog. Their musical goal is guitar oriented Heavy Rock like OZZY OSBOURNE, BLACK LABEL SOCIETY, DIO, ACCEPT or DOKKEN combined with modern elements. Fans can expect timeless Rock with big hook lines, monster guitar riffs and outstanding vocals.
"Momentum", the second album of TWETYDARKSEVEN, marks a new start in the bands career. Through some line-up changes and the commitment to a second guitar player their sound got more power and more space for guitar melodies.
Mixed and mastered by Alexander Brusencev (V8 Wankers, Gloomball) the album shows all elements of the TWENTYDARKSEVEN universe! The first single and video, "Shotgun Heart", was chosen to be part of the Hollywood movie "Diary Of a Fatman" from Director/Producer Steve Ravic himself. The film had its debut at the international Film Festival in Cannes. Parts of the film will be shown in the video!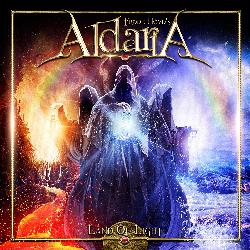 product: Aldaria - Land Of Light
release date: 24.03.2017
label: Pride & Joy Music
format: CD
PR: world
PR contact: Diese E-Mail-Adresse ist vor Spambots geschützt! Zur Anzeige muss JavaScript eingeschaltet sein!
"Land Of Light" is the highly anticipated debut release by the new all-star metal opera ALDARIA! The album contains 11 epic tracks in the vein of old Helloween & Avantasia, with fast-paced hymns to beautiful ballads.
The band is masterminded by guitarist Frode Hovd from the Norwegian metal group MEMORIZED DREAMS who was joined by a host of world known guests from the metal community including Fabio Lione (Rhapsody Of Fire, voc), Todd Michael Hall (Riot V, voc), Rick Altzi (Masterplan, voc), Mathias Blad (Falconer, voc), Jonas Heidgert (Dragonland, voc), Jimmy Hedlund (Falconer, guit.), Roland Grapow (Masterplan, guit.), Mike LePond, (Symphony X, bass), Uli Kusch (ex Helloween, dr.), Peter Danielsen (Darkest Sins, synths) and Mistheria (Vivaldi Metal Project, keys). The album has been in production for over two years.
Produced and fully written by Hovd himself, this concept album was mixed by Roland Grapow (Masterplan) at Grapow Studios and mastered by Jacob Hansen (Primal Fear, Volbeat, Doro etc) at Hansen Studios. Artwork by Stan W. Decker (Jorn, Serious Black…).
The full cast of musicians performing on this release and an essay about the lyrical concept is on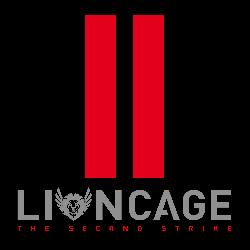 product: Lioncage - The Second Strike
release date: 24.03.2017
label: Pride & Joy Music
format: CD
PR: world
PR contact: Diese E-Mail-Adresse ist vor Spambots geschützt! Zur Anzeige muss JavaScript eingeschaltet sein!
The band LIONCAGE was founded in 2013 by Thorsten Bertermann (vocals), Torsten Landsberger (drums) and Lars König (guitar & mix). All three musicians had known each other for many years performing in professional tribute bands, and impulsively started a band with original songs after having a couple of beers at a festival, well, a rock festival…
After two years of song-writing and recording demos, the LIONCAGE debut release "Done At Last" successfully saw the light of day in Europe and Japan.
Even though the trio has a big variety of individual musical influences they have one passion in common: Melodic Rock and Rock bands such as Toto, Foreigner, Journey, Huey Lewis, Genesis, Yes, Paul Carrack, Chicago and many more. Besides these influences, LIONCAGE's sound also showcases a contemporary, own sound on their second album "The Second Strike" which now is presented with even more finesse, power and versatility.
Some fantastic and talented musicians and friends helped the German three-piece to complete their new record. The bass guitar was handled by Lars Slowak, Sven Zimmermann, Andreas Laude-Schwedewsky and Dirk Meyer, keyboards by Mitch Knauer and Shanger Ohl, and backing vocals by Madeleine Lang, Anja Bublitz, Olaf Senkbeil and Billy King. Last but not least, one of the finest studio guitarists, Tim Pierce, (Bruce Springsteen, Michael Jackson, Rascal Flatts, Joe Cocker, Rick Springfield, Elton John etc.) took over some guitar parts on the track "Secrets".
On "The Second Strike", Lioncage impressively prove that Germany is able to offer great productions in the Westcoast, AOR and Melodic Rock genre.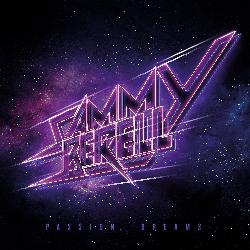 product: Sammy Berell - Passion Dreams
release date: 17.03.2017
label: Dark Force/ Sound Pollution
format: CD
PR territory: Europe & Japan
PR contact: Diese E-Mail-Adresse ist vor Spambots geschützt! Zur Anzeige muss JavaScript eingeschaltet sein!
Dream passionately. Dedicate your life to your craft. Work hard and aim for the stars! That is the story of Sammy Berell.
It all started back in the early 80's when as a kid Sammy walked into a church and heard the angelic sound of the organ and someone playing a classical composition by Johann Sebastian Bach. Mesmerized by the sound and bewildered by how someone could play so many different tones, classical music would have a great impact on his life from this day.
Sammy Berell was so inspired by the old composers and started practicing different instruments, including the piano at the age of six as well as the flute, drums and violin to name a few. As an early teenager he was given an electrical guitar by his father and at the same time he had grown tired of his acoustic one. He was instantly hooked because it was so easy to play and learn it. It felt all so natural.
Encouraged by his parents, most importantly his mother to pursue his dreams about music, he practiced day in and day out. But people never seemed to understand his extraordinary talent and few people took him seriously. Even though he knew he was good, Sammy Berell wanted to shine above all the others. He sacrificed a lot for years as he recorded himself and practiced even more. He knew that he had to aim high and never compromise if he wanted to reach his dream.
Sammy Berell's debut "Passion Dreams" is set for release in March 2017 on Dark Force Records / Sound Pollution. The album, born out of dream-fueled passion was recorded in Sound VS Science Studio with producer Daniel Flores (The Murder Of My Sweet, Mind's Eye, Saviour) together with Sammy Berell as a co-producer.
The album features some of the greatest voices in hard rock; Michael Vescera (Yngwie Malmsteen, Loudness, Obsession) as well as Göran Edman (Yngwie Malmsteen, John Norum, Kharma).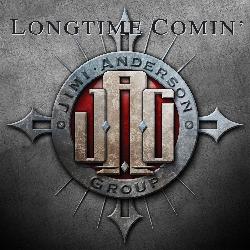 product: Jimi Anderson Group - Longtime Comin'
release date: 24.02.2017
label: Pride & Joy Music
format: CD
territory: world excl. Japan
PR: Diese E-Mail-Adresse ist vor Spambots geschützt! Zur Anzeige muss JavaScript eingeschaltet sein!
Born in Rigside, Lanarkshire, Scotland. Jimis first Rock band was in 1978, singing mainly Rush & Deep Purple songs & so his passion for 'Classic Rock' had begun. The next few years brought many hours of practise & to Paul Rodgers, David Coverdale & Ronnie James Dio for inspiration.
He began writing songs and formed the rock band Sahara whilst spending any spare time attending a gazzillion gigs at the Legendary 'Glasgow Apollo' till it closed in 1985. Various incarnations of the band ensued including a name change to "The Hardline" until they were picked up by Wet Wet Wet's manager Elliott Davis and offered a management contract on the strength of a demo tape.
Showcasing his phenomenal voice, five years of recording demo's, touring, notable sell out gigs at Glasgow's King Tut's, London's 'Borderline Club' and a support to Wet Wet Wet in front of 30,000 people at Glasgow Green. Jimi continued writing, performing and recording, appearing on Michael Barrymore's shows ' My Kind of People' & 'Barrymore' in 1997/98 and went on to sing at concerts & festivals in Romania, Turkey and Holland. Living now in York, Jimi has continued writing.
The vocalist moved on to spend two years as lead vocalist with Tribute Band 'A Foreigners Journey ' he toured extensively in the UK and Rhodes. Meeting new friends along the way, and his voice just got better and better so a decision was made to leave "A Foreigners Journey" and the next adventure started. His latest project is a tribute to great American Melodic Rock with some great musicians and friends "Legends of AOR" debut gig was in Spain in front of a crowd of Rhodes Rockers, safe to say it was so emotional that tears were shed.
After recently recording an album of original songs at FML studios in Scotland with Sandy Jones and Greame Duffin he is now starting a new challenge to take his music on the road, and so the Jimi Anderson Group was born. The new album "Longtime Comin'" is fusion of Classic Melodic Rock and AOR, and the original tunes showcase Jimi's voice perfectly.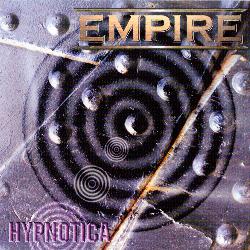 product: Empire - Hypnotica+3
release date: 24.02.2017
label: Pride & Joy Music
format: CD (re-issue with 3 bonus tracks)
territory: world
PR: Diese E-Mail-Adresse ist vor Spambots geschützt! Zur Anzeige muss JavaScript eingeschaltet sein!
EMPIRE is the Hard Rock band of German guitarist Rolf Munkes (ex Majesty, ex Razorback, Crematory) which has released four exceptional albums in between the years of 2001 and 2007. On these releases, Munkes was accompanied by numerous high-class musicians.
The history of EMPIRE began in the year 2001 with the release of the album "Hypnotica" (Lion Music) which featured both the American singers Mark Boals (ex-Yngwie Malmsteen) and Lance King (ex Nightmare) on vocals. Guitarist Rolf Munkesb today says: "When I first had the idea of Empire which was born after my first solo album, I wasn't sure where this road may lead me to, musically. I was open minded but never thought I would have the chance to be able to work with so many great talented players along this way."
The line-up at the time was completed by Neil Murray (bass, ex Whitesnake, Brian May Band, Black Sabbath etc.), Gerald Klos (drums), Anders Johansson (drums, ex Stratovarius) and Don Airey (keyboards, ex Rainbow, Deep Purple). "I remember that I was in contact with Lance King and we were talking on the phone. There was this initial sentence he said to me that changed my complete way of looking at it that time and opened all those doors for Empire. I told him that I was not sure how to be able to work together with more international musicians that time. He just replied with that one line: 'Ship 'em in'. Oh boy this is so easy but I had never thought of it that way. This is exactly how we did it", he adds.
Rolf Munkes produced "Hypnotica" himself; the mix was handled by Stefan Kaufmann (ex Accept, ex U.D.O.).
Only one year later, "Trading Souls", the band's second album came out on Lion Music. The CD once again was produced by Munkes with the mix being handled by Kaufmann. On this release, singer extraordinare Tony Martin (ex Black Sabbath) replaced King and Martin on the vocal spot.
Tony Martin also sang on the – up until now – most successful CD from EMPIRE, "The Rave Ride", which was released in 2006 on German label Metal Heaven. Besides of Munkes, who, for the first also produced and mixed this release himself at his own Empire Studios in Bensheim, Germany, Neil Murray took again care of the bass work whilst the drums this time were handled by ex-Rage/ex-Axxis drummer André Hilgers.
In 2007, the so far last album of EMPIRE saw the light of day. "Chasing Shadows" was once again released on Metal Heaven and the first record feat. former Rainbow singer Doogie White in the line-up. Mike Terrana (ex Rage, ex Axel Rudi Pell, Tarja Turunen) joined the group on drums.
In 2017, German label Pride & Joy Music will re-issue all four releases in a revised version. First up will be "Hypnotica" which will be released on February 24th, 2017 and include the three bonus tracks "Take A Look Around", "Dogtown Shuffle" and "Spread My Wings" (acoustic version). One other album will follow every three months.