Tommi 'Tuple' Salmela, born June 3rd, 1969 in Kuopio, Finland, is a Heavy Metal singer and known from bands such as TAROT, LAZY BONEZ and RASKASTA JOULUA (Ragnarok Juletide). His debut solo album "Wooden Box", an AOR/Hard Rock concept album, telling stories of his life, will be released on June 26, 2020.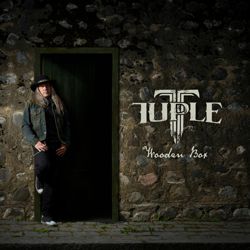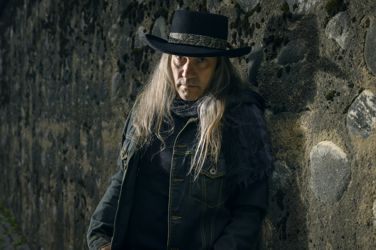 Tuple came into the limelight after joining Finnish pioneer metal band TAROT. In May 2006, the band reached the number one slot on the Finnish charts for the first time in the history of the band with the single 'You'. He also participated in the Finnish version of the "Clash of the Choirs" reality TV show in 2010 with Marco Hietala, the ringleader of TAROT and better known, nowadays, for being in NIGHTWISH. When they performed a version of the TAROT song "I Walk Forever", this made an huge positive impact on he group's career. TAROT toured in Europe, South America, USA and Japan. They also played big festivals like Prog Power (USA) and Bloodstock (UK).
Tuple's music career is a long one, including singing background vocals for many Finnish bands like Amorphis, Twilightning, Cardiant and so on. He's also one of the singers of Raskasta Joulua, which is a Finnish band recording and performing traditional Christmas carols and hits in a Heavy Metal style. These days, Tuple is also the lead singer of LAZY BONEZ. He performed a duet with Bernie Shaw (URIAH HEEP) on the song 'Devils Dice' from the album 'Alive'.
When Tuple turned 50, he came up with the idea to make a solo album, with his old friend and composer Riitis, about his life that has been sort of a roller-coaster ride. You could say that the 'Wooden Box' release is some kind of personal spiritual purification. Tuple's influences come from bands like Journey, Kansas, FM, Uriah Heep, Boston, Chicago, Strangeways, Black Sabbath, Dio and lots of other AOR bands - the list goes on and on. His motto is 'what doesn't kill you makes you stronger'.
In advance to the album TUPLE released a video track for the title track "Wooden Box" which is found at this link: https://youtu.be/2ydKG3Pn31c
Line-up:
Tommi 'Tuple' Salmela – vocals
Tom Rask – drums
Riitis – guitars, keyboards & loops
Pate Kivinen – Hammond organ
Jykä Sirainen - bass
www.facebook.com/Tupleofficial
Video link "Wooden Box": https://youtu.be/2ydKG3Pn31c
PR start: April 27th, 2020 via Haulix
PR contact: Diese E-Mail-Adresse ist vor Spambots geschützt! Zur Anzeige muss JavaScript eingeschaltet sein!
Christian Rosander is a 22-year-old musician and songwriter from Örnsköldsvik, Sweden. He studied music for about 11 years, three of them in high school and two years in college. Since he was 14 years old, he'd been writing songs in the AOR/Melodic and Westcoast genre.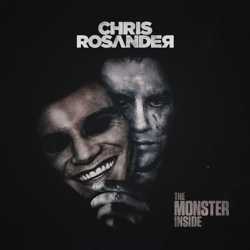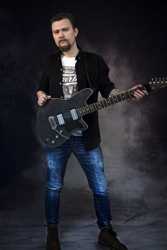 His main influences include Toto, H.E.A.T, Queen, Chicago, Def Leppard among others and have been an important inspiration for his musical work. Rosander's musical work includes artists and bands such as Michael Ruff, Paulo Mendonca, Frank Ådahl and X-Romance.
On 26th June 2020, the guitar player will release his first solo album entitled "King Of Hearts". It was written and produced by Christian Rosander between Autumn 2017 and early 2020. Peo Hedin took care of the mixing at Orange Monkey Studio.
Christians says: "The recording of this album is a journey that began back in the autumn of 2017 when I was still studying at college. My roots emerge from the Classic Rock/ Hard Rock & Metal genres but when it came to writing my own songs, I've always been drawn to the Westcoast/AOR/Melodic Rock genre. During my time at school, all I did was practicing, especially Jazz standards. Somewhere along the way, I started to put more jazzier chords and harmonies into my songs, and that's how I discovered my sound. The first song I wrote for this album was "Can't Let Go," The rest of the tracks came as the time passed by."
Check out the video for the track for the track "Don't Look Back" here: https://youtu.be/l6sX1xNMg8w
Line-up:
Christian Rosander – all keyboards, guitars, vocals, drum & percussion programming
P-O Sedin (Perfect Plan) – bass
Anton Frengen – guest guitar solo on the track "King Of Hearts"
Facebook: www.facebook.com/chrisrosanderofficial/
Instagram: www.instagram.com/chris_rosander_official/
Video link "Don't Look Back": https://youtu.be/l6sX1xNMg8w
PR start: April 27th, 2020 via Haulix
Dear media partners,
we herewith would like to inform you that due to the Corona crisis, some of our PR clients/ label partners have decided to postpone the release dates for some of their next releases.
This currently applies for the following titles in all physical and all digital formats:
Captain Black Beard – Sonic Forces (AOR Heaven) (old release date: April 24th, 2020 ---> new release date: May 15th, 2020)
Stoneflower – Finally (AOR Heaven) (old release date: April 24th, 2020 ---> new release date: May 15th, 2020)
DeVicious – Phase Three (Metalapolis Records) (old release date: April 17th, 2020 ---> new release date: May 8th, 2020)
******
Print/ online media: please, try – if possible – to publish the reviews/interviews for these titles 3-4 weeks later as originally planned and as close as possible to the new release dates.
Radio: please, also try to move airplay for tracks from these albums as close to the new release dates as possible.
We will keep you informed about updates and further changes on these (and maybe more releases later on) depending on how the Corona situation will develop.
Stay safe everyone!
Birgitt
This month with news from Captain Black Beard, Stoneflower & Arkado!
*****
::: CAPTAIN BLACK BEARD join the AOR Heaven roster; "Sonic Forces" set for release on April 24th, 2020!"
Captain Black Beard made their live debut in Stockholm, Sweden on the 31st October 2009 and released their self-titled album in May 2011. Hailed by the press all over the world, so much it was called one of the "albums of the year" by legendary journalist Geoff Barton of Classic Rock Magazine.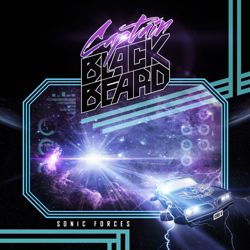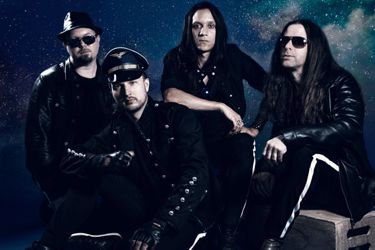 After shows in America and the UK, most of 2013 was spent working on the second album "Before Plastic" which was released in May 2014. The band also made a return to the UK playing the Hard Rock Hell Festival and opening for Graham Bonnet (Rainbow, MSG). This album also got great reviews and featured a guest appearance by Bruce Kulick (KISS, Grand Funk Railroad).
In February 2015, Captain Black Beard entered the studio with producer Chips Kiesbye (Hellacopters, Bonafide). They also toured Scandinavia as support act to Joe Lynn Turner (Rainbow, Yngwie Malmsteen), Robin Beck and House Of Lords. "It's A Mouthful" was released in March 2016 and the tour started with a comeback to the Hard Rock Hell Festival as well as - again - supporting Joe Lynn Turner. By the end of the year the group amicably parted ways with singer Sakaria Björklund.
In 2017 a "new" Captain Black Beard entered the studio to record with producer Jona Tee (keyboardist in H.e.a.t) and in April 2018, "Struck By Lightning" was released to rave reviews. This line-up would however be short-lived and tour dates following the release featured the amazing Linnea Vikström (Therion) as temporary lead vocalist.
In early 2019 the band brought in singer Martin Holsner for a co-headlining tour with Osukaru throughout Germany and started to work on a new album with producer Dave Dalone (guitarist in H.e.a.t) which led to the band completely reinventing themselves in time for their 10th anniversary.
Following a bombastic start of 2020 supporting Geoff Tate on tour, Captain Black Beard are proud to bring out their "Sonic Forces" this coming April. The album was recorded at Yardstreet Studios in Stockholm, Sweden.
Live: April 25th, Musikens Hus - Göteborg, SWE; May 22nd, Harry B James - Stockholm, SWE; May 23rd, Björnes - Örebro, SWE
Line-up: Christian Ek – guitar, Martin Holsner – vocals, Robert Majd – bass, Vinnie Stromberg - drums
Headlights (Official Video): https://youtu.be/AJayawuWijk
Release date "Sonic Forces": April 24th, 2020
Web: www.captainblackbeard.net
PR world-wide: Diese E-Mail-Adresse ist vor Spambots geschützt! Zur Anzeige muss JavaScript eingeschaltet sein!
Haulix: will be send on Friday, March 6th
****
::: STONEFLOWER sign to AOR Heaven; new album "Finally" to be released on April 24th, 2020! :::
Having released one album with Diesel Dahl (d, TNT), Tom Sennerud (g), Frode Henriksen (v) and Jon Johannessen (g) decided to form a band on their own in 1996: STONEFLOWER. The Norwegians were soon joined by Svenn Huneide (b). They decided to hire experienced drummer Steinar Krokstad (STAGE DOLLS) and Dag Bårdstu (keys) to create the best result. The debut "Crack A Little Smile" was finally released on the small label Storyteller Records in 2003 and sold world-wide via AOR Heaven's mailorder. A video for the track "If You Say" was released feat. Geir Johnny Huneide (d). Then, Johannessen left group in 2005.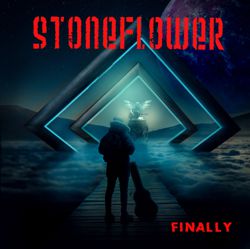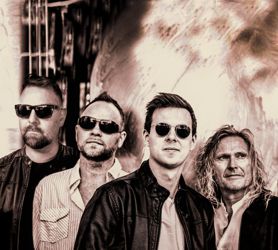 When singer Frode Henriksen moved to a different part of the country after 2010, the band split up. Tom felt that the album already in progress was too good to let go, so he started finishing the album on his own. "Destination Anywhere" was released on his own label, Late Night Music. It received highly critical acclaim, like "best AOR album 2014" (Sweden Rock Magazine).
After the positive feedback, members Tom and Svenn decided to reignite the band with a new singer. By sheer luck they found the amazingly talented John Masaki ("Norwegian Idol"). The first track recorded included one of the most famous and gifted Norwegian drummers, Per Hillestad (LAVA, A-HA,) but the band soon decided to go for a full-time member and the talented and AOR-loving Geir Johnny Huneide (brother to Svenn) got the job. Geir then recorded the rest of the album with Steinar Krokstad (STAGE DOLLS) guesting on one track. STONEFLOWER this time signed a record deal with AOR Heaven. "Finally" was mainly recorded in Tom's own studio "Late Night Music". Some drums were recorded at Leif Johansen's (21 GUNS, PHENOMENA, A-HA) "Stable Studio". Guests on "Finally" are Per Hillestad (d), premium Swedish AOR guitarist, Tommy Denander (PAUL STANLEY, ALICE COOPER), Bjørn Ole Rasch (keys, SECRET GARDEN) and Gunnar Westlie (g, DA VINCI). Mixed by Trond Engebretsen and Tom Sennerud, mastered by JK Northrup (KING KOBRA).
Line-up: John Masaki – Vocals; Svenn Huneide - Bass, Vocals; Tom Sennerud - Guitars, keys, vocals; Geir Johnny Huneide - Drums
Gonna Let You Go (Official Video): https://youtu.be/xgwIbjLZrnQ
Release date "Finally": April 24th, 2020
Web: www.facebook.com/stoneflowertheband
PR world-wide: Diese E-Mail-Adresse ist vor Spambots geschützt! Zur Anzeige muss JavaScript eingeschaltet sein!
Haulix: will be send on Friday, March 6th
*****
::: New video clip from ARKADO out now!" :::
Swedish Melodic Rock ARKADO released a new video clip for the track "Don't Rape The Nature" earlier this week.
Check out the clip here: https://youtu.be/vRnaGZJPqkI
Their debut album "Never Say Never" will be released on March 27th and still is available for press & radio for download from Haulix.
Release date: March 27th, 2020
Web: arkado.se
PR world-wide: Diese E-Mail-Adresse ist vor Spambots geschützt! Zur Anzeige muss JavaScript eingeschaltet sein!
Haulix: still available
*****
Follow AOR Heaven on Facebook for more news, video posts and other information at: @facebook: aorheaven
Label: www.metalheaven.net
Press material for all releases: www.metalheaven.net/press
@youtube: channel/UC24iczfMPdWMumIYlLg91dg