German AOR/ Melodic Rock label AOR Heaven will start the new year with the release of the new BLOOD RED SAINTS album "Love Hate Conspiracies" and the debut from P.A.L., "Prime", which feat. Peo Pettersson in the line-up, on January 26th, 2018. The PR for both will start on Wednesday, Nov. 29th via Haulix.
The AOR Heaven team and us will be rocking at H.e.a.t. Festival in Ludwigsburg on the next weekend. Our office therefore will be closed between Friday, Dec. 1st and Monday Dec. 4th included.
++++++++++++++++
Product: Blood Red Saints – Love Hate Conspiracies
Release date: January, 26th 2018
Label: AOR Heaven
PR: Diese E-Mail-Adresse ist vor Spambots geschützt! Zur Anzeige muss JavaScript eingeschaltet sein!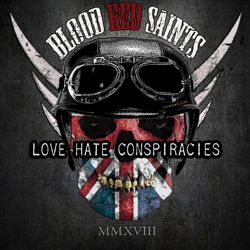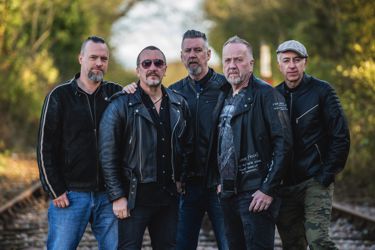 Following on from their critically acclaimed 2015 independent debut album 'Speedway' Blood Red Saints make a welcome return with a brand new selection of top class hard rock. 'Love Hate Conspiracies' sees the band make a progression into a more focused direction. Pete Godfrey (vocals) tells us more. "The Speedway album was a great debut for us no doubt about that but this new album is a massive step forward. We've really found our own sound and identity with this material, it feels a lot more cohesive and is without doubt, heavier in style. This feels like a real band all pulling together"
The new album also sees two new Saints baptised to join original members Pete Godfrey, Rob Naylor (bass) and Lee Revill (guitars). Neil Hibbs (formerly of Arkhams Razor, Shy) joins to add a harder edge with crunching guitars for a tougher approach for both live and studio work. Andy Chemney (drums) was an obvious choice having worked with Rob in their previous band 'Angels Or Kings'. Rob takes up the story. "I've known Andy nearly all my life, he was the guy I wanted for our band and we are so pleased to have finally got our man"
So, what can we expect from 'Love Hate Conspiracies?' Lee Revill told us this "it's musically in a heavier direction than Speedway. We still wanted big melodic choruses but we wanted to toughen them up a bit too. We've got such a strong set of songs here and we are all excited to finally let people hear them, on the album and also live, these songs are gonna kick ass"
The album features a writing and vocal contribution from Paul Laine (The Defiants) on 'Is it over' and a track 'Turn on the Night', written by Steve Brown (Trixter, Def Leppard, Tokyo Motor Fist)
Mixing and production was handled by Simon Humphrey who has worked with some of the biggest acts in music over many years and his input was invaluable in producing this record. The release date was set to January 26th, 2018.
Catch BRS out and about throughout the year with HRH in North Wales in March and more shows to be announced soon. Check them out on Facebook too.
www.facebook.com/bloodredsaints
Sound clips in advance:
BLOOD RED SAINTS - Live & Die (Edit)
BLOOD RED SAINTS - Something In Your Kiss (Edit)
BLOOD RED SAINTS - Wake Up (Edit)
+++++++++++++++++++
Product: P.A.L. - Prime
Release date: January, 26th 2018
Label: AOR Heaven
PR: Diese E-Mail-Adresse ist vor Spambots geschützt! Zur Anzeige muss JavaScript eingeschaltet sein!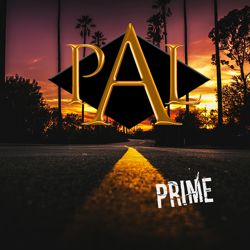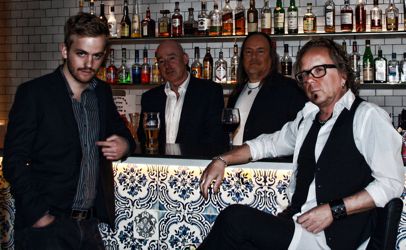 Pettersson/Andersson/Ljunggren
PAL is a Swedish musical collaboration between guitarist Roger Ljunggren, Peter Andersson and Peo Pettersson.
Roger and Peter, longtime friends, started writing and play music together way back. They first got to know each other in the early eighties. Growing up in Skara, a small town in the south west of Sweden sharing a passion for music and especially for song-writing. They sweat out together in a small rehearsal studio together with some other local musicians.
The group started in 1987 when a demo was recorded in Peo's studio Vanäs for a band called Escape which at that moment was short of a singer and Peo helped out.
Now, thirty years later the three musicians are making music together again. The songs on the debut album "Prime" are a collaboration between the three - where Roger wrote the music and recorded the guitars and solos and Peter arranged, produced and played the bass. Peo then added the vocals. Mauritz Petersson was hired to do the drums.
You can surely hear vintage elements in their music, but this time with a more modern approach and passion for the music they all grew up with. The first label that was invited to listen to the material was AOR Heaven in Germany. A record deal was signed with them shortly after. The release of the debut album "Prime" is scheduled in Europe for January 26th, 2018.
Line-Up: Roger Ljunggren – Guitar, Peter Andersson – Bass, Peo Pettersson – Vocals / Keyboard, Mauritz Petersson – Drums
Sound clips in advance:
https://www.facebook.com/peo.pettersson.7
Label: www.metalheaven.net
Press area: www.metalheaven.net/press