German label Metalapolis Records will release the new album from Australia's CROSSON called "Invincible" on April 27th, 2018 on CD & digitally. Please find all key information about the album below. The PR via Haulix will start tomorrow!
---
Product: Crosson – Invincible
Release date: April 27th, 2018
Label: Metalapolis
PR: Diese E-Mail-Adresse ist vor Spambots geschützt! Zur Anzeige muss JavaScript eingeschaltet sein!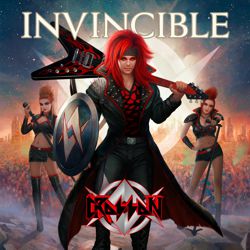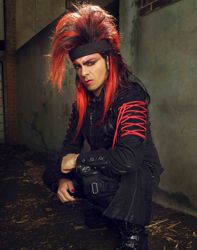 CROSSON are back!!! Following the release of their critically acclaimed 2016 album "Spreading The Rock 'N' Roll Disease", Australia based Futuristic Theatrical Rock Warriors CROSSON are back with their new album "Invincible". Once again mixed by legendary producer Duane Baron (OZZY OSBOURNE, MÖTLEY CRÜE, ALICE COOPER), and mastered by U.S mastering legend Dave Donnelly (AEROSMITH, KISS, WHITESNAKE), "Invincible" delivers CROSSON's own brand of uplifting catchy rock anthems with loud guitars, big harmonies and a blistering production. "Invincible" is 10 notches up from where Crosson left off with "Spreading The Rock N Roll Disease". The songwriting and production has leaped in great bounds and the album will have you shamelessly singing along to the catchy choruses while leaving your ears bleeding"., says bandleader and mastermind Jason Crosson. If "Spreading the Rock 'N' Roll Disease" sparked people's attention, "Invincible" will have them jumping aboard the CROSSON rebel train. The opening track "Rock Warriors" is an anthemic tribute to all the metal / rock bands and artists who laid the foundations for the genre and kept it alive and kicking for decades, whilst the first single "Never Give Up" is an inspirational and catchy as Chlamydia track with a strong 80's Bon Jovi vibe that would even make Desmond Child tap his feet. The album's only ballad "Unconditional Love" is a duet with renowned Finnish singer / actress JESSICA WOLFF, with the music video shot in Australia and Croatia by award winning feature film and music video director Steve Ravic (DORO, MANOWAR, RHAPSODY). Nothing can prepare you for the visual onslaught CROSSON delivers in its live show. Numerous costume changes, blended with high-energy choreography, smoke, sirens, and catchy rock anthems makes the CROSSON live show a "seen-to-be-believed" entertaining experience. "If you like the of idea of KISS and Motley Crue crossed with The Darkness and Steel Panther, you're gonna love CROSSON" - Xavier Russell (Classic Rock Magazine AOR).
Facebook: https://www.facebook.com/crossonrock
Website: www.crosson.com.au
Line Up:
Lead Vocals / Guitars / Keys: Jason Crosson
Lead and Rhythm Guitars: Joel McDonald
Drums: Jordan McDonald
Bass: Dario Bortolin
Lead and Backing Vocals on Unconditional Love: Jessica Wolff
Discography: 2016 Spreading The Rock 'N' Roll Disease, 2018 Invincible