One of the UK's leading Melodic Rock bands, DARE, will release their new album "Out Of The Silence II" on June 29th, 2018 via their own label Legend Records! Distribution will be again handled by ADA/Warner.
"Out Of the Silence" is one of the band's numerous classics. For the 30th anniversary of this record, the group around singer Darren Wharton and guitarist Vinny Burns re-recorded all tracks with a rockier approach.
The PR for this release will start via Haulix on May 18th, 2018. Please send us your requests!
---
Release date: June 29, 2018
Label: Legend Records
Distributor: ADA/Warner
PR: Diese E-Mail-Adresse ist vor Spambots geschützt! Zur Anzeige muss JavaScript eingeschaltet sein!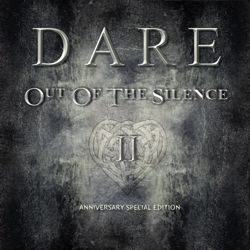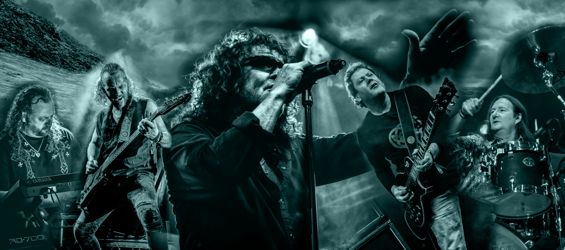 DARE are probably best known for their singer/songwriter Darren Wharton (who first rose to fame in the early eighties playing keyboards with legendary Irish rock band Thin Lizzy). Today DARE are one of the most respected and innovative melodic rock bands on the AOR scene, and have gained cult status among AOR fans throughout Europe, the UK and the world. The band's debut 1988 A&M album 'Out Of The Silence' recorded at Joni Mitchell's Bel Air Studio in Los Angeles, and produced by Nickelback producer Mike Shipley is still widely regarded today as one of the all time great AOR albums.
Darren joined Philip Lynott's Thin Lizzy at the tender age of eighteen and enjoyed 5 great years with the band touring extensively, alongside renowned guitarist Scott Gorham, drummer Brian Downey, guitarists Snowy White (Pink Floyd), Gary Moore and John Sykes (Whitesnake). Working closely with Philip Lynott, Darren also recorded classic Thin Lizzy albums, such as 'Chinatown', 'Renegade', and 'Thunder and Lightning' on which Wharton co-wrote 3 songs, including the hit single 'The Sun Goes Down'. Sadly, the latter was to be Thin Lizzy's last studio album, and in 1986 Darren Wharton returned to his home town of Manchester where, as an outlet for his creative flare for song writing, working with young Oldham guitarist Vinny Burns, formed his own band, DARE.
Following the debut 'Out Of The Silence', Dare's second offering was the explosive 'Blood From Stone' produced by Keith Olsen (Whitesnake, Scorpions).Sadly this was the last album recorded for A&M Records after the company was sold to Polygram in 1993.
In 1994, Thin Lizzy reformed and Wharton found himself back with his old friends Scott Gorham, Brian Downey, John Sykes and Marco Mendoza, playing to packed out audiences across the world. But in 2000 Wharton decided to leave the Lizzy fold, and turn his focus back to DARE
Now living in rugged mountains of North Wales, and working in his own studio, Wharton was soon back writing again. First album off the press was the majestic 'Calm Before the Storm'. Then followed releases Belief and Beneath The Shining Water, each of which gained BBC2 national radio coverage. Arc Of The Dawn was to follow and featured Dare's classic cover of Thin Lizzy's Emerald, and was again playlisted on Planet Rock radio; Each album adding new dimensions to the unique sound that was now synonymous with DARE.
By this time, Darren's long time friend and original DARE guitarist Vinny Burns, was now firmly back in the band; With Kev Whitehead on Drums, Blood from Stone's Nigel Clutterbuck on bass, and Marc Roberts on live Keys Dare's lineup had never been stronger; and in 2016 DARE released their highly anticipated 7th studio album Sacred Ground.
Sacred Ground delighted Dare fans everywhere, and after receiving spectacular reviews for European and UK press, quickly topped the Amazon Rock Charts in four countries, reaching number #1 in the UK, Germany, Spain and Italy. After national chart success in Sweden, DARE also reached new heights in America, hitting number #12 in the U.S. Amazon Rock charts, and number #2 in the Japanese International Imports charts.
Following acclaimed live performances in the UK, Rockingham, London Roundhouse, Germany's Rock Of Ages, Sweden Rock Festival, Spain, Athens, Norway, the band's reputation grew from strength to strength, reinstating Dare's cult status in Europe and the UK and the world. With the first single 'On My Own' being playlisted on Planet Rock Radio for over 3 months, the band once more found themselves back on top of the AOR Rock scene.
Now 2018 promises to be another great chapter in the book of DARE, as the band celebrate their 30yr Anniversary with a Special Edition re-release of their debut classic album 'Out Of The Silence'. Out Of The Silence II has been completely re-recorded and in Wharton's own words "has taken on a new life". Rockier and harder sounding than and the original version, this fresh new recording will set the stage for the bands European tour starting off at London's Shepherd's Bush Empire on the 18th May. With a brand new studio album set for 2019, it's clear that DARE are back to stay, and ready to Rock!
Facebook: @darebandoffical