:::New release: Newman – Decade II:::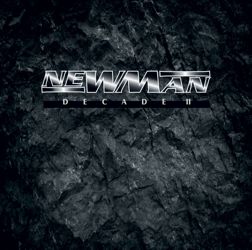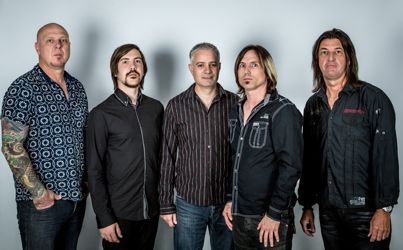 In 1997 Singer, songwriter Steve Newman formed the band Newman and since 1998 have been producing consistently high quality albums filled with hook laden songs and thought provoking lyrics. Today, the band consists of Steve Newman (Vocals, Guitar), Pete Newdeck on Drums, Shaun Bessant (Guitar, Vocals), Paul Boyle (Keyboards, Vocals), Dave Bartlett (Bass, Vocals).
On September 21st, 2018 NEWMAN will now release a double CD with 34 of their finest songs on AOR Heaven to celebrate the band's 20th recording anniversary. Steve Newman says: "So here we are again, oh, but hang on, we're another 10 years (after the decade I release) down the line on this musical journey. I can't believe how quickly those years have gone by!! I wanted to keep the concept for this collection the same as the previous release, so once again, I am proud and excited to present to you another double CD re-performed and re-recorded featuring 35 songs from 2007 right through to 2017. 20 years since Newman first released the debut album, and I still get the same excitement and joy from recording and performing music. In the last 10 years the live band has gone from strength to strength and I am now surrounded by a bunch of really good friends who bring these songs to life whenever we play. My drive to write and perform is a selfish quest, however, my inspiration is you, everyone that supports my music, and the wonderful compliments I receive on a daily basis, thank you for your belief, this one is for you." Steve Newman
Disc 1 features 17 songs from the 2007 album "Primitive Soul" through "The Art Of Balance", "Under Southern Skies", "Siren", and finally the 2015 album "The Elegance Machine".
Disc 2 features another 17 songs, some that were written and even recorded, but not included on the final releases, songs that were written for other artists and 2 songs that were originally released as Japanese bonus tracks. There are some songs, as before, that were "works in progress" especially recorded for this release and also another 6 songs from the "Aerial" sessions.
Cd 1: 01 Hero To Zero, 02 Heading For Your Heart, 03 Ghost In The Night, 04 Feel Her Again, 05 Stay With Me, 06 The Elegance Machine, 07 Killing Me, 08 Primitive Soul, 09 Endless, 10 Fire With Fire, 11 Scar Of Love, 12 15 Minute Revolution, 13 She Walks In Silence, 14 Under Southern Skies, 15 Had Enough, 16 Tumble Down, 17 For The Man I Am
Cd 2: 01 Breaking The Barrier, 02 Girl Found Love, 03 Liar, 04 One More Night With You, 05 Fight No More, 06 She's The Woman, 07 Nightmare, 08 Angel, 09 World Keeps Turning, 10 In Too Deep, 11 The More I Love, 12 Crossed My Heart, 13 A Witness To Love's Decline, 14 Does It Feel The Same?, 15 Race Of A Lifetime, 16 Never Becomes Again, 17 My Fantasy
Fore more information: www.facebook.com/Steve.Newman.Music
Soundfiles in advance:
NEWMAN - Breaking The Barrier (Edit)
NEWMAN - Girl Found Love (Edit)
NEWMAN - One More Night With You (Edit)
+++++++++++++++++++++
:::New signing with debut release coming on September 21st, 2018: ATLAS:::
ATLAS is a Melodic Rock band from the North of England that is comprised of 5 young musicians, i.e. James Thorley (Keyboards, programming and percussion), John Moss (Lead Guitars), Howie Little (Lead Guitars), Chris Redfearn (Bass Guitar) and Craig Wells (Lead Vocals). Keyboard player Thorley founded the band in early 2017 with the intention to create a band that centered its roots around the AOR and Melodic Rock genre whilst delving into other areas of Hard Rock, Metal, Progressive and even Jazz. 5 keyboard demos were produced by Thorley during the first few months of 2017.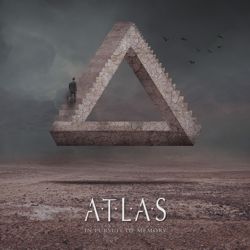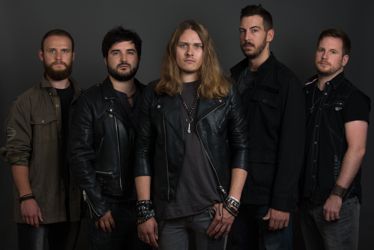 The name 'Atlas' came from the working title for these demos, which would soon be molded into the songs heard on the bands' debut EP 'World In Motion'. ATLAS drew heavily on influences stemming from the AOR classic standards of Toto and Journey to the modern era of Work of Art and W.E.T with subtle progressive elements of Dream Theater mixed in to forge the early sound heard throughout their EP. The recording and mixing duties fell upon keyboard player James Thorley. Sam Millar of UK rock band Bigfoot contributed to the backing vocals on this EP which got self-released through their band camp website in late August 2017. The end of 2017 found the band achieve three awards from AOR Underground (A feature of Powerplay magazine) for 'Independent album of year 2017' for their release of the EP 'World in Motion', 'Best Newcomer of 2017' and 'Song of the year' with 'Lost in The Moment'. This momentum and growing social media following provided the stepping-stone for the bands next endeavor. With strong motivation and after almost a year of working together as a band they were now eager to start collaborating on new material using the stronger aspects of their EP as a cornerstone.
The writing sessions for the debut album officially started in December 2017 and continued for 8 months. The band were given an opportunity in June to have a break from the album production when they were approached by UK Melodic Rock band Vega to open up for them and AOR Heaven rockers Midnite City in support of their latest album tour. Rob Evans of Powerplay Magazine had helped the band get in contact with Georg Siegl, the founder of AOR Heaven, and after discussions between the band and Siegl a contract was drawn up.
The album name 'In Pursuit of Memory' reflects the nature and themes of the songs heard throughout the album. With a common theme throughout the album being self-reflection, healing and learning from mistakes one has made; with lyricists Thorley, Moss and Wells all penning at least one track centered on those themes. The album was recorded and engineered by keyboard player James Thorley at his studio 'The Woodshed". Thorley also took on the role of the producer as he did on the bands previous self released EP.
Sam Millar of Bigfoot provided 'guest vocals' on the album as well; his vocal harmony contributions can be heard throughout most of the tracks and add a much desired AOR factor that the band often desire in their songs. Christoffer Borg (Taste, Art Nation) was chosen as the mixing and mastering engineer on 'In Pursuit of Memory'. Borg's credit's, which include Anthrax, Evergrey & Kee Marcello gave the group confidence that he would be able to do the variety of songs they had written the justice it sonically deserved.
https://atlasmusicuk.bandcamp.com https://www.facebook.com/atlasprojectuk https://twitter.com/Atlasmusicuk https://www.instagram.com/atlasprojectuk
Soundfiles in advance:
+++++++++++++++++++++++
:::New video from HEARTWIND available! :::
Swedish Melodic Rock group HEARTWIND releases their new video for the track "Too Late For Roses" from the album "Higher And Higher" feat. Tåve Wanning on guest vocals.
Check the clip out here: https://youtu.be/NuIR7iudH0o
For more information on HEARTWIND: www.heartwind.se and www.facebook.com/Heartwindtheband