This month with news from: Lugnet & Secret Rule, and a tour date update.
Please note, that our office will be closed between Friday, November 30th until Monday, December 3rd included due to our attendance at H.e.a.t. Festival (www.heat-festival.eu).
++++
::: Swedish Classic Rockers LUGNET return with "Nightwalker"!:::
With a dedicated, tough, gritty sound of 70's hard rock, the Swedish band Lugnet strikes with full expression. Their debut album was released 2016 and struck a chord around the world with great reviews.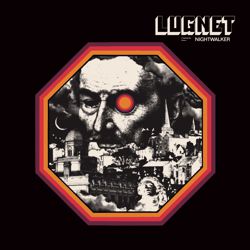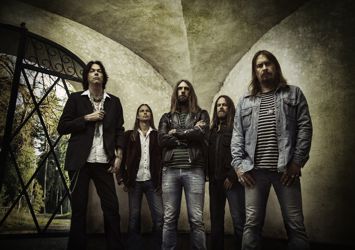 The band thrives on new singer Johan Fahlberg's (Jaded Heart) voice with immense power and range. The extraordinary driving rhythm section consists of bass player Lennart "Z" Zethzon (Badge) and drummer Fredrik Jansson (Angel Witch, ex Witchcraft). New guitar player Matti Norlin adds (Badge and solo artist) a great bluestone, together with heavy guitar riffs from Marcus "Mackan" Holten.
The new album "Nightwalker" will take the listener to a new experience with a wide range of arrangements and sounds, where each song tells it's own story which will take all 70's Hard Rock fans by storm. Swedish cover artist Robin Gnista designed the artwork. "Nightwalker" will be released on January 25th, 2019 on Pride & Joy Music as CD, LP and on all digital platforms in Europe.
Recorded at Studio Heavy Electric Sound by Kent Sjöberg; Mixed by Matti Norlin; Mastered by Mike Lind; Produced by Lugnet; Add-ons, Mellotron, Ac guitar etc. Matti Norlin; Executive producer Lennart Zethzon
Cover art and layout by Robin Gnista
Group photo by Soile Siirtola
Line-up: Johan Fahlberg: vocals; Matti Norling: Guitar; Marcus "Mackan" Holten: Guitar; Lennart "Z" Zethzon: Bass; Fredrik Jansson-Punkka: Drums
Album: Nightwalker (out: January 25th, 2019)
PR: Diese E-Mail-Adresse ist vor Spambots geschützt! Zur Anzeige muss JavaScript eingeschaltet sein!
Haulix PR start: November 29th, 2018 (European press & radio only)
++++
::: SECRET RULE release "The 7 Endless" on January 25th, 2019 :::
Secret Rule was formed in the beginning of 2014 with the intention to create a special sound with powerful rhythms and catchy melodies. During these five years, Secret Rule conquered their space in the metal scene.The band is fronted by the powerful and crystal clear vocals from Angela Di Vincenzo, masterminded by lead guitarist Andy Menario, with accurate bass playing by Michele Raspanti and the powerful drumming from Nicola Corrente.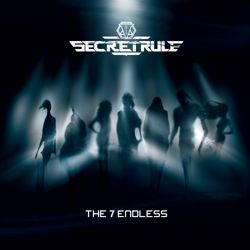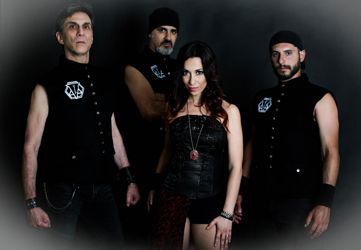 Secret Rule's live shows offer a lot of energy and consist of a mix of heavy guitar riffs with electronic elements and incredible keyboard lines – a total impact between metal music and awesome melodies.
Three albums, "Transposed Emotions" (2015), "Machination" (2016) and "The key to the world" (2017), so far have been released. The group built a solid fan base, supported by their live activity and featured special guests like Aylin (Sirenia), Stefan Helleblad (Within Temptation), Henrik Klingenberg (Sonata Arctica), Timo Somers (Delain), Sander Zoer (Delain, Leah) and Henning Basse (Mayan, Firewind).
Secret Rule played a lot of shows all over the Europe, including headlining European tours, sharing the stage with great bands such as Delain, Beyond the Black, Xandria, Serenity, Kobra & the Lotus, Blaze Bayley, Visions of Atlantis and Cellar Darling and performing festivals including the Barcia Metal Fest and the Metal Fest Event - Femme.
Secret Rules' new, fourth album is called "The 7 Endless" and shows a progress in the band's sound. This time, all aspects were handled of by the band themselve. The concept was inspired by "The Endless", characters created by Neil Gaiman for the comic book "The Sandman".
Line-up: Angela Di Vincenzo – Vocals; Andy Menario - Guitar & Keyboards; Michele Raspanti – Bass; Nicola Corrente - Drums
Special Guests: Andrea Ciccomartino (Graal) - Male vocals on "Dream"; Christian Ice - Additional keyboards , electronics and loops; Gabrielle Chiararo - Narrator on "The Endless" and "Desire"; Marco Roberto Capelli - Introduction
Tour dates:
01.12. D-Bad Salzungen, KW 70*
02.12. D-Frankfurt, Nachtleben*
07.12. UK-Birmingham, Scruffy Murphys
08.12. UK-Manchester, Factory
08.02. I-Rome, Defrag
09.02. I-Mantua, Arci Tom
10.02. I-Rozzano, Circolo Svolta
* with Haggard & Eternal Silence
Official Website: https://www.secretrule.it
Official Facebook: http://www.facebook.com/secretruleband
Official YT Channel: http://www.youtube.com/c/SecretRule
Official Spotify: https://open.spotify.com/artist/4zgiXGA2lONdvZunHOFESG
Official Twitter Page: http://www.twitter.com/secret_rule
Official Instagram Page: http://www.instagram.com/secret_rule_official/
Album: The 7 Endless (out: January 25th, 2019)
PR: Diese E-Mail-Adresse ist vor Spambots geschützt! Zur Anzeige muss JavaScript eingeschaltet sein!
Haulix PR start: November 29th, 2018 (world-wide, excluding Italian webzines)