This month with news from Rob Moratti & Nitrate!
*****
::: Former SAGA and FINAL FRONTIER singer Rob Moratti releases solo album on June 21st, 2019! :::
Rob Moratti is a genuine and true original. With an astonishing range, he's carved such a unique style blending the finest elements of melodic and progressive rock. "Renaissance" will be released on June 21st, 2019 and marks his first release on AOR Heaven.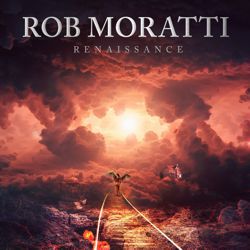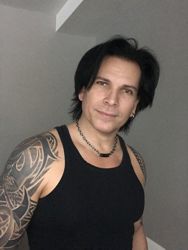 He started his career professionally in the early 90's as lead vocalist and songwriter of the band Moratti; entering the new millennium with Final Frontier. They immediately were well received making an impact on the airwaves of Japan and in Europe. Rob's future went forward with Final Frontier, soaring out four incredible melodic pieces.
Over the years in spite of all the changes in the music scene, Rob's perseverance and passion stood strong. His fate is so undeniable it captured the attention of multi-platinum selling and legendary progressive rock band SAGA. In 2008 the official announcement was made that Rob Moratti would become the new voice of Saga and at the age of 42 Rob's destiny would evolve.

Today his solo career has taken off quite well. Now in 2019, the singer is about to deliver his strongest solo record ever titled "Renaissance" which marks his first release with AOR Heaven. When it comes to songs, melodies, harmonies and range - as many know - Rob Moratti is in a league of his own.
The songs on "Renaissance" are astonishing as ever. Filled with his trademark harmonies and memorable chorus's that will capture the listener and engrave your soul. Working alongside with some the best songwriters and performers in the genre such as Torben Enevoldsen on guitars, Fredrik Bergh on keyboards, Stu Reid on drums and Tony Franklin on the Monster Bass.
Soundfiles in advance:
ROB MORATTI - Let Me Be The One (Edit)
ROB MORATTI - Lift You Up (Edit)
ROB MORATTI - You Are The One (Edit)
Web: robmoratti.net
PR in Europe: Diese E-Mail-Adresse ist vor Spambots geschützt! Zur Anzeige muss JavaScript eingeschaltet sein!
Haulix: will be provided on Monday, May 6th
*****
::: NITRATE – new signing on AOR Heaven; new album "Open Wide" out on June 21st, 2019!:::
Nitrate is back bigger & better with their second album'Open Wide' following on from their successful and highly rated debut 'Realworld' from 2018. The album will bre released on June 21st, 2019 on AOR Heaven.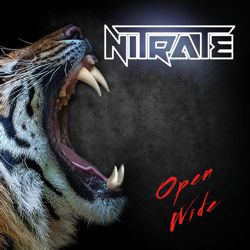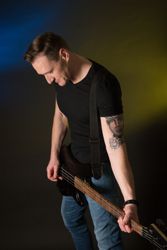 Inspired by the late 80's rock scene with bands such as Def Leppard, Europe, Motley Crue, and Bon Jovi, Nitrate is the brainchild of song writer Nick Hogg (bass guitar/keyboards).
Once again, Rob Wylde (Midnite City/ Tigertailz/ Teenage Casket Company) co-wrote, produced the album and played rhythm guitar. Back on drums & mixing is Pete Newdeck (Midnite City, Eden's Curse, Blood Red Saints, Newman). New to Nitrate are Marcus Thurston (Vega) who took over lead guitar duties and on lead vocals and, all the way from Sweden, Philip Lindstrand (Find Me, East Temple Avenue, Strong). The mastering was once again handled by Harry Hess (Harem Scarem). Nitrate's follow up album packs more punch than the first, with a more edgier, in your face feel complete with 10 hard hitting Hair Metal/AOR/Melodic Rock tracks with all out hooks and big backing vocals.
Nitrate is: Nick Hogg – Bass Guitar & Keyboards; Rob Wylde – Rhythm Guitars, Keyboards, Backing vocals; Philip Lindstrand – Lead & Backing Vocals; Pete Newdeck – Drums & Backing vocals; Marcus Thurston – Lead Guitar
Produced by Rob Wylde; Mixed by Pete Newdeck; Mastered by Harry Hess ; Engineered by Leon Bailey & Pete Newdeck
Soundfiles in advance:
NITRATE - Night Time City (Edit)
NITRATE - Only A Heartache Away (Edit)
NITRATE - You Want It You Got It (Edit)
Web: www.facebook.com/Nitrate-100323740377514
PR world-wide: Diese E-Mail-Adresse ist vor Spambots geschützt! Zur Anzeige muss JavaScript eingeschaltet sein!
Haulix: will be provided on Monday, May 6th