This month with news from Alien, Jimi Anderson Group & Rockett Love!
*****
::: ROCKETT LOVE will send "Greetings From Rocketland" on August 30th, 2019 :::
ROCKETT LOVE was founded in 2015 by singer Daniel Samuelsson and guitarist Stefan Westerlund. Fueled by mutual interest in 80's melodic rock, the two began recording original material in Daniel's home studio. With only one song on iTunes and Spotify and absolutely no commercial back-up they received a lot of radio time and a fully packed venue when playing their debut gig. The song "Rocket Love" took off with a big viral spin when Beau Hill picked-up the track at his studio and produced it.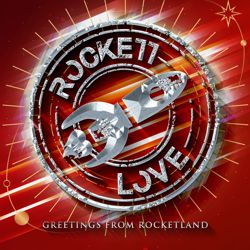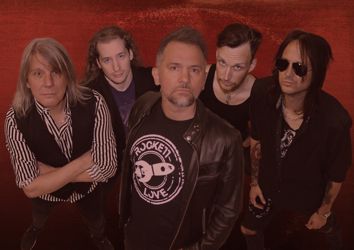 A year of writing and recording went by and in 2017 ROCKETT LOVE finally released the full-length debut "Grab the Rocket" on AOR Heaven.
In the following time, they set up their own studio and named it Meganoise, and the recordings began in early 2018. The duo needed to cut down the material from twenty something to 11 songs. When the recordings were finished, the Swedes sent the material to Erik Mårtensson (ECLIPSE, WET) to mix it.
ROCKETT LOVE now returns with "Greetings from Rocketland" on August 30th, 2019. The band's second album contains 11 new tracks including the highlights "King for one day", "Back on my feet" and the power ballad "Take me home".
Stefan Westerlund comments: "This time the songs are for real, no compromises. Erik has done a fantastic job and we feel strongly about the album and what he did to the material. Now it's up to the listeners to take it to their hearts. "Greetings From Rocketland" is a classic record full of great and melodic rock songs."
Soundfiles in advance:
ROCKETT LOVE - Back On My Feet Again (Edit)
ROCKETT LOVE - Bite The Bullet (Edit)
ROCKETT LOVE - I Want Out (Edit)
Web: https://www.facebook.com/rockettlovesyou
PR world-wide: Diese E-Mail-Adresse ist vor Spambots geschützt! Zur Anzeige muss JavaScript eingeschaltet sein!
Haulix: will be provided Thursday, July 4th
*****
::: JIMI ANDERSON GROUP returns with "I Belong" on August 30th, 2019:::
Born In Rigside, Lanarkshire, Scotland, Anderson's first Rock band was in 1978, singing mainly Rush & Deep Purple songs, and so his passion for 'Classic Rock' had begun. The next few years brought many hours of practise and to Paul Rodgers, David Coverdale & Ronnie James Dio for inspiration. He began writing songs and formed the Rock band 'Sahara' whilst spending any spare time attending a gazzillion gigs at the Legendary 'Glasgow Apollo' till it closed in 1985.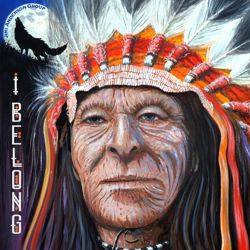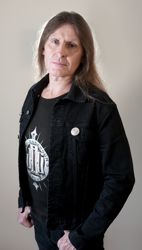 Various incarnations of the band ensued including a name change to "The Hardline" until they were picked-up by 'Wet Wet Wet's manager Elliott Davis and offered a management contract on the strength of a demo tape. Showcasing his phenomenal voice, 5 years of recording demo's, touring, notable sell out gigs at Glasgow's King Tut's, London's 'Borderline Club' and a support to Wet Wet Wet in front of 30,000 people at Glasgow Green followed. The singer continued writing, performing and recording, appearing on Michael Barrymore's National Television shows ' My Kind of People' & 'Barrymore' in 1997/98 and went on to sing at concerts & festivals in Cyprus, Romania, Turkey and Holland.
Living now in York, Anderson has continued writing and moved on to spend four years as lead vocalist with tribute band 'A Foreigners Journey' and toured extensively in the UK and Rhodes. Meeting new friends along the way, and his voice just got better and better so a decision was made to leave "A Foreigners Journey" and the next adventure started. His latest side project is a tribute to great American Melodic Rock with some great musicians and friends called "Legends of AOR". Their debut gig was in Spain in front of a crowd of Rhodes Rockers. The festival has now moved to Cyprus where 'Legends of AOR' have performed for the last 3 years
In 2015 Jimi finally realized his dream and released an album of original songs recorded at FML studios in Motherwell, Scotland with Producer/Engineer/Musicians Sandy Jones and Greame Duffin, and over the last 4 years has taken his music on the road up & down the UK. So the Jimi Anderson Group was born. The album titled 'Longtime Comin' was released in 2017.
On August 30th, 2019 the follow-up release "I Belong" will hit the shelves – the first record on AOR Heaven. Like it's predecessor 'I Belong' was recorded at FML with Sandy Jones at the helm. Jimi, Sandy & Greame performed most of the music. This time however ace guitarist 'David Cuthbert' features on quite a few of the tracks including 'Wonderful Tokyo Nights', 'Fearless Warrior' & 'I'm A Believer' to name a few, including the beautiful ballad title track, 'I Belong'.
Soundfiles in advance:
JIMI ANDERSON GROUP - Brave New World (Edit)
JIMI ANDERSON GROUP - Holding On The Night (Edit)
JIMI ANDERSON GROUP - Wonderful Tokyo Nights (Edit)
Web: www.jimianderson.co.uk // www.facebook.com/jimianderson.7
PR world-wide: Diese E-Mail-Adresse ist vor Spambots geschützt! Zur Anzeige muss JavaScript eingeschaltet sein!
Haulix: will be provided on Thursday, July 4th
*****
::: ALIEN – exclusive mailorder 2-CD re-release of the "Alien" debut album due on August 30th, 2019! :::
Even though the self-titled ALIEN debut is 31 years old now it has lost nothing of its magic. In particular the two anthems "Only One Woman" and "Tears Don't Put Out The Fire" are still a wet dream for any AOR fan. This digitally remastered reissue contains the original Scandinavian version with Jim Jidhed on vocals as well as the later US-version with new singer Pete Sandberg on vocals on some songs. Furthermore the re-release contains the two bonus tracks "Feel My Love" and "Touch My Fire" which make this album even more essential. Strictly limited repressing of 1000 copies, only available through the AOR Heaven mailorder.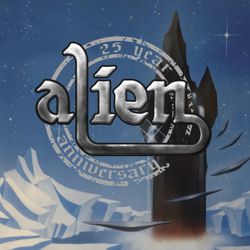 CD1: 1988 – Alien (Scandinavian Edition)
1. Brave New Love - 3:53, 2. Tears Don't Put Out The Fire - 4:09, 3. Go Easy - 3:39, 4. I've Been Waiting - 5:03, 5. Jaime Remember - 4:41, 6. . Feel My Love - 3:46, 7. Only One Woman - 4:12, 8. Wings Of Fire - 3:23, 9. Dying By The Golden Rule - 3:49, 10. Touch My Fire - 3:58, 11. Dreamer - 4:40
12. Mirror - 4:29: bonus tracks: 13. Feel My Love (Polar session outtake) - 3:52, 14. Touch My Fire (Polar session outtake) - 3:51

CD2: 1989 – Alien (US Edition)
1. Tears Don't Put Out The Fire (Remix) - 4:32, 2. Go Easy (Remix) - 3:48, 3. I've Been Waiting (Remix) - 5:09, 4. Jaimie Remeber - 4:43, 5. Feel My Love (Remix) - 3:45, 6. Only One Woman (Remix) - 4:34
7. Brave New Love - 4:00, 8. The Air That I Breathe - 4:36, 9. Touch My Fire - 4:06, 10. Now Love - 4:25
Note: since this is a mailorder release only, this title will not be promoted to press & radio