PRESS RELEASE

Into The Unknown return with their second studio album, "Breaking The Silence", due for worldwide release on September 6th 2019 via Vigliante Records/ Nova/ Universal Music.
Into The Unknown released their first album, "Out of the Shadows" in 2017, and followed it up with a digital only mini album of covers, entitled "The Other Side of the Wall", but with only three members vocalist Lucie Hölzlová, Guitarist Ryan Atkins and bassist/producer Rupert Withers, they were limited when it came to showcasing the music live. A few acoustic sets were performed (the first in front of a crowd of 2000 in an open air venue), however the band really wanted to perform the songs as they intended them, full on and fired up! Fast forward to June 2019, and they are pleased to announce new blood in the band, namely James Milner on rhythm guitar, and Mike Ballard on drums. This new line up was revealed with the release of their version of the Gary Moore/Phil Lynott classic song, "Out In The Fields". Thus plans are now afoot to tour in the not too distant future.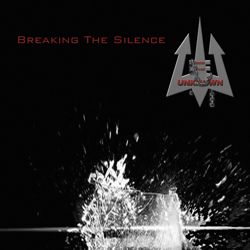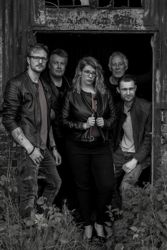 The new album, "Breaking the Silence" is an evolution from their previous album, written by Lucie, Ryan and Rupert, it moves further into the symphonic rock arena that was hinted at in "Out of The Shadows". Once more they decided to try and create a diverse collection of songs, with what they are proud to admit many critics have stated is their distinctive sound. From the heavy rocking "Pandora's Box" that opens the album, through the celtic influenced "Heroes and Victims" to the piano ballad "You Can't Have Love Without The Pain" the album is an hours worth of music, written from the heart. Known for their cover recordings, the band don't disappoint with their rocked up version of Howard Jones' 80s pop hit "What Is Love?". Lucie's vocals pour feeling into the performance, and Ryan's guitar work compliments them with heartfelt solos. Songs such as "Broken", "I've Had Enough" and "Back In Time" highlight emotional turmoil, whilst "Are You Ready?" and "Live Your Life" are out and out rock songs, destined to be live favourites.
"Breaking the Silence" is due for release on Vigilante Records, via Nova/Universal, and the Orchard, on September 6th 2019.
Check out the band's new single of the band of Gary Moore's "Out In The Fields" on their Faceback page: https://www.facebook.com/ITUUKVigilante/
The PR for this release will start on Monday, July 15th.

PR contact: Birgitt Schwanke/ GerMusica PR, Diese E-Mail-Adresse ist vor Spambots geschützt! Zur Anzeige muss JavaScript eingeschaltet sein!