This month with news from Robert Tepper & Age Of Reflection
*****
::: Legendary song-writer ROBERT TEPPER will release "Better Than The Rest" on September 27th, 2019 on AOR Heaven! :::
Robert Tepper, hailing from Bayonne, New Jersey, came up in the late 60's playing in garage bands down on the Jersey shore. It wasn't until a bit later that Tepper started to get recognition as a song writer with his first top 40 hit recorded by Paul Anka, This Is Love. The song went on to earn an ASCAP award for its popularity that year and broke the top 40.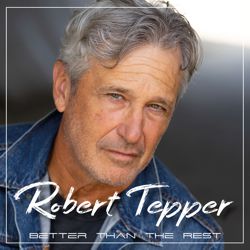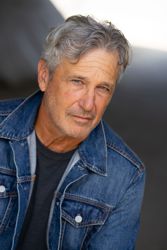 After moving to New York City, he teamed up with fellow singer Benny Mardones to help with his hit album Never Run, Never Hide. On that record was the iconic song Into The Night. In 2010 Usher released his own version of the song with a new dynamic arrangement.
It was in 1985 when Robert landed his first record deal with Scotti Brothers Records - a subsidiary of CBS. In the studio Tepper was very fortunate to have hired the expertise of grammy awarded producer Joe Chiccarelli who is known for his work with U2, Beck, Elton John and many more. In 1985 Tepper also moved to Los Angeles. It was about this time that actor and director Sylvester Stallone was taken by the song Tepper had written called No Easy Way Out. Prominently featured in the film franchise Rocky the song climbed the charts into the American top 40. Stallone, now a Tepper fan, used his song Angel of the City in his classic movie Cobra giving Tepper the title of the soundtrack kid. Also, Pat Benatar's recording of La Bel Age off of Seven The Hard Way was another Tepper Marshall composition.
In 1996 the album No Rest For The Wounded Heart was released by MTM Music exclusively for Europe. More recently he released an album that was categorized as an acoustic record with an electric tinge in the early 2000's called New Life Story. After a long lay off of live performances it was soon after the release of New Life Story that Tepper started doing shows in Europe. It was there that he met guitarist extraordinaire Pablo Padilla. Padilla, who is one of the premier guitarists in Spain, was soon to continue his musical journey in Los Angeles. Here he became Tepper's music supervisor for all of his shows.
The new Robert Tepper album Better Than The Rest is a true collaboration between Tepper and Padilla. The writing and recording and mixing of this record took approximately a year. Tepper's music has appeared in such hit films and TV shows such as South Park, Breaking Bad, Cobra, Rocky 4, and Get Hard.
Advance audio video: https://youtu.be/BIlBFzCkcuA
Web: www.roberttepperworld.com
PR world-wide: Diese E-Mail-Adresse ist vor Spambots geschützt! Zur Anzeige muss JavaScript eingeschaltet sein!
Haulix: will be provided on Monday, August 5th 2019
*****
::: AGE OF REFLECTION return on September 27th, 2019 with "A New Dawn" :::
In early 2013 Carl Berglund and his old bandmate Jan Skärming decided to fulfil their musical dream, writing songs reduced to its very core by 80's rock giants. These were songs with emotional harmonies from pure British AOR, with the power of American hard rock, sprinkled with hooks from the new era of Swedish melodic rock. Joining them in the songwriting came Lars Nygren in spring 2014 (vocals), a friend of Carls since high school. When equipped with a ton of hard hitting melodic rock songs written, the missing pieces of the puzzle joined forces. They turned out to be Jonas Nordquist (lead guitar), drummer Michael Sjöö (replaced by Peppe Vikman in August 2018) and Jens Rüttgeroth on keyboards (member since October 2017). In May 2016 they picked four songs and put them onto Spotify, iTunes, and a few other places with amazing reviews and response. In August 2016, the band signed a deal with AOR Heaven for a February 2017 release, and also later with Rubicon Music Japan. "In The Heat Of The Night" was recorded at Studio Thinner, the band's own studio in Vasteras, Sweden, in the spring of 2016. It was produced by AGE OF REFLECTION but the mixing and mastering was done by Erik Mårtensson (Eclipse, W.E.T. a.o).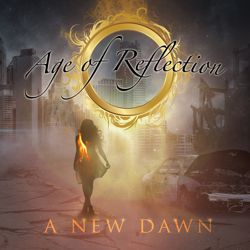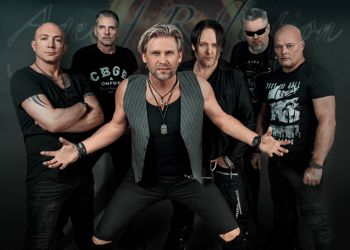 After the summer 2018, AoR started writing new music for their next album. AGE OF REFLECTIONS tried one of the new songs live at Rockingham festival, and the response was great! They went back into the studio and have now finished all the recordings. Again Erik Mårtensson has been doing the final magic on the album. "A New Dawn" will be released on September 27th, 2019 on AOR Heaven.
In November, AoR is going on a headlining tour in England supported by both A'priori and Atlas UK. After that there is H.E.A.T Festival in Germany. One of highlights in 2020, so far, is the HRH AOR festival in Wales in March.
AGE OF REFLECTION: Carl Berglund: Guitars, Backing Vocals; Lars Nygren: Lead Vocals; Jan Skärming: Bass, Backing Vocals; Jens Rüttgeroth: Keyboards; Jonas Nordqvist: Lead guitar, Backing Vocals; Peppe Vikman: Drums, Backing Vocals
Advance audio video: https://youtu.be/QzzI0quXb30
PR world-wide: Diese E-Mail-Adresse ist vor Spambots geschützt! Zur Anzeige muss JavaScript eingeschaltet sein!
Haulix: will be provided Monday, August 5th 2019