Press Release
Today, Swedish metal band Narnia releases their 8th studio-album, From Darkness to Light. The album is released worldwide today, just over a month before touring begins in South America, along with American bands Stryper and Tourniquet.
Narnia's new album, From Darkness to Light, is the band's 8th studio album, and a natural sequel to the previous, self-titled album, from the band's return and 20th anniversary in 2016.
Check out the new promotion video here: https://youtu.be/hFd_A1sDh4w
The spark that Narnia lit on last year's live album, We Still Believe - Made in Brazil, has followed the band into the studio, where this energy has been channeled and structured into a long parade of nine songs.
With musical roots remaining deep in melodic metal, the band has both expanded into modern metal territory, where the guitars still dominate, while allowing for 70/80's analog synthesizers to exist in the soundscape.
The lyrics are extremely important to the band, and in true Narnia spirit, this heritage has been well managed and further refined.
From Darkness To Light has received positive response from reviewers all around the world, and recently received
1st position in Sweden Rock Magazine's "The Jury" (4 reviewers on 9 international releases), along with a review (8 of 10) and a full page interview with the band's singer Christian Liljegren. A great start for this new major venture for Narnia, which involves a tour that begins in South America along with American bands Stryper and Tourniquet.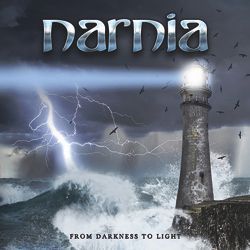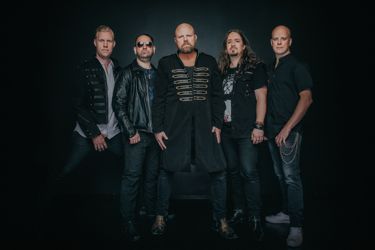 Layout and artwork: Jonatan Samuelsson Press photo 2019: Mats Vassfjord
Narnia, left to right: Martin Härenstam (keyboards), Andreas "Habo" Johansson (drums),
Christian Liljegren (vocals), Jonatan Samuelsson (bass), CJ Grimmark (guitars)
Today, From Darkness To Light is available on all digital platforms, CD, and vinyl (in different colors) in collaboration with record label Sound Pollution (Europe, USA, Australia). The album is also being distributed by King Records (Asia), and by Voice Music/MusiK Records, Icarus Music and The Dove's Voice Records (Latin America).
The album was produced by Narnia's guitarist CJ Grimmark, mixed by the band's sound engineer Viktor Stenquist, and mastered by Jens Bogren, Fascination Street Studios (Sepultura, Symphony X, James LaBrie [Dream Theater], and more).
Links:
Album https://smarturl.it/Darkness-to-Light
Website narniatheband.com
EPK epk.narniatheband.com
Facebook #narniatheband
Instagram #narniatheband
YouTube http://youtube.com/c/narniatheband
Updated Tour Dates:
8/30 Kungsör, Sweden
9/07 - Asuncion, Paraguay
9/10 - Lima, Peru
9/12 - Santiago, Chile
9/14 - São Paulo, Brazil
9/15 - Rio de Janeiro, Brazil
9/17 - Brasilia , Brazil
9/19 - Belo Horizonte, Brazil
9/21 - Buenos Aires, Argentina
11/1 Hasle bei Burgdorf, Switzerland
11/2 Hasled bei Burgdorf, Switzerland
12/13 Ennepetal, Germany
12/14 Ennepetal, Germany