This month with news from Carl Dixon & Keen Hue!
Please note, that our office will be closed tomorrow (an holiday in Germany) and on Friday as well due to a business trip. Service back as usual from Monday, October 7th.
*****
::: CONEY HATCH frontman CARL DIXON releases new solo album "Unbroken" on November 29th, 2019! :::
Dixon's solo debut 'One' (1993), appears to have been a pretty obvious move for a man of his standing (at least from the European perspective). Carl, born in Sault Ste Marie, Ontario had come to prominence in the early 80s as one of the frontmen for the critically acclaimed Canadian hard rock band Coney Hatch.
However, having released three albums between 1982 and 1985, Dixon had become pretty disillusioned with his career at that point; tired of the many frustrations that being on a major label (who don't appear to care) brings on a touring band trying to get noticed. Ironically, as has been shown time and again, North American bands often appear to be curiously shielded from any success they may be achieving abroad. In Coney Hatch's case there was another market out there bursting to embrace them in Europe, if only they'd known about it.
After focussing on songwriting for other artists for a while, eventually switching focus from North America, where Grunge was on the brink, to Europe, especially Germany, where Coney Hatch made a much bigger impact, Carl wouldn't fully learn about it only until Coney Hatch' performance at the 2014 edition of Firefest, England.
'One' features fifteen songs, one of them ('One Good Reason') a co-write with Brett Walker, another one ('Taste Of Love') Aerosmith meets Def Leppard flavored.
Dixon's first wife Stella ended up adding backing vocals alongside e.g. Mark Santer (Santers) or Mike Shotton (Von Groove). It took a month of recording in four different studios especially focussing on how the guitars sound. The Canadian still is very proud of it and about the fact that people still remember the album.
After being with The Guess Who and April Wine for a while and a horrible car crash in Australia in 2008, he's back with Coney Hatch leading to the 2013 record 'Four' and has released a couple of solo records since. Additionally, he's having a brand new solo effort by the name of 'Unbroken' coming out soon on with he collaborated with Frontline's Robby Böbel.
After the re-issue of the classic album "One" in October 2019, November sees the release of the first collaboration between Carl and Robert Boebel, a long-time stalwart on the German music scene with bands like Frontline and Phantom V, among many. The result is the new release, Carl Dixon UNBROKEN, a powerfully sung and performed album that reaches the heights of AOR Melodic Rock. Memorable hooks, strong melodies, great guitar playing and production, and drumming performed by Mark Santer (Santers) and newcomer Dylan Gowan (Vesperia, Cardinal Street).
Audio video in advance: https://youtu.be/uJIqg5pSHr4
Web: www.facebook.com/CarlDixonMusicPage/
PR world-wide: Diese E-Mail-Adresse ist vor Spambots geschützt! Zur Anzeige muss JavaScript eingeschaltet sein!
*****
::: KEEN HUE return with a trip back to their "Heydays" on November 29th, 2019! :::
On a summer´s day 1978, bass player Lars-Åke loaded his amp and speaker onto his bicycle trailer, heading for the first meeting and rehearsal with guitarist Åke and drummer Anders.
This was the start of KEEN HUE. At that time the band was exclusively playing covers from bands such as HURRIGANES and RAMONES. Three years later, the second guitarist Stefan and new drummer Peter joined the band. At this point they started to write their own music, influenced by acts like JUDAS PRIEST and BLACK SABBATH. As they were living in the same little village, the band was rehearsing almost everyday in the basement of Stefan's parents´ house. When his mother started popping pills and his father's hair turned white, they changed location. Next stop, Peter's parents' house.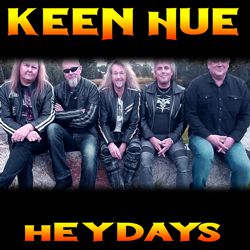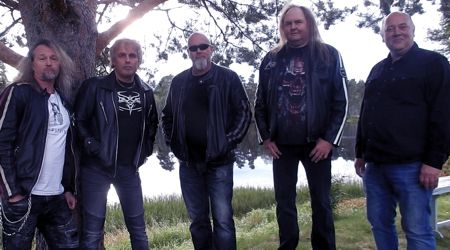 Still rehearsing and gigging local venues, in the autumn of 1982, KEEN HUE also recorded and released their first 2-track single ("Spread Your Wings Of Fire/One Of Two"). The boys paid for it themselves and 500 copies were made. Another three years later, 1985, English record label Ebony Records signed the band for an LP. After the release of that album ("Ogre King"), the band had a good response from all over Europe and several countries around the world. Shortly thereafter, the band recruited bass player Kent so that Lars-Åke could focus on his vocals. The following years they did some touring in Sweden and in 1989 the singer Lars-Åke left KEEN HUE. After finding another frontman the band kept on writing songs and then released a CD in 1993 ("Juicy Fruit Lucy"). In the years to come, members changed but Stefan and Kent were still in the band, playing a lot, now under the name KEEN HUE-UNDER COVER.
Fast forward to 2018: Stefan came up with the idea to make new recordings of the old KEEN HUE-songs and contacted Lars-Åke, Åke, Kent and Peter. Everyone was onboard immediately recording the old songs with an updated sound. So here you are, 10 fresh songs written between 1981-1989. The HEYDAYS!
Lars-Åke "Plåtis" Nilsson, Vocals
Stefan Morén, Guitar
Åke "Krumme" Nyström, Guitar
Kent Jansson, Bass
Peter "Zeke" Ytterberg, Drums
Audio video in advance: https://youtu.be/lUEA3MafNi4
Web: www.facebook.com/Keen-Hue-137383786328216/
PR world-wide: Diese E-Mail-Adresse ist vor Spambots geschützt! Zur Anzeige muss JavaScript eingeschaltet sein!