This month with news from Autumn's Child, The Ragged Saints & Easy Action
*****
::: AUTUMN'S CHILD release self-titled album in Europe on January 31st, 2020! :::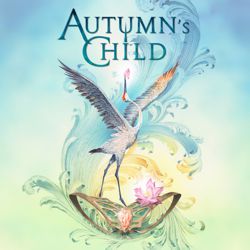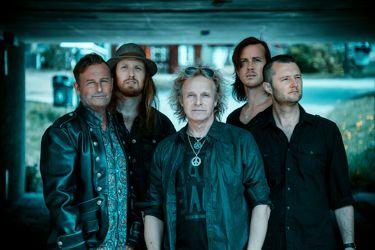 Mikael Erlandsson from Gothenburg is one of the best singers/songwriters in Sweden today. Between 2006-2018 he was the frontman in the Swedish super group Secret Service.
He has recorded five successful solo albums and together with the fantastic guitar player Andy Malecek from the successful German hard rock band Fair Warning he thought of putting a band together. Ian Haugland (d), Mic Michaeli (keys) and John Leven (b) of Europe-fame were asked if they were interested to join - which they did, and the band LAST AUTUMN'S DREAM was born in 2003. The self-titled debut album was produced by Claes Andreasson and was a great success.
Then the band went on releasing another 14 albums with different line-ups with great musicians like Jamie Borger (d, Treat), Marcel Jacob (b, Talisman) and they all had an impact of the band's development. They toured Japan, England and Germany but decided to take a break in 2018.
Then Mikael formed this new group: AUTUMN'S CHILD. The line-up apart from Mikael Erlandsson: Jona Tee on Keyboard from Swedish melodic sensation H.E.A.T., Robban Bäck, former drummer of Eclipse and currently with Swedish rock band Mustasch, Claes Andreasson from Swedish Westcoast/AOR band Heartbreak Radio. He also produced the first LAD album and "Winter in Paradise" and "Saturn Skyline" for LAD as well and finally on guitar: the amazing Pontus Åkesson from the prog rock band Moon Safari.
Audio video: https://youtu.be/ZgN2FYqGzQE
Release date: January 31st, 2020
*****
::: THE RAGGED SAINTS – second album called "Sonic Playground Revisted" in the pipeline! :::
After few years hiatus Finnish hard rockers The Ragged Saints are coming back with an old school 80's hard rock influenced record. The album titled "Sonic Playground Revisited" contains 10 new songs, and will delight not only The Ragged Saints fans, but also fans of bands like Whitesnake, Def Leppard and Ratt to mention a few.
Stylewise, the band continues its path without compromises. They didn't feel the need to change too much. There's a bit more keyboards and orchestration on some of the songs and little synth bass here and there, but it's the same songwriting team so the style and sound are pretty much the same as before. Once again the studio was their sandpit, their own sonic playground.
Band has been working on the album on and off for number of years. It has been a working process since 2013 when the first demos came into being. But the start of recordings took another year due to personal issues and other projects, giving the band opportunity to distance themselves a bit and resume another perspective on the song material.
The Ragged Saints was formed in 2011 by guitarists Tomi Julkunen and Toni Bite. After writing bunch of songs they recruited like-minded singer Markku Kuikka, bassist Jukka Hoffrén and drummer Miikki Kunttu "not to reinvent the wheel but to play melodic hard rock music we all have loved since the day one". Shortly after forming they began working on their first record. Band's well received and critically acclaimed debut album "The Sound Of Breaking Free" was released in 2013.
New album "Sonic Playground Revisited" will be released world-wide on January 31st, 2020 on AOR Heaven.
Release date: January 31st, 2020
Audio video: https://youtu.be/0lCMPZLTOls
Web: www.facebook.com/theraggedsaints
*****
::: EASY ACTION classic re-issue of "That Makes One" due on January 31st, 2020! :::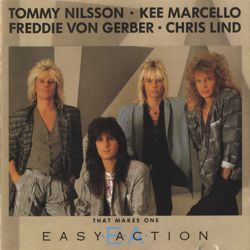 Rarely has there been such a drastic change of musical style than that made by the Swedish hard rock band Easy Action when it came to the recording of their second album 'That Makes One' in 1985. While the band's debut LP (1983) was an ahead of its time glam classic, Easy Action had morphed into a slickly melodic AOR group on the follow up record.
Kee Marcello, who later on joined Europe, was approached by Peo Thyrén (b) from the pop punk band Noice which were considerably successful at the time to sing but eventually ended up as their producer. Not willing to live the destructive lifestyle of the band, Kee and Peo founded their own band: Easy Action. The name refers to Marc Bolan who is considered the biggest rock star by Marcello. The band recorded a mini-album and got themselves a multi-million dollar deal with Sire Records. Joining Peo and Kee in this early version of Easy Action were Zinny J. Zan (v), Fredrik Von Gerber (d, ex Noice) and Danny Wilde (g).
The band sounded like a blueprint for Mötley Crüe, Poison and the like and consequently wanted to go in a different direction with the follow-up. Several line-up changes came, most notably Peo eventually making way for Björn 'Nalle' Påhlsson and Tommy Nilsson being recruited to fill the vacant lead singer role after Zinny left. The journey together ended when Marcello was offered to join Europe - an offer to good to turn down.
Upon release in 1986 'That Makes One' certainly gained its many admirers, but any success was short-lived due to Kee taking up that aforementioned offer from Europe to replace John Norum in November the same year to go on to record the 'Out Of This World' and 'Prisoners In Paradise' albums with the group. When that version of Europe went their separate ways, Marcello began a solo career in 1993 that continues to this day, alongside a lot of production for other artists.
The "glam rock variant" of Easy Action reunited. Kee and Zinny J. Zan having recruited a first class team of players that included Simon Roxx (g), Micael Grimm (b) and 'Grizzly' Höglund (d) and played Sweden Rock in 2006. But the passing of Grimm in 2011 who was the driving force at the time ended the band activities, although some songs were written.
Yet in 2019 the "melodic rock version" of the band got back together! Kee and Tommy, alongside Chris Lind (g), Björn 'Nalle' Påhlsson, Björn 'Grizzly' Höglund and the band's long-time live keyboard player Jörgen Ingeström reformed again earlier this year when Kee received another offer to play Sweden Rock. The band recorded a live DVD and presented themselves in excellent shape, for instance using no backing tapes and stuff.
This re-release is remastered by Chris Lyne and limited to 1000 copies. As a bonus there are rare b-sides "Eye For An Eye" from the "In The Middle Of Nowhere" single and "There Is A River" from the "Talk Of The Town" single. Liner notes and texts by Dave Reynolds.
Web: https://en.wikipedia.org/wiki/Easy_Action_(band)
Remark: available only via www.aorheaven.com and ginza.se
Release date: 31st January, 2020