This month with news from Newman, Return, Arkado & Easy Action!
*****
::: British Melodic Rock band NEWMAN return with "Ignition" in March!"
In 1997 singer, songwriter Steve Newman formed the band NEWMAN and since 1998 have been producing consistently high quality albums filled with hook laden songs and thought provoking lyrics.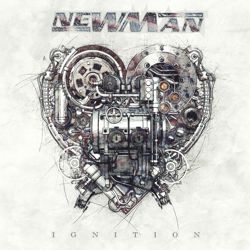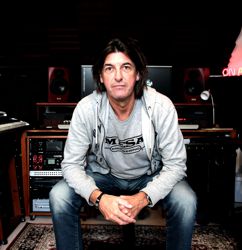 In 2018 NEWMAN were invited back to play the HRH Festival in support of the 20th anniversary of their first album. The rest of 2018 and for the first part of 2019 Steve remained busy writing and recording for other artists in different genres, taking a break from focusing on Newman and moving into different areas both musically and lyrically.
Revitalized, and after a break of two years Steve turned his attention to the next NEWMAN album. Bringing in influences from some of the projects he'd worked on previously but also returning to the writing and sound that has become part of the Newman legacy.
So, the first NEWMAN album in 3 years "Ignition" is finally here, 12 songs in a natural continuation from 2017's "Aerial" release. The album was recorded at Chrome Dome Studios in London between May and October 2019 with all songs being written and arranged by Steve Newman.
Steve Newman: Vocals, Guitar, Keyboards
Rob McEwen: Drums & Percussion
Dave Bartlett: backing vocals on "End Of The Road", "Ignition" and "Moving Target"
Mark Thompson-Smith: backing vocals on "Worth Dying For" and "Welcome To The Rush"
Audio video: https://youtu.be/cb5wHRlNguY
Release date: March 27th, 2020
Web: www.newmansound.com
PR world-wide: Diese E-Mail-Adresse ist vor Spambots geschützt! Zur Anzeige muss JavaScript eingeschaltet sein!
Haulix: will be send on Monday, February 3rd
****
::: ARKADO debut with "Never Say Never" on March 31st, 2020! :::
ARKADO were founded in 1983 in Ödåkra (near Helsingborg), Sweden. Originally, the band was named to BB2 (Better Be Together). Way back then, BB2 recorded a vinyl single which became the hymn of the football club Ödåkra IF which still is played there today at every match.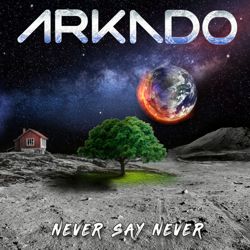 In May 2018, BB2 executed a live concert in Helsingborg which was totally sold out. The "dream" of again being reckoned as a band, if so only locally, flamed up. In August 2018, the Swedish based group teamed up with some new additional members. The "new" band was named to ARKADO when reverting the name "Ödåkra" and now offers their first full-length AOR album which is entitled "Never Say Never".
"Never Say Never" was recorded & produced by Mikael Svensson and recorded at LdM Studios, Chasing Sparks studio, Lindstrand Music and Skafars studio; mixed by Mikael Svensson at LdM Studios and mastered at Panic Room.
Line-up: Philip Lindstrom (vocals, lead guitars), Mats Nilsson & Martin Kirschner (guitars), Mikael Skafar (drums & backing vocals), Bernt Lundgren (bass), Mikael Svensson (keyboards & backing vocals)
Video clip: https://youtu.be/q-763G45qA8
Release date: March 27th, 2020
Web: www.arkado.se
PR world-wide: Diese E-Mail-Adresse ist vor Spambots geschützt! Zur Anzeige muss JavaScript eingeschaltet sein!
Haulix: will be send on Monday, February 3rd
*****
::: "AOR HEAVEN re-issue RETURN's classic "V" album! :::
Although never offered the same opportunities compatriots TNT and Stage Dolls enjoyed in venturing into the US and British markets, Norwegian melodic hard rock band Return nevertheless have carved their own place in the annals of rock history, with a quite illustrious career to boast of in their own right. The band's fifth album, 'V', reissued courtesy of AOR Heaven, perfectly captures what Return were all about.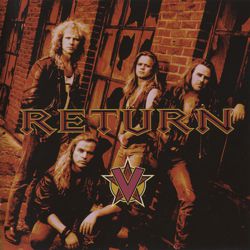 Picture credit: Norway's National Library
Comprised of Knut Erik Østgård (v), Steinar Hagen (g), Tore Larsen (b) and Øyvind Håkonsen (d), Return were founded in the early 80s combining various influences from punk, ska, disco, pop and hard rock drawing major inspiration from British bands such as Thin Lizzy, Iron Maiden and The Police.
By the mid 80s there was certainly a very interesting music scene happening in Norway, too, with the likes of the aforementioned TNT, Stage Dolls and other emerging acts, including Da Vinci. Winning a band competition got them a deal with ARCO records, eventually resulting in the debut 'To The Top' (1987) arousing interest with majors like CBS who signed them for the next three records, 'Attitudes' (1988),'Straight Down The Line' (1989) and 'Fourplay' (1991) leading the band to basically constantly tour from 1987 to 1994 and develop musically and form some kind of Return brotherhood.
For 'V', the album at hand, with its slightly more international approach, the band followed their label managers to EMI Norway. Recordings took place during the summer of 1992 in Glen Studio in Stockholm and the mix in Studio Nova in Norway. Unfortunately, soon after grunge struck Norway, too, and after yet again some extensive touring, in 1994 Return decided to take a break which actually lead to a six year hiatus.
Return's, uh, return to action occurred in the year 2000 when a best of compilation sold a total of 120.000 copies! More compilations, e.g. a live output, followed over the years. Being the strongest effort so far, Return still play a considerable amount of the songs from 'V' in their sets of their occasional live appearances.
2020 is a year to celebrate. It is 40 years since four young guys met in a small rehearsal room and started to make great music together. This re-issue was re-mastered by Chris Lyne, offers an upgraded booklet with vintage picture material from the archives and comes as 1000 copies only ltd. edition and is being sold via mailorder only. Liner notes by Dave Reynolds.
Release date: March 27th, 2020
PR world-wide: Diese E-Mail-Adresse ist vor Spambots geschützt! Zur Anzeige muss JavaScript eingeschaltet sein!
Haulix: will be send on Monday, February 3rd
Remark: ltd. to 1000 copies; available via mailorder only
*****
::: EASY ACTION release "Eye For An Eye" video clip filmed at Sweden Rock 2019!"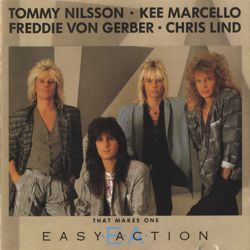 To celebrate the release of the re-mastered edition of their 1986 album "That Makes One", EASY ACTION drops a live video from their performance at Sweden Rock Festival last summer. The song "Eye For an Eye" was recorded for the 1986 album but only released as a rare b-side. It is now included in the new CD edition together with one more bonus track. The band is currently recording new music, though no details are available.
The video is found at this link: https://youtu.be/G4OrI6Y40ZQ
The re-mastered re-release "That makes One " is available through AOR Heaven - and 1000 copies only - this Friday, Jan 31.
Easy Action are: Tommy Nilsson, Kee Marcello, Chris Lindh, Björn Höglund, Jörgen Ingeström, Nalle Påhlsson
Kee Marcello currently is available for a few interviews!
Release date: January 31st, 2020
PR world-wide: Diese E-Mail-Adresse ist vor Spambots geschützt! Zur Anzeige muss JavaScript eingeschaltet sein!
Haulix: still available
Remark: ltd. to 1000 copies; available via mailorder only