Aussie Theatrical Glam rock Warriors CROSSON, show us their tongue-in-cheek side with the release their new video ' Weak At The Knees ( For A Hot Brunette!!) '. Shot in Sydney, Australia, the video features a guest appearance by dazzling Australian/ Portuguese model Paulina Roxo.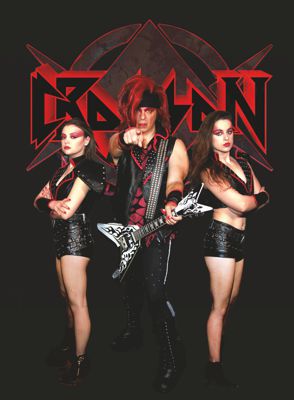 Crosson vocalist, writer and producer Jason Crosson says about the song: "With so many songs about blondes, it was about time all the brunettes around the world were celebrated!"
Check out the video here:
Weak At The Knees ( For A Hot Brunette!!) ' is the second single for the new CROSSON album Rock N Roll Love Affair which comes crash landing from the stratosphere on 27 March 2020 through Melodic Rock Records.
Be sure to catch CROSSON on tour in February and March 2020 with Crazy Lixx, Reckless Love, Enuff Z Nuff & Ron Keel.
The album is available for press & radio based in Europe via Haulix through us! Jason Crosson also is available for interviews as well!