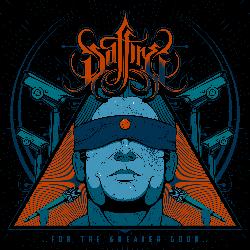 product: Saffire - For The Greater Good
label: AOR Heaven
release date: 27.11.2015
format: CD & download
PR territory: Europe (excluding the UK)
PR contact: Diese E-Mail-Adresse ist vor Spambots geschützt! Zur Anzeige muss JavaScript eingeschaltet sein!
Saffire was born in 2005 when Victor Olsson and Dino Zuzic were in school together. The idea was to form a band based on old school melodic hard rock and heavy metal but add a modern twist to it. After months of searching and auditioning, the duo was joined by Magnus Carlsson, Martin Järbur and Gustav Elowson.

In 2007 they recorded a first demo but soon after, Gustav had to leave the band and was replaced by then 17-year old Anton Roos, who had just won the Swedish Drum Solo Champion of the year contest. Another demo was recorded in 2008 and Saffire started playing shows in the local area, slowly making a name for themselves. In 2010 Martin was replaced by Tobias Jansson, and an EP was recorded and released. The band kept playing lot's of live shows and finally in 2013, Saffire signed with Inner Wound Recordings for the release of their debut album "From Ashes to Fire".

The album was highly praised all over the world, and Rocknytt.net, Sweden's biggest rock website, put the album on their top 10 list of the best albums of 2013. Saffire went on to tour all over Sweden, playing some of the biggest festivals alongside bands like Slayer, Steel Panther, At the Gates and Sabaton.

The new album is titled "For The Greater Good" and consists of 11 songs written by Victor Olsson and Tobias Jansson.
The album was mixed and partly recorded at Sound Industry Studio by Arnold Lindberg (Evergrey, Ghost, Hardcore Superstar) and mastered by Dragan Tanaskovic (In Flames, Dark Tranquillity, Mustasch).