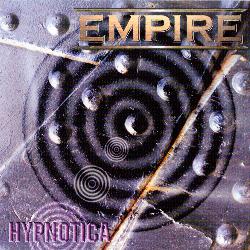 product: Empire - Hypnotica+3
release date: 24.02.2017
label: Pride & Joy Music
format: CD (re-issue with 3 bonus tracks)
territory: world
PR: Diese E-Mail-Adresse ist vor Spambots geschützt! Zur Anzeige muss JavaScript eingeschaltet sein!
EMPIRE is the Hard Rock band of German guitarist Rolf Munkes (ex Majesty, ex Razorback, Crematory) which has released four exceptional albums in between the years of 2001 and 2007. On these releases, Munkes was accompanied by numerous high-class musicians.
The history of EMPIRE began in the year 2001 with the release of the album "Hypnotica" (Lion Music) which featured both the American singers Mark Boals (ex-Yngwie Malmsteen) and Lance King (ex Nightmare) on vocals. Guitarist Rolf Munkesb today says: "When I first had the idea of Empire which was born after my first solo album, I wasn't sure where this road may lead me to, musically. I was open minded but never thought I would have the chance to be able to work with so many great talented players along this way."
The line-up at the time was completed by Neil Murray (bass, ex Whitesnake, Brian May Band, Black Sabbath etc.), Gerald Klos (drums), Anders Johansson (drums, ex Stratovarius) and Don Airey (keyboards, ex Rainbow, Deep Purple). "I remember that I was in contact with Lance King and we were talking on the phone. There was this initial sentence he said to me that changed my complete way of looking at it that time and opened all those doors for Empire. I told him that I was not sure how to be able to work together with more international musicians that time. He just replied with that one line: 'Ship 'em in'. Oh boy this is so easy but I had never thought of it that way. This is exactly how we did it", he adds.
Rolf Munkes produced "Hypnotica" himself; the mix was handled by Stefan Kaufmann (ex Accept, ex U.D.O.).
Only one year later, "Trading Souls", the band's second album came out on Lion Music. The CD once again was produced by Munkes with the mix being handled by Kaufmann. On this release, singer extraordinare Tony Martin (ex Black Sabbath) replaced King and Martin on the vocal spot.
Tony Martin also sang on the – up until now – most successful CD from EMPIRE, "The Rave Ride", which was released in 2006 on German label Metal Heaven. Besides of Munkes, who, for the first also produced and mixed this release himself at his own Empire Studios in Bensheim, Germany, Neil Murray took again care of the bass work whilst the drums this time were handled by ex-Rage/ex-Axxis drummer André Hilgers.
In 2007, the so far last album of EMPIRE saw the light of day. "Chasing Shadows" was once again released on Metal Heaven and the first record feat. former Rainbow singer Doogie White in the line-up. Mike Terrana (ex Rage, ex Axel Rudi Pell, Tarja Turunen) joined the group on drums.
In 2017, German label Pride & Joy Music will re-issue all four releases in a revised version. First up will be "Hypnotica" which will be released on February 24th, 2017 and include the three bonus tracks "Take A Look Around", "Dogtown Shuffle" and "Spread My Wings" (acoustic version). One other album will follow every three months.