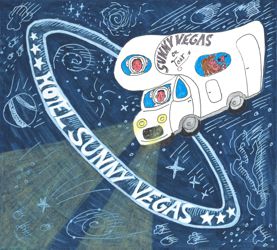 product: Sunny Vegas - Hotel Sunny Vegas
release date: 07.12.2018
label: Rockville Music
format: CD digi & digital
PR: Germany only: Diese E-Mail-Adresse ist vor Spambots geschützt! Zur Anzeige muss JavaScript eingeschaltet sein!
Sunny Vegas … that's a ride on the highway with a beer on your lap, with music for the essentials: Love, Life and Rock'n Roll.
Just rock, no masterplan, just fun, passion and a twinkle in your eye? Will that be it to generate something special? Or maybe even for that very reason? Sunny Vegas dare the experience on themselfes ...
On a chummy night in 2011 three friends (let's call them Sunny, Bunny and Munny) decided to form a band. The way shall be the goal, fun is the aim, and of course never take themselfes too serious. They called it "German Schweinerock" … however that translates? … well, anyway they didn't really know what it should sound like. The band was called after a personage that frontman Matthi Birkmeyer invented: "Sunny Vegas is an adorable but spaced out guy who since 30 years believes, that his big break is instant ahead. A rocker to the core, no matter where he is, he grabs his guitar and plays … even if nobody listens. Which most of the time is the fact." … Evil to the ones who think Sunny is Matthi's alter ego ...
The story goes on: Some years later the three realized that had actually written some cool tunes. So they grabed a box of beer and an 8-track and recorded their opus in the rehearsal room. The outcome sounded pretty well, so there was the album "Sweet Mobile Home Recordings" (2014), which was surprisingly well received … and as it's still reading so nice, we may exemplaric quote Breakout Magazine again: "Marriage, job problems or stress? We recommend Sunny Vegas! And if you feel good already, you'll even feel better. Listen & enjoy. 100% successful!"
Isn't that wonderful? Sunny rubbed his eyes in disbelief and rocked on until 2018 … well, and a few weeks ago he brushed the dust off the 8-track and here we go: Let there be "Hotel Sunny Vegas" … once again the big break is instantly ahead, isn't it?