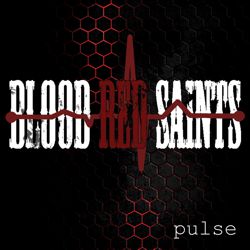 product: Blood Red Saints - Pulse
release date: 22.02.2019
label: AOR Heaven
PR: world-wide
contact: Diese E-Mail-Adresse ist vor Spambots geschützt! Zur Anzeige muss JavaScript eingeschaltet sein!
2019 brings the release of the third album by British rockers Blood Red Saints.
The album, released through AOR Heaven is entitled 'Pulse' on February 22nd, 2019 and sees the band modernising their sound whilst still retaining the big choruses.Guitarist Lee Revill is the man tasked with mixing and engineering the album as well as co-producing alongside Pete Godfrey.
"Pulse" features 11 tracks all written by Revill/Godfrey and the album has a more contemporary edge, trying to push the boundaries of Melodic Rock. Songs such as "Cross to bear" and "Crash into me", edge into radio friendly territory whilst "I'm your Devil" has a more raw punky feel. The title track "Pulse" is all about the chant and should be a great live number, "Animals" and "Message to God" being full on rockers.
The band says: "This album is more personal, dealing with life events of the past year but still maintaining a positive stance, everybody brought their best to this recording, no compromises, no excuses, simply the best 11 songs we could write and we are proud of the results, after all, without music and fun, what is there?"