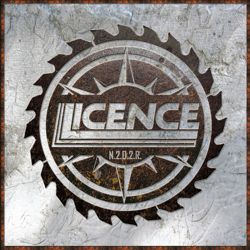 product: Licence - N.2.O.T.R.
release date: 02.08.2019
label: Metalapolis
territory: world
contact: Diese E-Mail-Adresse ist vor Spambots geschützt! Zur Anzeige muss JavaScript eingeschaltet sein!
Founded back in 2014, the band from Ludwigsburg/Germany, with the very charismatic female singer Jacky Coke already releases their second album, "N2O2R"! Recorded in their own STEAMROCK STUDIO the record again was mixed and mastered by non-other than Achim Köhler (PRIMAL FEAR, SINNER, BRAINSTORM). The album is like a fist in your face with its powerful and clear production!
"Never Too Old To Rock", the title in its spoken form, shows that you are never too old to realize your dream, because in this band father (Steam Licence, guitar) and daughter (Jacky Coke, vocals) are rockin' together. Together with bassist Pappe and drummer Sammy they celebrate their love for the golden age of Heavy Rock, the eighties. For this they recorded their own version of the Eddie Schwartz' tune "Hit Me With Your Best Shot", which is known from the 80's Rock vixen Pat Benatar. The song fits perfect to Jacky's voice!
The single and video song "Hot4Ever" is a great hymn with a very serious background. It is dedicated to a friend of the band, who is very sick. This song is the band's tribute to him, since he is not only a friend, but he also booked some of the first shows for them. You can hear Richie Diver from their label mates MAVERICK here on guest vocals. Also a video clip will be "Rise Up", a song the band already has featured in their live set for a long time. This song marks all the attitudes from LICENCE. It is heavy, melodic and in your face with a voice, which is powerful and rough!
LICENCE are bringing back the sound of the 80' in a new way without sounding old! Heavy, melodic and always keeping you on the edge of your seat. Once you hear the songs, they will remain stuck in your head! You can't buy the license to rock, you need to own it! LICENCE DOES!!!