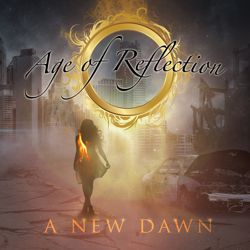 product: Age Of Reflection - A New Dawn
release date: 27.09.2019
label: AOR Heaven
territory: world
contact: Diese E-Mail-Adresse ist vor Spambots geschützt! Zur Anzeige muss JavaScript eingeschaltet sein!
In early 2013 Carl Berglund and his old bandmate Jan Skärming decided to fulfil their musical dream, writing songs reduced to its very core by 80's rock giants. These were songs with emotional harmonies from pure British AOR, with the power of American hard rock, sprinkled with hooks from the new era of Swedish melodic rock. Joining them in the songwriting came Lars Nygren in spring 2014 (vocals), a friend of Carls since high school. When equipped with a ton of hard hitting melodic rock songs written, the missing pieces of the puzzle joined forces. They turned out to be Jonas Nordquist (lead guitar), drummer Michael Sjöö (replaced by Peppe Vikman in August 2018) and Jens Rüttgeroth on keyboards (member since October 2017). In May 2016 they picked four songs and put them onto Spotify, iTunes, and a few other places with amazing reviews and response. In August 2016, the band signed a deal with AOR Heaven for a February 2017 release, and also later with Rubicon Music Japan. "In The Heat Of The Night" was recorded at Studio Thinner, the band's own studio in Vasteras, Sweden, in the spring of 2016. It was produced by AGE OF REFLECTION but the mixing and mastering was done by Erik Mårtensson (Eclipse, W.E.T. a.o).
After the summer 2018, AoR started writing new music for their next album. AGE OF REFLECTIONS tried one of the new songs live at Rockingham festival, and the response was great! They went back into the studio and have now finished all the recordings. Again Erik Mårtensson has been doing the final magic on the album. "A New Dawn" will be released on September 27th, 2019 on AOR Heaven.
In November, AoR is going on a headlining tour in England supported by both A'priori and Atlas UK. After that there is H.E.A.T Festival in Germany. One of highlights in 2020, so far, is the HRH AOR festival in Wales in March.