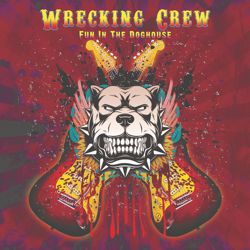 product: Wrecking Crew - Fun In The Doghouse (re-issue)
release date: 15.11.2019
label: Bad Reputation
PR territory: Germany, Austria & Switzerland only
contact: Diese E-Mail-Adresse ist vor Spambots geschützt! Zur Anzeige muss JavaScript eingeschaltet sein!
It was hard to find nowdays album from this Aussie rock band of the 90's released in 1993. "Fun in the Doghouse" is the band's only work. The album was produced by Kevin Shirley (Journey, Iron Maiden, Rush, Joe Bonamassa, Mr. Big and so many others). But from now, this mistake is rectified!
Not to be confused with the famous group of LA session musicians who became known as the Wrecking Crew during the 60s and 70s; this Wrecking Crew was formed in Sydney during 1987 and is just one of many bands throughout the world to have taken their name from this revered group of amazingly talented musicians. However also distinguishing Sydney's Wrecking Crew from this now famous group is their musical style. Instead of playing every known style of pop music on record; frontman / lead vocalist Dave Wilkins and co stuck to what they do best – playing no frills hard rock with a touch of blues and funk for good measure. This isn't to say that they weren't talented musicians – because they certainly were; however the constraints of playing in a no frills hard rock band often don't allow musicians to show off their true versatility. The band had a respectable following in Sydney, particularly during the early 90s. They played at many of the popular live music venues including Selinas (Coogee Bay Hotel) where the band recorded their only music video to promote their single 'Stay'. In addition to releasing several CD singles – 'Welcome to the Circus' in 1992; 'Stay' in 1993 and 'She Wants Love' also in 1993; a full length album titled 'Fun in the Doghouse' was also released showcasing the bands excellent song writing and musicianship.
Wilkins later moved on to form Aussie pop / rock band Utopian Babies, best known for their radio friendly hit single 'One of These Days'. Wilkins has also been credited with songwriting alongside some major Australian talents including Diesel, Ian Moss, Wendy Matthews, Kate Ceberano, Shannon Noll
NOW, the band is back. This great bluesy-funky- hard album is underrated and deserved another chance to reach his audience. Three tracks have been added and each song have been remastered. Mark Wilkinson took care about the new cover and a nice intensive booklet have been created.
THAT'S WHY, Bad Reputation is working this album like a new ONE, with a proper promotion and marketing. And not like a normal reissue.
If you like the following GREAT WHITE, SALTY DOG, SAIGON KICK and all the 90's bands from the Rock Arena , you will enjoy this masterpiece
WRECKING CREW is currently working on a new album