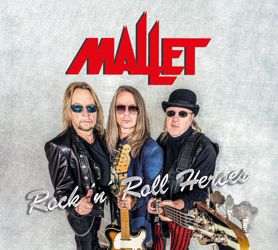 product: Mallet - Rock n' Roll Heroes
release date: 17.01.2020
label: Baze Records
territory: Europe
PR: Diese E-Mail-Adresse ist vor Spambots geschützt! Zur Anzeige muss JavaScript eingeschaltet sein!
In 2019 MALLET celebrated their 40th anniversary. The album's title track "Rock`n´Roll Hero" is a tribute to the 80's and thus to their own past, with a slight wink.
The album contains 14 original songs in which the band demonstrates their versatility.
Once again, MALLET proof that you can find a home in many diverse styles without losing your own identity. MALLET still stands for melodic, dynamic Classic Rock. "Rock´n´Roll Heroes" was recorded by Arne Neurand in the famous Horus Sound Studio in Hanover, Germany and mastered by Grammy nominated Mastering Guru Robin Schmidt at 24-96 Mastering Karlsruhe, Germany.