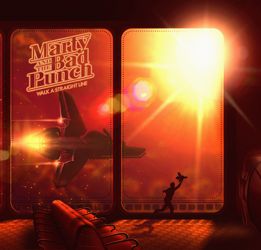 product: Marty & The Bad Punch
release date: 21.02.2020
label: Enghardt Media/ Edel
PR territory: Europe
PR contact: Diese E-Mail-Adresse ist vor Spambots geschützt! Zur Anzeige muss JavaScript eingeschaltet sein!
Marty Punch returns after his successful debut album "Moon Over Baskerville", which was awarded with four awards at the German Rock & Pop Awards in 2015. The brilliant follow-up double album is called "Marty And The Bad Punch – Walk A Straight Line" (EnghardtMedia) and will be released on February 21st, 2020. Also featured on the new release is frontman & singer David Cagle (JK Northrup/ David Cagle "That's Gonna Leave A Mark", MelodicRock Records).
"Walk A Straight Line" is a time travel through the most beautiful time of Melodic & AOR Rock – the 80's. In addition to beautiful ballads you can also find incredible AOR Rock songs and country anthems!
The album includes the 3 singles "Zakopane" (#1 Hit in Poland!) with Tommy Denander on lead guitar, the melodic rock anthem "Universe" with Frank Pané (Bonfire) on guitar and "My Demons" with Bruce Kulick (ex-Kiss / Grand Funk Railroad) on lead guitar (to be released Dec 13, 2019 as single).
Many international stars such as David Cagle, Sarah Straub, Robert Karasek, Martin Motnik, Carsten Enghardt, JK Northrup, Tommy Denander, Frank Panè and Bruce Kulick can be heard on "Walk A Straight Line". The recording and mix was handled by Carsten Enghardt, and the final touches were given to the album by mastering engineer Dennis Ward.
Right now, Marty is working with Tommy Denander on a re-recording of the track "Better Be Strong" from his first album – with Robert Tepper, David Cagle, Steph Honde and Mick White as singers amongst others. This recording will be released for charity in the near future.
Line-up: Marty Punch (Guitars), David Cagle (Vocals), Carsten Enghardt (Drums), Martin Motnik (Bass), Robert Karasek (Keyboards)
Guests: Sarah Straub (vocal duet on "Feels Like Heaven"); Tommy Denander (lead guitar & solo on "Zakopane"), JK Northrup (guitar solo on "Southbound Train", Voice over on "The Story Of The Making…), Frank Pané (guitar solo "Universe"), Bruce Kulick (lead guitar & solo "My Demons"