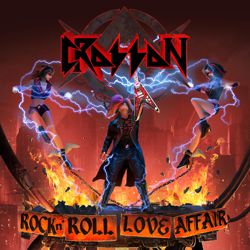 product: Crosson - Rock N' Roll Love Affair
label: Galaxy Records/ MelodicRock Records
release date: 27.03.2020
PR territory: Europe
PR contact: Diese E-Mail-Adresse ist vor Spambots geschützt! Zur Anzeige muss JavaScript eingeschaltet sein!
"Theatrical Glam Rockers entangled in a Rock 'N Roll Love Affair"
"There's a new rock n roll thunder coming from the land down under, and it goes by the name CROSSON " (Josh Smith - Hair Band Heaven )
Following the success of their acclaimed 2018 album 'Invincible', which spent an incredible ten consecutive weeks in the Top 30 Official German Rock and Metal Charts and was voted Sleaze's Nation's # 2 album of 2018, Australian based Theatrical Glam Rock Warriors, CROSSON, return in 2020 with their new album Rock 'N Roll Love Affair.
The album was once mixed by legendary U.S producer Duane Baron (Ozzy Osbourne, Motley Crue, Alice Cooper, Poison), mastered by U.S mastering legend Dave Donnelly (Aerosmith, KISS, Whitesnake) , and engineered by Aussie veteran Russell Pilling (The Vines, Hoodoo Gurus, Noiseworks).
Rock 'N Roll Love Affair punches you in the face from the opening chords and erupts with ten infectiously catchy, highly addictive rock tunes. The only cure to get these songs out of your head will need to be medically prescribed.
The album also includes electrifying performances by some of Australia's leading rock / metal musicians, including Stu Marshall (Death Dealer) and Dario Bortolin (Baby Animals).
****
"Rock 'N Roll Love Affair is a matter for the heart of any lover of rock 'n roll.….CROSSON have once again outdone themselves." Peter Grahn – Sleaze Nation
The first video from the album 'Everyone's A Star' depicts CROSSON doing what they do best…..unleashing their electrifying, energetic, choreographed and bombastic stage show whilst the second video 'Weak At The Knees (For A Brunette!!)' (a crowd favourite) shows the groups tongue-in-cheek side.
When asked about 'Weak At The Knees (For A Brunette!!) vocalist , writer and producer Jason Crosson commented "… Talk about art imitating life! I have two weaknesses, chocolate ice cream and brunettes… of which I have to refrain from both!!"
"Rock will never die whilst there are bands like Crosson" Adam Cox – Decibel Geek