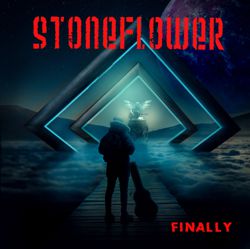 product: Stoneflower - Finally
release date: 15.05.2020
label: AOR Heaven
territory: world
PR contact: Diese E-Mail-Adresse ist vor Spambots geschützt! Zur Anzeige muss JavaScript eingeschaltet sein!
Having released one album with Diesel Dahl (d, TNT), Tom Sennerud (g), Frode Henriksen (v) and Jon Johannessen (g) decided to form a band on their own in 1996: STONEFLOWER. The Norwegians were soon joined by Svenn Huneide (b). They decided to hire experienced drummer Steinar Krokstad (STAGE DOLLS) and Dag Bårdstu (keys) to create the best result. The debut "Crack A Little Smile" was finally released on the small label Storyteller Records in 2003 and sold world-wide via AOR Heaven's mailorder. A video for the track "If You Say" was released feat. Geir Johnny Huneide (d). Then, Johannessen left group in 2005.
When singer Frode Henriksen moved to a different part of the country after 2010, the band split up. Tom felt that the album already in progress was too good to let go, so he started finishing the album on his own. "Destination Anywhere" was released on his own label, Late Night Music. It received highly critical acclaim, like "best AOR album 2014" (Sweden Rock Magazine).
After the positive feedback, members Tom and Svenn decided to reignite the band with a new singer. By sheer luck they found the amazingly talented John Masaki ("Norwegian Idol"). The first track recorded included one of the most famous and gifted Norwegian drummers, Per Hillestad (LAVA, A-HA,) but the band soon decided to go for a full-time member and the talented and AOR-loving Geir Johnny Huneide (brother to Svenn) got the job. Geir then recorded the rest of the album with Steinar Krokstad (STAGE DOLLS) guesting on one track. STONEFLOWER this time signed a record deal with AOR Heaven. "Finally" was mainly recorded in Tom's own studio "Late Night Music". Some drums were recorded at Leif Johansen's (21 GUNS, PHENOMENA, A-HA) "Stable Studio". Guests on "Finally" are Per Hillestad (d), premium Swedish AOR guitarist, Tommy Denander (PAUL STANLEY, ALICE COOPER), Bjørn Ole Rasch (keys, SECRET GARDEN) and Gunnar Westlie (g, DA VINCI). Mixed by Trond Engebretsen and Tom Sennerud, mastered by JK Northrup (KING KOBRA).