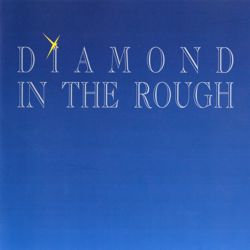 product: Diamond In The Rough - s/t
release date: 25.09.2020
label: AOR Heaven
PR territory: world
PR contact: Diese E-Mail-Adresse ist vor Spambots geschützt! Zur Anzeige muss JavaScript eingeschaltet sein!
Canadian keyboard player Lewis Nitikman whose major influence is the early Elton John began his professional music career in 1981 when he joined Stonebolt at the age of 21 gigging worldwide including a two-month-run in Japan. 1982 saw the release of Stonebolt's 'Juvenile American Princess', his first recording experience.
While still being a member of the band, Nitikman found out about being a writer first and a player second. He went to Berklee College of Music in Boston and quit the band soon after. After two and a half years he got his diploma and wanted to do his own album but was short of a singer. He eventually met Dave Buckthorpe, a guy that could sing the phonebook and make it sound of great if needed. A friendship that still lasts today began.
Putting a lot of effort and money into the record, the two of them started looking for the right musicians from the Vancouver area to join them. Scotty Hall (g, Agent, Idle Eyes, Rez), Phil Robertson (d, Idle Eyes/Rez) and Tom Christiansen (b, Boulevard) with Ray Roper (v, Stonebolt) also making an appearance on the sessions came on board. After being turned down by almost every big label in Toronto they got signed the very last day with a sizeable recording budget for the album by Virgin.
When it came to the recording, the album sessions would partly take place at Triumph's Metalworks studio in Toronto. They would not only feature Sharon Lee Williams (who sang on Bob Seger's 'Night Moves') singing backing vocals on 'Where Is Love', but Lewis also managed to persuade Triumph guitarist Rik Emmett to make a guest appearance on the opening track 'Walk On The Wire'. The result was an album with a hugely enjoyable collection of songs that feature a mixture of sublime pop rock arousing comparisons to Spandau Ballet, Level 42, Boulevard or Toto, all very successful back then.
Originally released in 1988, the success of the singles ('Where Is The Love' was followed by 'I Wish There Was A Way' and 'Ain't Good Lovin'') ensured the self-titled album's sales were pretty decent as well, nevertheless no real touring took place and due to various reasons things broke apart. Dave went on to co-write a number of songs on Boulevard's second album, 'Into The Street' (1990).
Since 'Diamond In The Rough' was originally released, Lewis eventually relocated to Sheffield, England, where he has long enjoyed a successful musical partnership with Liverpool born singer/songwriter John Reilly. In addition, he recorded an album's worth of material with former Agent vocalist Troy Reid and his erstwhile Stonebolt band mate Ray Roper that became Stranded's 'New Dawn' CD (released by Escape Music in 2019).
This re-release is identical to the 1996 Long Island Records newly remastered version including the two bonus cuts "I Believe In This Love" and "Tell Me". Limited to 500 copies, including liner notes by Dave Reynolds and exclusively sold via AOR Heaven mailorder