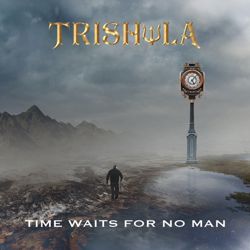 product: Trishula - Time Waits For No Man
release date: 25.09.2020
label: AOR Heaven
PR territory: world
PR contact: Europe
British melodic rock band TRISHULA is the brainchild of UK Guitarist Neil Fraser, accompanied by vocalist Jason Morgan. Prior to forming TRISHULA, Neil and Jason spent many years recording and performing with local bands, Jason performing in the South Wales area of the UK with his band ORANGEFALL and Neil similarly performing in the Midlands area of the UK with a variety of bands. Neil has played and/or recorded with bands/artists such as RAGE OF ANGELS, TEN, Tony Mills (SHY, TNT), Jason has recently recorded backing vocals for MAGNUM on their latest album 'The Serpent Rings'.
TRISHULA released their debut record 'Scared to Breathe' in March 2019 on the AOR Heaven record label. Neil was keen to write and record a follow up release as soon as possible, so started writing and recording the sophomore album 'Time Waits For No Man' not long after the release of 'Scared to Breathe'. The initial recordings of 'Time Waits For No Man' took place again at Neil's home studio (Farmyard Studios) and demo vocals were again recorded in various locations in Wales. Rick Benton (Magnum) is a long time friend of Neil and takes up keyboard duties on 'Time Waits For No Man' as he did on the debut album. Two new names join TRISHULA for the second album: Neil Ogden (Demon) on drums and Dan Clark (Rebecca Downes) on bass with additional backing vocals provided by Georgia Morgan.
Drums and final vocal recordings on 'Time Waits For No Man' took place in the Midlands (UK) at M2 Madhat Studios (Magnum). Mark Stuart handled the recording of drums with Neil Ogden and Sheena Sear took care of all vocal recordings. As per the debut album, production, mixing and mastering on 'Time Waits For No Man' was undertaken by Sheena Sear at M2 Madhat Studios.