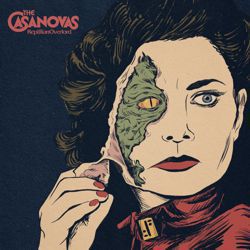 product: The Casanovas - Reptilian Overload
release date: 18.09.2020
label: Bad Reputation
PR territory: GAS only
PR contact: Diese E-Mail-Adresse ist vor Spambots geschützt! Zur Anzeige muss JavaScript eingeschaltet sein!
Last year, with a set of great new material, the re-tooled Casanovas hit the studio with iconic Oz rock producer Mark Opitz (AC/DC, The Angels, Cold Chisel, The Divinyls) to record their fifth album. The Casanovas provided the first taste from the upcoming album late last year when they released their first new music in over four years with popular single 'Hollywood Riot'.
'Reptilian Overlord' revels in everything that fans have come to know and love about The Casanovas, and it shows the impact of Opitz, who was involved in many of the band's favourite albums like Powerage and Face To Face. As Casanovas bassist Damo Campbell says, "Mark is the master at miking for great guitar tones. He definitely brought some of those techniques into our sessions… It was also pretty inspiring to be in the studio hearing some of Mark's stories of some of the great rock bands he has worked with over his career."
Swagger is something that these guys have in spades. Although they got caught up in the early 21st-century rock mania, The Casanovas always had deeper roots and a natural ease. Hailing from the Live Rock'n'Roll Capital of the Universe – Melbourne – The Casanovas were a merging of two great local traditions –punk rock'n'roll and Oz Rock – and they had a twinkle in their eye and brought a youthful freshness to both when they appeared at the start of the century.
"It's like they've captured all my favourite rock acts – Cheap Trick, Stones, Kiss, ZZ Top & AC/DC, and crammed them all into their own jar of Vegemite. . James "The Hound Dog" Young, owner of the iconic Cherry Bar