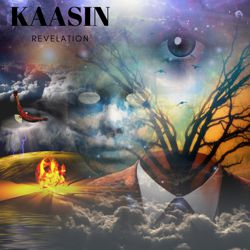 product: Kaasin - Revelation (digital single)
release date: 04.12.2020
label: Stream Peak Music
PR territory: Europe
PR contact: Diese E-Mail-Adresse ist vor Spambots geschützt! Zur Anzeige muss JavaScript eingeschaltet sein!
Brand new song and the second single from hardrock band KAASIN.
KAASIN was founded by guitarist, JO HENNING KAASIN, collaborator with JOE LYNN TURNER (Deep Purple/Rainbow), GLENN HUGHES (Deep Purple/Black Sabbath), DOOGIE WHITE (Rainbow/Michael Schenker), BERNIE MARSDEN (Whitesnake), founding member, guitarist and songwriter with COME TASTE THE BAND.
After 23 years and great success with the album «REIGNITION», feat. JOE LYNN TURNER & DOOGIE WHITE, COME TASTE THE BAND was put on ice in January 2020. Guitarist and main songwriter, JO HENNING KAASIN, then went on to form his own band, simply called KAASIN. He recruited his cousin, STAALE KAASIN from SPIDER and 2020VISION, to handle bass. The band also features the norwegian singer, JAN THORE GREFSTAD, known for his incredible vocal duties with SAINT DEAMON, HIGHLAND GLORY and TNT.
KAASIN also includes additional musicans, BENJAMIN DEHLI on hammond organ/analog synth and CHRIS BRUSH on drums.
KAASIN released their debut single «RUNAWAY TRAIN» on Streampeak Music on Friday AUGUST 14th - 2020. It has been a great success, streaming in thousands upon thousand on Spotify, Youtube, iTunes, and other download/streaming services. «RUNAWAY TRAIN» also went Top 10 on rock radio stations in France, UK, Sweden and Norway.
THE FOLLOW UP IS READY!
«REVELATION» is written by Jo Henning Kaasin, Jan Thore Grefstad and Staale Kaasin. It will be released on Streampeak Music - Friday DECEMBER 4th - 2020
Recorded and engineered in JUKE JOINT STUDIO, Notodden - Norway.
Produced by Halvor Halvorsen & KAASIN
Mixed and mastered by Leif Johansen (Phenomena, 21 Guns, A-ha)
The single will be accompanied by a official music video.