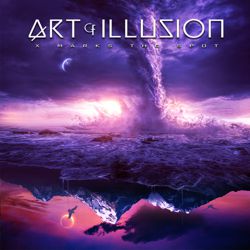 product: Art Of Illusion - X Marks The Spot
release date: 29.01.2021
label: AOR Heaven
PR territory: Europe
PR contact: Diese E-Mail-Adresse ist vor Spambots geschützt! Zur Anzeige muss JavaScript eingeschaltet sein!
Art Of Illusion is a fusion of songwriter/producer Anders Rydholm, from the band Grand Illusion, and singer extraordinaire Lars Säfsund, from the band Work Of Art. "X Marks the Spot" is the first album from these Swedish musicians.
Melody is the key in their music and there is a homage to melodic rock and bands like Queen, Giant and Big Money. Catchy melodies, great hooks and tons of glorious vocals are the formula for success. Anders plays keyboards, bass and rhythm guitars, while Lars sings lead and background vocals and also contributes some keyboards. The album is produced by Anders and Lars.
Guests on the album are guitarists Jay Graydon, Muris Varajic, Kristian Larsen, Pelle Holmberg and Daniel Rydholm. Drummer Frank "Frallan" Nilsson, background vocalist Per Svensson and steel guitar player Tony Paoletta also appear. Music is written by Anders Rydholm. Lyrics by Anders Rydholm, Arlene Matza-Jackson and Patrik Ahlm.
Lars Säfsund broke with his band Work Of Art and the album "Artwork" in 2008. He has since then been an appreciated voice within the melodic rock genre. He's also the voice for the bands Lionville and Enbound and one of the most hired background vocal singers in Sweden. Four appearances singing background vocals, for several countries, in the Eurovision Song Contest so far. Voice acting for Disney and other production companies, is another of Lars many skills.
Anders Rydholm has beside his own bands Grand Illusion and Code, worked with Overland, Seikima II and the legendary Japanese artist Demon Kakka. In combination with his songwriting and producing, Anders holds a position as senior lecturer in Music Production at the Linnaeus University, Vaxjo, Sweden.
The new album "X Marks The Spot" from Art Of Illusion will be released through AOR Heaven in Europe in January.