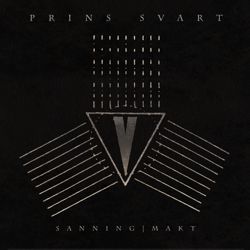 product: Prins Svart - Sanning/ Makt
release date: 23.04.2021
label: Musica Ex Machina
PR territoy: Germany, Austria, Switzerland & BeNeLux
PR contact: Diese E-Mail-Adresse ist vor Spambots geschützt! Zur Anzeige muss JavaScript eingeschaltet sein!
With new lead singer Mats Levén (ex-Candlemass, Yngwie Malmsteen, Skyblood) on board as lead vocalist, Swedish Rock/ Metal group PRINS SVART returns with its astonishing fourth album "Sanning/ Makt" (in English: "Truth/Power")!
Prins Svart combines the old with the new and have carved out a niche for themselves by combining Classic Rock sounds with Swedish lyrics. The band's unique profile has been shaped by musical experiences from playing with greats such as Michael Schenker, Yngwie Malmsteen, and Glenn Hughes, and touring and recording with the bands Grand Magus, Tiamat, Candlemass, Therion, and The Poodles.
The music is rooted in the 1970s and bands like Led Zeppelin, Deep Purple, and Black Sabbath, but with influences from the early 1980s and bands such as Dio, Whitesnake, Rainbow and Ozzy Osbourne. The lyrics deal with existential topics such as death, transformation, and love: we are all Prins Svart!
Mats Levén (ex-Candlemass, Yngwie Malmsteen, Skyblood) is the singer of the band since 2020 and the upcoming album, "Sanning/Makt" (Truth/Power), marks a new era in the band's history. The new album, which is released on April 23rd 2021, is a musical epic, spanning 77 minutes and is released as a double album on vinyl and CD. The music ranges from tango, blast beats, to bruising riffs.