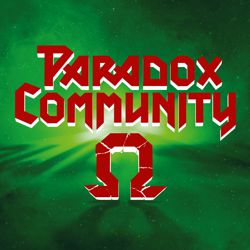 product: Paradox Community - Omega
release date: 21.05.2021
label: self-released
PR territory: Europe
PR contact: Diese E-Mail-Adresse ist vor Spambots geschützt! Zur Anzeige muss JavaScript eingeschaltet sein!
Just imagine you could combine the qualities of some great metal bands of the early 90's. The melody from Maiden, the groove from Pantera and riffs from Megadeth...and all that without any limits and genre rules!?
PARADOX COMMUNITY (PC) is a German metal band that combines a wide variety of styles from metal, progressive and rock. The trio does not create a constant boring mixture of all genres but tries to ensure a differentiated and exciting song experience by using different structures and styles for each song, i.e. from calm, melodic pieces to pumping metal grooves or a bit of thrash metal. Most of the vocals deserve this name and change from shouting to melodic styles or aggressive screaming and back. In terms of PARADOX COMMUNITY's genre can be described as a bit progressive, although the band's style does not sound like "student music". It's rather reminiscent to some straight old metal heads.
The band has been playing with the current line-up since March 2007 when Henk Humberg joined as bass player. Mirko and Tommy have been playing together for about 25 years in different groups. Due to the trio line-up, which is unusual for this style, PC clearly stands out from the crowd. The three-person line-up is particularly advantageous live, because instead of the typical metal muddy sound, the PC's have organized an ass-kicking tight live sound!
After so many years in making metal music, the PC's decided to release their first official album entitled "Omega" in 2021. Of course, they have played live gigs over the years and all band members have had several other projects and bands, but now it is time to present the Paradox Community metal to a bigger audience - maybe just to get a feedback from some real metal heads after all these years of making music.