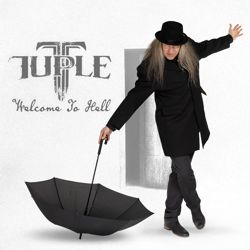 product: Tuple - Welcome To Hell
release date: 28.05.2021
label: AOR Heaven
PR territory: world
PR contact: Diese E-Mail-Adresse ist vor Spambots geschützt! Zur Anzeige muss JavaScript eingeschaltet sein!
"Welcome To Hell" is the follow-up to the highly-acclaimed "Wooden Box" album by TUPLE which was released in 2020 via AOR Heaven and resulted in a charty entry in the native country of this Finnish artist.
Finland is well-known for its Heavy Metal roots. Far and wide comes the list of Metal bands that are known all around the world. But there's also a strong Melodic Rock/AOR community. Bands that rely, not only on heavy riffing, but also strong melodies and larger-than-life keyboards. TUPLE is a good example of it. Catchy songs, great melodies, fine artistry.
The songs once again - like on the previous album - were written by Riitis, Tommi's good friend and trusted composer. But unlike the Wooden Box release, which was lyrically based on Tommi's life, this time the band takes a look at the dark corners in the corridors of power, struggles with the relationships, and takes the listener on a trip to the late 19th century Colorado, to Aspen – the playground of the rich and the powerful – which was once upon a time a savage place where miners, gunslingers, UTE Indians, card sharks and prostitutes were an unsettling mix of people during the Silver Rush. The album was produced by TripleVision (Tommi, Riitis, Janne).
Tommi "Tuple" Salmela, born June 3rd, 1969 in Kuopio, Finland, is a Finnish Heavy Metal singer. He sang in such bands as Tarot, Lazy Bonez and Raskasta Joulua (Ragnarok Juletide) and also performed on stage with many famous singers like Elize Ryd, Floor Jansen, Tommy Karevik, Bernie Shaw, Joe Lynn Turner and Dee Snider, to name a few.
Raskasta Joulua is a Finnish band recording and performing traditional Christmas carols and hits in the Heavy Metal style. Tommi is one of the founding members. Lazy Bonez was established in 2012 and they have released 3 albums. On their second album, Alive, Tommi sang a duet with Bernie Shaw of Uriah Heep on the tune 'Devils Dice'.
Tuple's personal influences include bands like Journey, Kansas, FM, Uriah Heep, Boston, Chicago, Strangeways, Black Sabbath, Dio and lots of other AOR bands - the list goes on and on. His motto is: What doesn't kill you, makes you stronger.