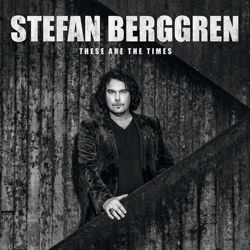 product: Stefan Berggren - These Are The Times
release date: 04.06.2021
label: Grandjam Production
PR territory: Europe
PR contact: Diese E-Mail-Adresse ist vor Spambots geschützt! Zur Anzeige muss JavaScript eingeschaltet sein!
STEFAN BERGGREN, one of Swedens finest Rock voices , will release his new solo album "These Are The Times" LP ,CD & digital, via his own label GRANDJAM PRODUCTION on June 4th, 2021!
Stefan Berggren has worked as a Singer/Frontman with well-known bands and artists such as Uriah Heep, Snakes in Paradise, M3 - Classic Whitesnake, The Company of Snakes, Along with the recently deceased Lee Kerslake (Uriah heep,Ozzy), he also had the Berggren Kerslake Band "The Sun Has Gone Hazy", as well as the Don Airey Band amongst others.Now he is ready to go out on the roads with his own, hand-picked band, hopefully starting in the Summer of 2021. "These Are The Times" is the sophomore solo release to "Strangers In A Strangeland" which came out in 2016.
Next to Berggren who handled vocals, guitars and keyboards, the band is completed with Tomas Pomma Thorberg (SNAKES IN PARADISE) on bass and Johannes Nordell(Flykten) on drums.The aforementioned Don Airey, the keyboard legend from Deep Purple, guest stars here on the song "Wild Flowers" provide Organ & Moog which has been released as a single and video a couple months of ago.
WATCH the video for "Wild Flowers" here: https://youtu.be/OsH0J-pAhJA
"The song is about feeling outside society," says Stefan. "You try to find your place in life. Right now, in Corona times, you go as a musician in the times of waiting for something to happen, whatever. Frustrating. You are not allowed to work. The only thing you can do is write new music. It will be doomsday rock with prophecy. It feels like the world is ruled by a select few and has planted this virus to access our freedom. Which is Rock "n" Roll. Maybe it's time to give up the dream or!?"
Further guests are Stephen Bentley-Klien (string arrangements) on the tracks "Lost At Sea" & "New York" and Joakim Svalberg (OPETH) on organ and piano on four songs (tracks 4-7). "These Are The Times" was recorded, mixed and produced at Grandjam Studio, Stockholm by Stefan Berggren. Pete Lyman (Infrasonic Sound Nashville, track 1), Ryan Smith (Sterling Sound Mastering, Nashville, tracks 2-6) and Claes Persson (CRP Mastering Stockholm, tracks 7-10) took care of the mastering.
Stefan adds: "There is always a sense of achievement when it's finished. I decided already in 2019 that I was going to work on new original material the whole year 2020. So, the pandemic has been good for that. But there's absolutely nothing to do - no gigs. I believe I had the last gig on earth. My band played the last gig November 23, 2020."