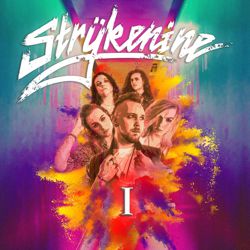 product: Strÿkenine - Strÿkenine I
release date: 16.07.2021
label: Pride & Joy Music
PR territory: world-JP
PR contact: Diese E-Mail-Adresse ist vor Spambots geschützt! Zur Anzeige muss JavaScript eingeschaltet sein!
The new sensation of Swedish Melodic Rock!
With influences from classic Melodic Rock, Modern Pop and Metal STRYKENINE entered the Stockholm rock scene in 2015. The band was formed in the southern suburbs of Stockholm by guitarist Andi Sarandopoulos, drummer Henrik Remesaho and singer Jacob Petäjämaa. At this point they were still in their teens dreaming big while exploring the musical influences from bands such as Europe, Whitesnake, Def Leppard and Mötley Crüe to name a few.
In 2016 the line up changed to what it is today when Sarandopoulos finally found a suitable second guitar player in Alex Zackrisson. The same year, Tony Bakirciouglu joined as the bass player.
The A-team was assembled. STRYKENINE started to elaborate their sound, in search for something that they felt was missing in the modern Melodic Rock scene: attitude and adrenaline. This set a standard for the young Swedish group to write Melodic Rock songs that still have that aggressive rock n roll spirit and to deliver the same energy live.
With this new lineup STRYKENINE perfected their craft, got to play clubs and festivals all around Sweden. Despite not having an album out at that point, they got to play festivals and open up for bigger bands like Hardcore Superstar, Santa Cruz, Shiraz Lane and Art Nation. In 2018 they released the EP "Nowhere To Run" and went on tour Europe for the first time.
Now STRYKENINE is ready to unleash the beast that is their debut album "Strykenine 1" and take on the Melodic Rock scene for real! This release was recorded at the Strykenine HQ during Summer 2020. In charge of the recording process were Calle Svennerstedt and bass player Tony Bakircioglu. Rich Gray mastered the album.
Keyboards were provided by Patrik Törnblom and Passi Oksman. Patrik Törnblom was in fact a member of the band between 2017-2020 and a big influence in developing the sound that STRYKENINE stands for today. He played keyboards on half of the album but was definitely an important partner for the songwriting for the whole album. Törnblom felt the need to step back from the band in the spring of 2020 to explore other things in life. That' s when we asked Passi Oksman to work his magic on the rest of this amazing album!