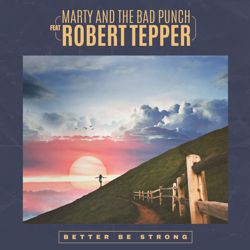 product: Marty And The Bad Punch feat. Robert Tepper - Better Be Strong
release date: 19.06.2021
label: Enghardt Media
PR territory: Europe
PR contact: Diese E-Mail-Adresse ist vor Spambots geschützt! Zur Anzeige muss JavaScript eingeschaltet sein!
"Better Be Strong" has been Marty's message since the first single was released. The track originally comes from his debut album "Moon Over Baskerville" from 2014, with which Marty has won four awards at the German Rock & Pop Prize in December 2015.
Since then there have been many requests from Marty's musician buddies to record and perform this song themselves. The interest is workldwide already so great that "Better Be Strong" developed into a global appeal to give people strength and persevere in these difficult times. With the idea of ​​getting the project off the ground, some first versions were created, that have not yet been published yet. In the meantime, the artist has also received requests for the use of rights in films and in charitable projects. The potential of the Allstar project is still in its infancy and is currently in production by the well-known Swedish producer Tommy Denander (Hollywood Vampires, Alice Cooper, Radioactive and many more).
The first version of the re-recorded "Better Be Strong" goes now into race with Marty And The Bad Punch feat. Robert Tepper.
For Robert Tepper ("No Easy Way Out" / "Rocky Soundtrack") it was clear, due to his long-standing friendship with Marty, to record and release a complete version. Since people currently need a strong song due to the current situation, the decision was made to publish the title in September 2021 despite requests for a movie. Many more versions are in production. Several other well-known musicians from Marty Punch will also present their own version on their upcoming albums.
In addition to Marty, the Robert Tepper version features Tommy Denander on guitars, keys and bass, and drummer Carsten Enghardt (Marty And The Bad Punch & Endfield) on drums.