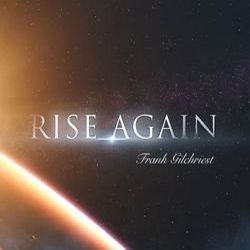 product: Frank Gilchriest - Rise Again (digital single)
release date: 29.10.2021
label: self-released
PR contact: Diese E-Mail-Adresse ist vor Spambots geschützt! Zur Anzeige muss JavaScript eingeschaltet sein!
RIOT V drummer Frank Gilchriest teamed up with some friends including current Riot V vocalist Todd Michael Hall and Symphony X bassist Mike LePond suppored by Nick Lee on guitars to record a very personal song entitled "Rise Again" which was written during the lockdown.
WATCH the lyric video for the track here: https://youtu.be/GsopD71m2uo
Frank Gilchriest says about "Rise Again": "I began writing Rise Again during the pandemic shutdown. I felt a strong desire to compose a song that would honor and pay tribute to the world's heroic battle against Covid 19. The process also helped me cope with the loss of my mother who passed away from the virus in late 2020. My hope is that this song will lift the spirits of anyone who hears it especially for those going through a difficult time."
+++
About the single:
Rise Again - Music and Lyrics composed by Frank Gilchriest
Line Up on this track:
Todd Michael Hall - Vocals
Nick Lee - Guitars
Mike LePond - Bass
Frank Gilchriest - Drums, Percussion, Piano
Recorded at Westfall Recording Studio in Famingdale, NY, USA
The song was engineered, mixed and mastered by Ray Marte.
About Frank Gilchriest
Frank Gilchriest is an American musician, educator, and business owner. Frank has recorded twenty CDs and has performed in concert halls, festivals and stadiums throughout the world.
In 2019 Japanese fans voted Frank the 17th Best Drummer in the world in Burrn Magazine's annual rankings. Currently Frank is a member of Nuclear Blast and Ward Records recording artist, Riot V. The band is scheduled to release a new record in 2022 and resume international touring. Frank is affectionately known by his fans as, the Kraken or, the Baron for his powerful performances. He lives in New Jersey, USA with his wife and three dogs.